Temporary Agreement Reached on Chappaqua Electronic Message Sign
News Based on facts, either observed and verified directly by the reporter, or reported and verified from knowledgeable sources.
We are part of The Trust Project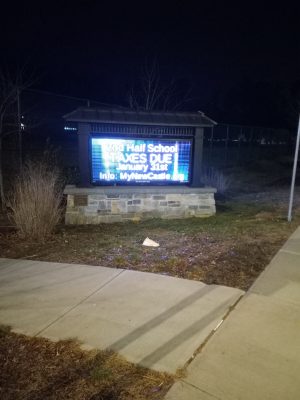 The Town of New Castle and the Chappaqua School District reached a temporary agreement to allow the electronic sign on South Greeley Avenue to resume displaying messages following expiration of the original contract.
After a Jan. 12 meeting between the town and district, the sign was turned back on pending the outcome of continued talks between the two sides in pursuit of a longer-term agreement. The two entities entered a five-year agreement in 2017 to jointly pay for and operate the sign, which is on school district property at Robert E. Bell Middle School. It expired on Dec. 31.
The hope is to have a permanent pact in place on or before Mar. 31, said New Castle Supervisor Lisa Katz.
"I am confident that we will do our best to come to an agreement," Katz said.
Under the temporary arrangement, there will only be messages of community and school events, Katz said.
Last summer, district officials had expressed concern regarding the posting of personal messages, most notably birthday wishes to youngsters in the community, which had started early last year. The district believed it could pose a safety threat to children if their birthday was known. Other children whose family might not post a message for their son or daughter, might feel left out if their name wasn't displayed on the board.
In a brief response from Board of Education President Jane Shepardson, the district is also hopeful the issue can be fully resolved amicably.
Shepardson said last week that "the district looks forward to working out a long-term solution so that we can continue to use the sign on our property to help disseminate important community messages."
Shortly after taking over as town supervisor in late 2021, Katz invited the community to contact the town if they wanted to have their family members' birthdays or other milestones or achievements posted on the board. She has said that it was one way to try and encourage unity in town.
Katz said she is hopeful that at some point the town will be able to resume posting birthday messages for those residents who want them.
"I would like to see it happen," Katz said. "So many members of our community have approached me, telling me how happy it make their children or those who have been the subject of those messages. So I really think it brings a nice sense of community and I would like to see them continue in some iteration or another."
The supply costs for the sign were split nearly evenly, according to figures from the New Castle comptroller's office. The town spent $34,823.67 while the school district contributed $33,219.21. Those figures do not reflect the manpower for construction, including the electrician, which the town provided, said Town Administrator Jill Shapiro.