Teatown to Host EagleFest Saturday at Croton Point Park
We are part of The Trust Project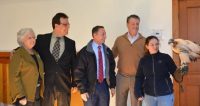 Teatown Lake Reservation will hold its 13th Annual EagleFest on Saturday, February 11, from 9 a.m. to 4 p.m., at Croton Point Park. This year's event will include new and exciting additions to the signature family event that attracts thousands of people each year to celebrate the bald eagle's return to the Hudson River.
The event's organizers were recently joined by Westchester County Executive Rob Astorino and State Senator Terrence Murphy (R/Yorktown), who outlined a new environmental project to enhance Croton Point Park to attract migratory birds.
The initiative began two years ago with a $13,000 grant from the Westchester Parks Foundation which funded a study to restore the great meadows at Croton Point Park. Based on the study, Murphy secured $500,000 in state funding to restore a 100-acre grassland within the 508-acre park. An additional $135,000 in federal funds was secured by the County Soil & Water Conservation District. The project is designed to improve the ecological health of the park including the eradicating of invasive plant species. Croton Point Park offers the largest migratory bird habitat in the Lower Hudson Valley.
"Restoration of the old Croton landfill as grassland will provide a nesting place for migrating birds and wildlife and will ensure that EagleFest will continue to grow and be an exciting event for families and bird enthusiasts in and around the Hudson Valley," said Murphy. "The bald eagle is an iconic bird that has come to represent our country's liberty and strength. Seeing these majestic birds in their natural habitat is both enlightening and inspiring."
Created by Teatown Lake Reservation, a leading regional environmental education center and nature preserve, EagleFest gives visitors of all ages a unique opportunity to view these magnificent birds both up close and in their natural environment. This year's event features spectacular eagle viewing along the Hudson River and educational and informative bird shows, showcasing eagles and other raptors, plus new programs and features such as live musical performances and an inspiring, award-winning documentary film.
The iconic EagleFest will underscore the awareness of conservation, while giving thousands of people the opportunity to see eagles and other spectacular birds of prey. Perennial favorites, Bill Streeter of Delaware Valley Raptor Center and Brian Bradley of Skyhunters in Flight, return with their magnificent birds. Joining this year's event is Andrew Simmons, a celebrated lecturer and entertainer, who has appeared with his golden eagle and other wildlife on Good Morning America, Today, and is a regular visitor at the American Museum of Natural History. Visitors can also attend a variety of workshops and presentations geared to all ages.
There are also opportunities to view eagles in their nearby natural habitats. Teatown educators will lead bus tours along the Hudson River to various viewing sites where eagle experts will be stationed with spotting scopes. The two-hour tours leave from Croton Point Park at 9:30 a.m. and 2 p.m. Seats are on a first come, first-served basis, for an additional fee.
The newest feature of the festival will be the screening of the critically-acclaimed Sony Pictures documentary The Eagle Huntress.  Available to all EagleFest general admission ticket holders, the film is being shown in cooperation with Pace University's Environmental program.  It tells the story of a young Mongolian girl who is the first female eagle hunter in the 1,000-year history of her tribe.  The film is suitable for all ages and will be shown at 1:30 p.m. and 3:30 pm at Wilcox Hall on Pace University's Pleasantville campus.
Throughout the day, in addition to bird of prey shows, there will be live music, including a performance by Grammy Award winning singer/songwriter Tom Chapin. These shows and children's activities are all held in heated tents – a festive atmosphere on a winter's day. A variety of food trucks to suit everyone's tastes will also be on-site throughout the festival.
"EagleFest embraces the revival of the bald eagle, an endangered species with a one-of-a-kind celebration of wildlife, education and fun,'' said Teatown Executive Director Kevin Carter. "We thank all of our sponsors and partners for making this event possible. They include Con Edison, Club Fit, Entergy, Phelps Hospital Northwell Health, Pace University, WHUD, Westchester County Tourism, Westchester County Parks and Westchester Parks Foundation."
Pre-sale tickets are discounted and on sale at www.teatown.org/events/eaglefest.