News Article Article pages that do not meet specifications for other Trust Project Type of Work labels and also do not fit within the general news category.
Teachers Turn 'Wheel of Fortune' Trip into a Publishing Coup
We are part of The Trust Project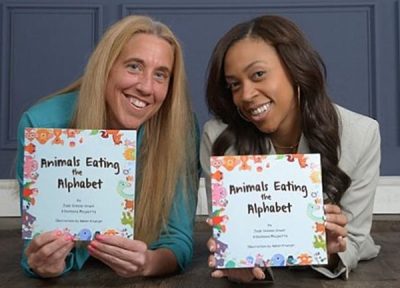 Nearly 10 years ago, Barbara Magnotta and Jade Greene-Grant had an idea to write a children's book that would focus on helping their four- and five-year-old students work on their early literacy skills.
It made sense for the pair of close friends, who met while teaching pre-k at P.S. 121 in the Bronx, the school where Magnotta and Greene-Grant have worked for 16 and 14 years, respectively.
They received positive feedback from book publishers, but without having previous author credits, no one wanted to take a chance on them.
"We sent out the manuscript and we got a lot of responses back," Greene-Grant said. "We love it, send us $20,000. We love it, send us $15,000."
Magnotta, a White Plains resident, had a better idea. They would audition for game shows and hope that one or both of them would be selected and win the money they needed to fund the project.
In 2016, the two teachers traveled to California to audition for "Wheel of Fortune," Magnotta's favorite game show. Later that year, Greene-Grant was tabbed to appear and went on to win $86,000.
That money easily provided the funds to hire an illustrator, Amber Krueger, and have their book, "Animals Eating the Alphabet," published by Beacon-based Little Pink Press. The book, geared toward pre-K and kindergarten children, emphasizes letters and their associated sounds in a kid-friendly way. It was released on Feb. 14.
Magnotta said they wanted to appear together for the show's Teacher's Week or Best Friends Week, but that part didn't pan out.
"When we went to the audition, we auditioned together and also separately, and when we were auditioning, the chemistry she had with them I knew they were going to choose her," Magnotta said. "So when it was over, I said 'I know they're going to choose you.'"
Last Saturday, the two teachers held their first book signing at Sir John's Restaurant in North White Plains, owned by Magnotta's father, John.
The almost decade-long journey from conception to completion never caused Magnotta or Greene-Grant to lose faith, even after being turned away. They were also determined to find a publisher rather than self-publish.
"We just left it on the back burner. We said this is too much money but we said maybe we could get some money in doing something," said Greene-Grant, who lives in Nyack. "Well, this is a way to get the money. When they asked us what are you going to do with the winnings, we new we would ultimately put it toward publishing the book."
Even though Magnotta was a spectator in the Los Angeles studio, she was as excited as if she had won.
"It didn't matter whether it was me or her," Magnotta said. "I couldn't be happier if it was myself. It was just an amazing experience to run on that stage because she won. It didn't matter whether she won $5 or $100,000."
Their own busy schedules followed by the onset of the pandemic delayed the project even longer than anticipated. Magnotta and Greene-Grant also wanted to be certain they found the right illustrator and publisher to work with. The extra time isolated at home helped them get everything in order.
They hope it will not be the last time they publish. Greene-Grant said they are working on other concepts to create follow-up books as part of a small series. They have also launched their own early child education consulting firm and have created their own website, www.teacherstoauthors.com.
A key component was for the book to show the diversity in society and their illustrated likeness is on their dedication page.
"The two of us are seemingly different so we wanted to make sure that we were both represented in the book as well," Greene-Grant said. "So when the children read it you can look like her or look like me and see yourself within that book."
Another important lesson is to stick to a plan and never give up even if the challenge seems daunting, Magnotta said.
"It just shows, don't give up on your goal," she said. "It doesn't have to happen in a year; it can happen eight, nine years from now."