Tavarez Sets Scoring Mark at Panas; Ossining Stuns White Plains
News Based on facts, either observed and verified directly by the reporter, or reported and verified from knowledgeable sources.
We are part of The Trust Project
By Ray Gallagher, Examiner Sports Editor @Directrays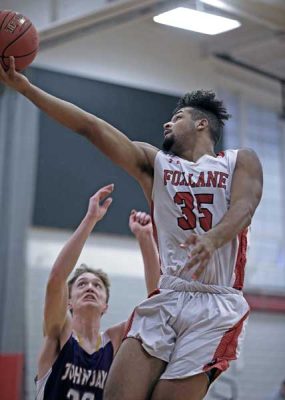 We saw a few monkey wrenches tossed into the Section 1 hoops circuit last week, none bigger than the one OSSINING threw at state-ranked No.25 WHITE PLAINS along the Class AA circuit. White Plains will surely drop out of the state rankings after an enlightening week, which showed the Tigers (8-2, 5-1) there is plenty to work on before we hand out the league titles later this month.
We also saw previously undefeated Class B WESTLAKE take a big tumble with four-straight losses, including a 47-23 loss to PLEASANTVILLE, so nobody knows what to make of Class B, outside of state-ranked (No.8) VALHALLA emerging as the clear favorites.
In Class A, everyone is wondering if state-ranked (No.12) LAKELAND has what it takes to compete with No.5 Tappan Zee in the postseason after navigating its way past a slew of potential upsets from top-tier clubs like SOMERS, PANAS and YORKTOWN, which bring up the rear of the state rankings at 27, 29 and 30, respectively, which means we should see an incredible runs for the roses as everyone takes aim at Tappan Zee, which is among the toughest places to play in Section 1.
Panas senior G Alex Tavarez set the career scoring mark when he went for 34 points in the Panthers' 68-47 win over John Jay-Cross River, thus passing the mark set by former Panther great Scott Ganelas (1,021 points, circa 1982). Knowing from experience, we can tell you Ganelas, who went on to play D-I soccer at Brown University, would still hold the record for a few more weeks had there been a 3-point line in his heyday, but that should not diminish from the Tavarez accomplishment. We just like to remember and give props to the old-timers of the region. Tavarez was quick to pass props, too.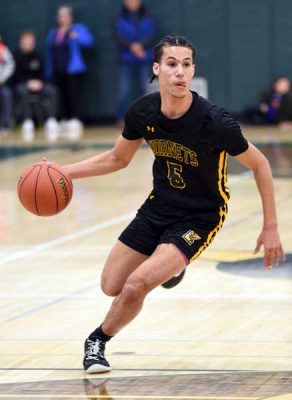 "Although I put in a lot of work to improve my game, I wouldn't be in this position if it wasn't for my parents and my teammates, along with my coaches," said Tavarez. "I'm definitely planning on putting some distance to the record. The feeling was great when I found out after the game that I set the mark. To be a part of school history meant a lot to me and it's something I'll always remember."
CLASS AA
Ossining posted a 60-56 win over White Plains last week when Jaiden Newton came through with a double-double, including 17 points and 10 rebounds. Equally impressive was the two-way play of Pride G A.J. Caparelli, whose toughness showed from start to finish. Caparelli finished with 14 points, four rebounds, four steals and took four charges for the Pride (4-5). Menzy Carden led the Tigers with 24 points and Ethan Senkyire added 14 points.
"It was a good win for the Pride," Ossining Coach Mike Casey said. "Obviously, we've gotten off to a slow start but we've had some close games that we're learning from. White Plains is a strong program and well coached. It was our first league game and our players rose to the occasion. We were led in points by Newton and Caparelli but it was a total team effort. Caparelli took four charges, which may be the most we've had in one game by a single player."
The Pride followed up with a 53-50 win over host HORACE GREELEY (5-3) where Newton came up with 16 points for the Pride Ossining got eight more points apiece from Caparelli and Darien Blalock to win back-to-back games in league action after a dreadful 2-5 start. Greeley senior G Justin Potack led the Quakers with 16 points and Ethan Golub added 13.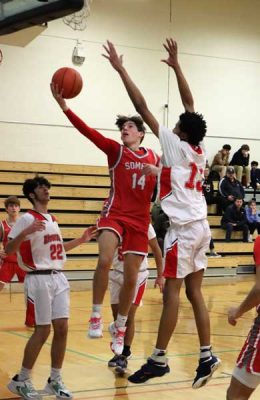 White Plains bounced back with an 80-48 win over Port Chester when Carden dropped 19 and Logan McCormick (14 points) and Miles Johnson (11) were big contributors.
Rounding out league action, FOX LANE crushed Saunders, 74-39, when Logan Mammola hit a career-high 14 points to go with five rebounds. Conrad Hardie (12 points, 5 rebounds), Matt Toscano (10 points, five rebounds and five assists) and Charlie Shevick (11 points) came up strong for the Foxes (6-2), who won their fifth-straight game and should eventually emerge as a strong Class A force in the postseason #DoNotSleepOnFoxLane.
CLASS A
LAKELAND is being bandied about as one of the premier contenders for the sectional title and the Hornets (10-1) will also admit there is work to do after surviving a 73-66 battle with visiting BREWSTER. Hornet G Chris Whyte-Luciano (9 boards, 3 steals) and F Logan Shiland led the state-ranked (No.12) Hornets with 22 and 21 points, respectively, but the Lakeland defense struggled to contain Brewster big Conner Griffin, who scored a game-high 30 points. The Bears (6-4) made a great run behind a dominating performance from Griffin, who logged yet another double-double (30 points and 12 rebounds). Lucas Cabiati and Christian Freeman also contributed with 14 and 11 points, respectively, for the Bears, who also saw junior F Matt Thompson continue his strong presence on the boards, nabbing 12 rebounds and adding three assists, a steal and a blocked shot.
"We got knocked around a little in the first quarter and were able to make a great run in the second and took the lead going into the half," Brewster Coach Micahel Nicastro said. "Cabiati's shooting was a big part of that. He has no fear and no memory of bad shots. He's the epitome of toughness. Additionally, Christian Freeman did a phenomenal job on Whyte-Luciano, holding him to just one bucket in the third quarter. This was a game where we knew we had to make a statement and we showed that we can play with the top teams in Class A."
Lakeland continued its streak of significance with a 68-42 win over Eastchester when Whyte-Luciano (32 points) was uncontainable and is now averaging 20.5 PPG while shooting almost 70% from the field, including a ridiculous 47% from distance. The kid has 24 steals on the other side of the court.
"Chris is playing at a very high level right now at both ends of the court," Lakeland Coach Steve Fallo said. "He is in the zone right now. Offensively, he is taking high percentage shots and attacking the rim. His work ethic in practice is second to none and it shows in the games we have played."
The yeoman are getting it done, too, including senior F Andrew Mendel.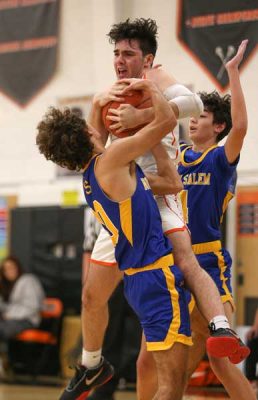 "This season has been a culmination to all our hard work in the off-season.," Mendel said. "All the guys showed up with a purpose every single session. This year, our objective was to play effectively on both sides of the ball and embrace "Lakeland basketball". We strive to get 1% better everyday. A huge factor has been our coaches and players have kept a good morale and passion at practice. We keep high energy and intensity at all times and it flows into the game.
"Chris (Whyte) has been playing some really good ball," Mendel added, "and I credit that to his off-season work and his leadership. We are excited for the second half of our schedule and believe it will be a good test for us."
Brewster won a tough road game at Peekskill, 48-39, limiting the Red Devils to three third-quarter points.
"In the fourth quarter, we were leading by as many as 14 and knew that if we continued to play tough defense and rebound, that we were going to come out victorious," Nicastro said. "It is important for this team to learn how to finish out games like this, especially on the road."
Griffin and Switzer carried the Bears offensively, combining for 40 as they took care of business. Griffin added 14 boards and four blocks to notch yet another double-double.
The Red Devils (2-7) were tough to handle, getting 17 points from Noah Whitehead and 12 from Armani Brown.
While Lakeland is the highest-ranked squad among the Examiner-area teams, SOMERS is pretty sharp, too. In a 93-46 rout over Riverside, Somers swingman Matt Fitzsimons led the way with 25 points for the Tuskers (6-1). Guards Andrew Violante (14 points) and Nate Cohen finished (11 points) were pivotal for the Tuskers, who best figure out a way past Tuckahoe and Eastchester this week before facing Lakeland on Friday the 13th in a can't-miss episode later this week at 'The Hive'.
YORKTOWN is not a squad anyone wants to face in the playoffs, guaranteed. The youthful Huskers went down to Rye, a tough place to win, and prevailed, 54-51, when junior Brandon Montero led the Huskers (7-2) with 18 points and 13 boards with an impressive double-double. Huskers Justin Price (13 points) and Billy Feeks (11), both underclassmen, added to a legit trio of scorers.
"We feel really confident right now," said sophomore Kaden Gonzalez, another budding player. "Our chemistry only goes up everyday."
HEN HUD just won't go away and we'll know more soon about the Sailors (7-2), who will get a chance to post that signature win in the days ahead when they take on Rye, Tappan Zee, Panas, Somers, Nyack and Lakeland, which combine for a 42-7 record. Do the Sailors, which defeated Harrison 54-45, last week when Dean Hiltsey and Eugene Wamack went for 17 and 15 points, respectively, have what it takes to hang in Class A? We shall see.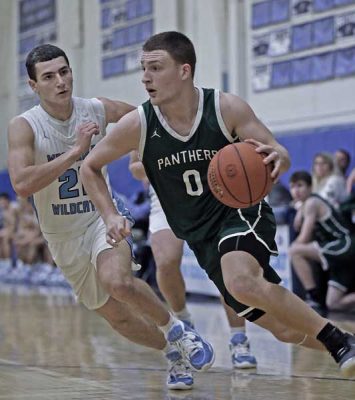 CLASS B/C
VALHALLA has everyone's attention with a very impressive 6-0 start, including a 78-63 win over Rye Neck last week when hotshot Basiaka Butcher led the Vikings with 24 points. Chris Purchia and Mikaele Martinez added 10 points apiece. In Valhalla's 58-54 win over Blind Brook, Butcher, among the finest players in Class B, led the Vikings with 21 points and Devon Cooper added 16 points.
PLEASANTVILLE opened some eyes when the Panthers (4-3) went on the road and knocked off WESTLAKE, which has now dropped four in a row after a 6-0 start.
The Panthers won 47-23 and were led by Daniel Picart, who provided a well-rounded effort with 14 points, eight rebounds and six assists. Dermot McSpedon and Caleb Bronkema with 11.
Sophomore swingman James Apostico led PUTNAM VALLEY to its first league win, getting 15 points while senior F Sean Holzman added 11 points in a 61-35 win over Pawling, but the Tigers (3-6) could not score enough in a 45-37 loss to Edgemont at the Barclays Center in Brooklyn.
BRIARCLIFF posted a quality win over Blind Brook, 55-43. Cooper Plank went for a team-high 15 to lead the Bears (4-2) while Jason Rosenbaum (14 points) provided a one-two punch. The Bears then went on to defeat Pleasantville, 51-43.
HALDANE lost to Pearl River, 48-40, despite 19 points from Matthew Nachamkin and 15 from Matteo Cervone.
"We were down 7-0 to start, showed a ton of grit and we were up 24-19 at half," Blue Devils Coach Joe Virgadamo said. "They tied it up 31-31 going into the fourth, and Pearl River hit some big shots in the fourth. I'm very proud of our squad competing with a very good Class A team. This team is special and is getting better and better in every aspect of the game."
CHSAA
STEPINAC G Boogie Fland was the dude we knew he was when he dropped a game-high 31 points to go along with four boards, three steals and two assists in the Class AA state-ranked (No.9) Crusaders' 63-49 win over Iona Prep in the Crusader Classic at Iona University in Saturday's finale of the Slam Dunk Showcase.
Fland sparked a Stepinac comeback and Aamyr Sullivan (12 points, 2 boards) gave the Crusaders a fourth-quarter lift as they battled without the services of a full squad (starters Danny Carbuccia and Ben Lyttle were ill). Holding a 34-27 lead, Fland closed the door on Iona by draining nine consecutive points to close out the third quarter. Braylan Ritvo (11 points, 13 boards) and Jordan Gabriel (5 points, 6 rebounds) each stepped up when needed in big spots. Stepinac (7-4 overall, 4-1 CHSAA) will play Sunday at the National Hall of Fame Hoophall Classic (Springfield, MA) vs. #18 Simeon (IL) at 2:30pm.