Students Inspired Byram Hills Grad to Write Children's Books
We are part of The Trust Project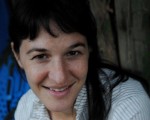 One of the more challenging tasks Abby Rao Hanlon faced when she taught first-graders was to guide her students to write a story.
From her experiences within her classroom at P.S. 108 in Brooklyn, Hanlon had the impetus to write a book that would help the children overcome writer's block or the fear of putting their thoughts on paper.
In 2006, she started the project that would take her six years to complete. In September "Ralph Tells A Story," a 32-page hardcover book, was released by Amazon Children's Publishing.
"I felt all along I wanted to write a book that I wish I had as a teacher, that I wish I could read to my class," said Hanlon, 36, who was raised in Armonk and is a 1994 graduate of Byram Hills High School.
Hanlon's book encourages children between five and eight years old to write stories by drawing upon their lives and experiences, she said. Ralph, the main subject of the story, is a child who can't think of anything to write about in school until he has an encounter with an inchworm.
While many of the students in Hanlon's class may have been learning the basics of writing and English in first grade, she realized that at their young age they had bundles of creativity and an excellent source of stories.
What took Hanlon so long to complete the book wasn't writer's block on her part, but that she was adamant to have her own illustrations accompany the work. The problem was that Hanlon isn't an artist and at the time could barely manage to draw stick figures.
Soon after completing the text, Hanlon met with a veteran literary agent who enjoyed the story and encouraged her to pursue publication but didn't mince words when it came to the graphics.
"She definitely put the idea in my head that I could do it," Hanlon said. "She was encouraging but she was also critical of my artwork."
That prompted Hanlon to enroll in continuing education art courses, painstakingly working over the next few years to improve her skills. Hanlon never let self-doubt derail her goal.
"I really felt that I was right round the corner from getting it done, said Hanlon, who lives with her husband and twin six-year-old son and daughter in the Park Slope section of Brooklyn, within walking distance of the elementary school she worked at.
After about five years of preparation Hanlon was again ready to pitch the book. The timing was fortuitous, not only was Hanlon able to secure an agreement from Marshall Cavendish Children's Publishing but that company was bought out by Amazon, providing her book with the boost that a large publisher can provide.
Since its release, "Ralph Tells a Story" has received accolades in various reviews, including USA Today, which placed it on the paper's list last fall as one of four recommended books for children. It has also been well received by teachers.
Hanlon hadn't planned on becoming a teacher or an author initially; she was a political science major when attending Barnard College. For about two years after graduation, Hanlon was a case worker for New York City that investigated incidents of child abuse.
Quickly tiring of that experience, Hanlon returned to school to earn her master's degree in childhood education from City College. Through the New York City Teaching Fellows, she worked at a school in Harlem for two years before moving over to the school in Brooklyn. Since her children were born Hanlon has been a stay-at-home mom.
The success of her debut work has provided her with the opportunity to create two more children's books that are scheduled for release later this year. Hanlon figures she'll capitalize on the momentum and the steady stream of ideas she has at home.
"I get a lot of really good ideas from my children," she said. "I get ideas by being around them."
For more information, visit www.abbyhanlon.com.