Student Transcript Probe Underway in Peekskill Schools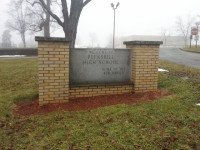 Four guidance counselors have been reassigned in Peekskill High School and middle school following the discovery of "irregularities" on transcripts of students who were in danger of not graduating.
According to Superintendent of Schools Jim Willis, High School Principal Fred Hutchinson identified problems with "a relatively small number of current student transcripts" during a routine course offering review.
An initial thorough investigation by Hutchinson and Willis, which focused on students who were potentially at risk of not meeting district graduation requirements, led to the administrative reassignment, with pay, of three high school guidance counselors and one middle school guidance counselors. The matter has also been reported to the State Education Department.
"It does not appear that these reported irregularities affect the majority of students," Willis stated in a January 10 letter to school district community members. "This is, obviously, an evolving story that we have not fully concluded investigating. I recognize that this may be frustrating, and all I can promise is that we will work as quickly as possible to resolve the situation and communicate details to our residents."
Willis said while the guidance counselors are working elsewhere in the district an "expedited recruitment process" was being conducted to find replacements in the Guidance Department.
"Because I have taken what I believe is necessary action to reassign four members of our guidance staff, parents and students at the high school may have concerns that their guidance needs will go unmet. This will not be the case," he insisted. "As always, our top priority is to ensure that Peekskill city students receive services and are provided an educational experience that meets their academic, social and emotional needs."
He noted the high school's assistant principal, whose job duties include overseeing guidance functions, would also be available as a resource for students and parents. In addition, students and families directly affected by the alleged actions of the counselors may be contacted directly by district officials.