Student Explores Ties Between Hearing Loss, Loneliness and Dementia
We are part of The Trust Project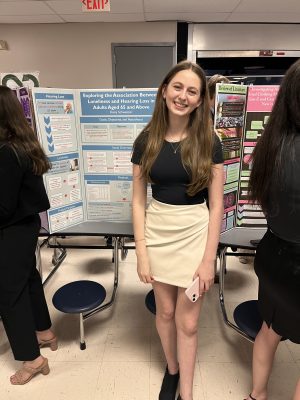 It makes sense that an older adult whose hearing has begun to deteriorate might withdraw socially, which adds to loneliness.
A rising Byram Hills High School senior is exploring whether hearing loss may contribute to cognitive impairment as a result of the declining social interaction.
Romy Schweitzer, who enrolled in the school's highly-regarded Authentic Science Research Program for the start of her sophomore year, wanted to pursue a project for the three-year course that had special meaning to her.
"My grandmother has dementia, so I wanted to forge a study that honored her, and so that's when I began researching loneliness and dementia," Schweitzer said.
From there, her focus changed from dementia to a connection between hearing loss and loneliness. Schweitzer said there already has been a relationship established between loneliness and dementia, so it wouldn't be a stretch to take it to the next logical step.
"We can see there's an association between hearing loss and dementia, something that nobody would think to research that but through the pathway through loneliness," Schweitzer said.
As of last week, she had interviewed 12 subjects between 65 and 86 years old and has planned to interview about 20 seniors. During the course of her research, Schweitzer has been noticing various impediments for older people to seek remedies that could help improve their quality of life.
"I actually read a statistic the other day that about 60 percent of people who should be wearing hearing aides don't wear hearing aids because they either don't have the money to spend or they feel embarrassed to wear a hearing aid," Schweitzer explained. "And so I think if people know more, that hearing loss can eventually lead to cognitive decline and loneliness, it can encourage companies and people to have more of an emphasis on hearing treatment."
Turning to get help is critical, since age-related hearing loss is the most common type of hearing impairment, she said. As of 2020, Schweitzer found that 44 million people in the United States reported hearing loss. As the population continues to age, that number is expected to rise to 73 million by 2060, according to a 2021 study by Johns Hopkins Bloomberg School of Public Health.
A cochlear implant is another option for some of those who have declining hearing, but Schweitzer has yet to find anybody who has chosen to go that route in the subjects she has interviewed, although some do have hearing aids.
Others, however, choose to soldier on, and often to detrimental effects lives. A half-hour interview with a student researcher, Schweitzer has noticed, can make a world of difference.
"Sometimes it's hard for them to go out and be social because their hearing loss is holding them back, and just through meeting with them for 30 minutes, some of them have said they felt happier just having somebody who understands what they're going through," Schweitzer said.
Schweitzer's mentor is Dr. Linda Waite, a professor of sociology at the University of Chicago, with whom she checks in with on a periodic basis. Because Schweitzer's goal is to explore how hearing plays a role in an older person's social life rather than on the cause of hearing loss, working with a sociologist made more sense than seeking out an auditory specialist.
Finding a mentor wasn't easy, since many in the academic world don't work with high school students.
"I'm really very fortunate to be working with a mentor who put the emphasis on this type of work and helping me, a high school student, with this study," Schweitzer said.
Although spending time, even during the summer, working on her project would make it seem like Schweitzer has been a science enthusiast from a young age. Schweitzer's favorite subjects have been history and writing, but she was interested when she learned about the science research program to consider pursuing it for the start of 10th grade.
Now, with just her senior year remaining, Schweitzer said she is preparing her research papers to not only participate in local and regional science fairs during the upcoming academic year, but also enter the prestigious Regeneron Science Talent Search.
Regardless how those competitions turn out, Schweitzer's project is a highly practical and important area of study.
"I think it's crucial because the older population is increasing and everybody knows someone who has hearing loss or has distanced themselves, so it's very relatable," Schweitzer said.