Stern Elected Carmel Highway Super as Write-in Candidate
News Based on facts, either observed and verified directly by the reporter, or reported and verified from knowledgeable sources.
We are part of The Trust Project
Michael Stern pulled off the difficult task of winning as a write-in candidate Tuesday as he defeated Gerard Ahler to become the next highway superintendent in the Town of Carmel.
Stern, a 15-year highway employee who was endorsed by exiting Highway Superintendent Michael Simone, received 3,521 votes to 2,735 for Ahler, who ran on the Republican and Conservative lines.
Stern was forced to take the write-in route after the Appellate Court in Brooklyn in September overturned an earlier ruling by a State Supreme Court justice that Stern could appear on the "Concerned Taxpayers of Carmel" ballot line.
The Putnam Board of Elections had claimed Stern was disqualified based on a mailing technicality after he submitted nearly 1,700 signatures in June. When Stern challenged the board in court, they again tried to toss out the petitions.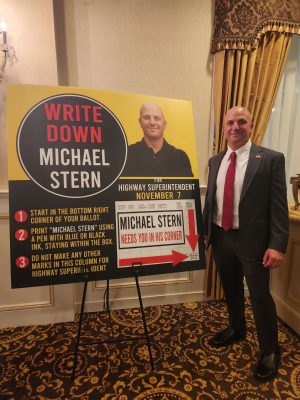 Ahler received some backlash during the campaign for sending out some political mailings that attacked Stern's family, particularly his wife and his father-in-law, former Carmel Councilman Michael Barile.
Meanwhile, in the race for two seats on the Carmel Town Board, Robert Kearns and Councilman Frank Lombardi, running on the Republican and Conservative lines, defeated Democratic challengers Jerome Mitchell and Kathleen Valletta.
According to unofficial results from the Board of Elections, Kearns led the way with 4,639 votes, followed by Lombardi, who has served 12 years on the board, with 4,416. Mitchell received 2,069 votes and Valletta had 2,020.
Michael Cazzari was elected to a second term as supervisor running unopposed, as was Thomas Jacobellis as town justice and Kathleen Kraus as receiver of taxes. Alice Daly, who is currently deputy town clerk, will move up to town clerk as she also won in an uncontested race. Town Clerk Ann Spofford is retiring.