Stellar Performances Honor Late Ex-Bedford School Board Member
News Based on facts, either observed and verified directly by the reporter, or reported and verified from knowledgeable sources.
We are part of The Trust Project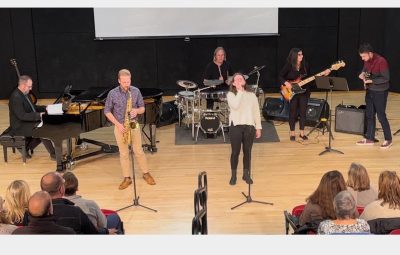 Live music performed by talented high school students last Wednesday would have delighted Suzanne Grant, who was passionate about the performing arts throughout her life.
Grant, a former six-year Bedford Board of Education member and a passionate community volunteer, died in 2019. Her love for giving back to the community inspired her husband, Dave Grant, to create the nonprofit Suzanne Grant Foundation.
Last year the foundation funded an extensive remodeling project in what is now the 200-seat Suzanne Grant Theater at Fox Lane Middle School. When the project was completed, there was a grand opening celebration featuring performances by faculty, alumni and students.
Last week's benefit concert again attracted talented musicians within the Bedford School District.
"We were encouraged to have a repeat performance of last year," Grant said. "So this year we quite literally rolled out the red carpet from the parking lot up to the theater as a nice way to welcome people."
Performances featured a wide range of music styles, from classical to contemporary, jazz to folk and operatic.
"The performances were incredible," Grant said. "It was great for the kids to share the stage with teachers and for the alumni to reconnect by performing together. Some of the performances brought the house down."
Helping the community is key to the foundation. Last year it established Fox Lane Community Volunteer Day, connecting 200 Fox Lane High School juniors who volunteered their time to help 20 community organizations, including local schools, food pantries and neighborhood help centers.
The day is planned again for the upcoming spring and is schedule to be a permanent part of the school calendar.
"It was wonderful to see students learning the importance of giving back," Grant said. "Kids last year got a lot out of it and now they are out on their own. We are creating the volunteers of tomorrow."
The foundation has found myriad ways to help the community, including some that are unplanned.
"I saw a music teacher pushing a 500-pound piano down the hall to get to her next class," Grant recalled after a visit to Mount Kisco Elementary School. "The piano was hard to move around. But now the school has a brand-new keyboard and the kids never miss a music class."
Grant said those contributing to last week's successful benefit were extremely generous.
"The plan as it sits now is to have this live showcase event twice a year, one in the fall and the other in the spring," he said.
Requests from community leaders seeing opportunities for how the foundation can help are received regularly.
"The good is sustainable and contagious and that ties back to Suzanne. Her legacy was good breeds goodness," Grant said.