News Based on facts, either observed and verified directly by the reporter, or reported and verified from knowledgeable sources.
State Rankings Show Ton of Local Flavor From Class AA-to-B
We are part of The Trust Project
By Ray Gallagher, Examiner Sports Editor @Directrays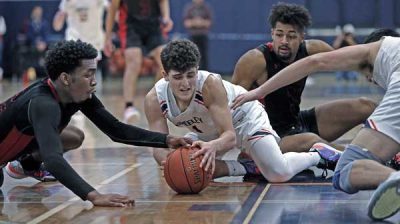 Four Examiner-area Class A teams, including No.7 Lakeland, No.15 Somers, No.20 Walter Panas and No.29 Fox Lane, plus a pair of Class B teams – No.12 Valhalla and No.26 Briarcliff – and No.8 Class AA Stepinac currently find themselves slotted among the NYSSWA rankings. Byram Hills has an honorable mention in Class B, as does Haldane in Class C and Yorktown in Class A. That's a whole lot of clout for Section 1 hoops, which has a ton of respect outside of the Examiner-area, too, with Class AA Mount Vernon (No.9), Clarkstown South (No.19) and Scarsdale (No.27), plus Class A Tappan Zee (No.5), plus Class B Hastings (No.18) and Class C's Hamilton (No.5) and Tuckahoe (No.19). No.18 Greenburgh-North Castle is also ranked No.18 in Class D.
The point being: We got some serious challengers for the Section 1 gold balls and the possibility for some strong representation in the upcoming NYSPHSAA and CHSAA tournaments. But first, we take aim at league titles as the hardwood heats up over the next three weeks before outbracket playoff games begin in Class A and B on Feb.16. And, we were told last week that there's still some hope out there surrounding the Westchester County Center venue as a possible host for the Section 1 Final 4's #FingersCrossed!
CLASS A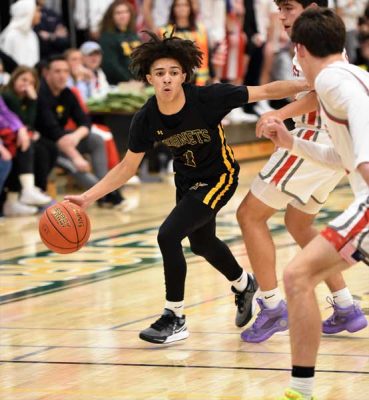 We had hoped that the initial foray by LAKELAND into PANAS territory would result in a last-second, down-to-the-wire result but the host Panthers (11-2) showed some warts, including some worrisome free throw shooting down the stretch, that led to a 72-60 Hornet triumph as Lakeland got a leg up on the League II-D title run.
With the current top-seeded Hornets (14-0 vs. Section 1) battling some early foul trouble, feisty Sean Perry (8 points), Logan Crilly (8) and John Bartolotta (6) sprung into action with 22 combined points off the bench as the Hornets ended the half on a 13-4 run for a 27-26 lead. The game was on script, headed to a fiery conclusion, before Lakeland senior G Chris Whyte-Luciano scored 20 of his 24 points in the second half, including four from distance #DaggersAllAround.
"Chris was the best player on the floor tonight," Lakeland Coach Steve Fallo said.
He often is. Grady Leonard added 11 points for the Hornets and Logan Shiland eight more.
Lakeland then went on to a 69-50 II-D win over visiting PEEKSKILL when Whyte-Luciano (20.8 PPG) drained the Red Devils (5-9) for a game-high 29 points, including 18 points from distance. Shiland provided another threat from behind the arc, stroking four treys and finishing with 14 points. Amir Thames and Jayden Chavis had nine points each for the Red Devils, who hung tough for a quarter and currently hold the No.20 seed.
Panas, the current No.3 seed, rebounded with a 63-57 league win over HEN HUD, despite the Sailors (8-6) holding Tavarez (25.5 PPG) to 11 points. Instead, Layden Turner (14 points) and Jerry Smallwood (13 points) stepped up for the Panthers. Hen Hud's Mike Gagliardi and Gino Wamack each scored 16 for the Sailors, currently seeded No.10. Hen Hud chalked up its first League II-D win over Peekskill, 58-53, when Wamack (18 points) and Dean Hiltsley (16) provided a 1-2 punch that helped grant Sailors Coach Jordan Hirsch his 100th career win. Thames dropped 18 points for the Red Devils.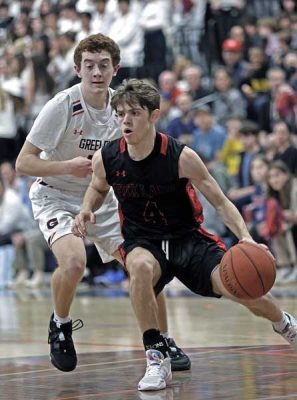 Surging FOX LANE, winners of nine in a row, survived a 44-40 win over Ossining, and then dealt host HORACE GREELEY a 63-45 setback to improve to 8-1 in Section 1, 10-2 overall and 5-0 in League I-D. A balanced Fox Lane club saw Matt Toscano (12 points, 5 assists, 3 rebounds), Charlie Shevick (8 points, 3 assists, 3 rebounds), Chris Redhead (9 points, 1 assist, 3 rebounds) and Niko Dent (6 points, 2 assists, 8 rebounds) contribute to the winning effort over Ossining.
Against Greeley (9-5), the current No.11 seed, Toscano (9 points, 5 assists, 3 steals, 3 rebounds), Shevick (21 points, 4 rebounds, 2 assists), Redhead (12 points, 5 rebounds) and Conrad Hardie (8 points, 10 rebounds) led the way as the Foxes creeped up to No.5 in the bracket and opened up a two-game lead in League I-D before a capacity crowd in Chappaqua. Justin Potack (15.9 PPG) led the Quakers with 17 points and then went out Saturday to score 22 points and win Most Outstanding Player in the Quakers' 76-53 win over Spring Valley in the Coaches vs Cancer Classic at North Rockland. Zach Boyriven and Ethan Golub (9.6 RPG) added 12 points each for the Quakers (3-2 in league).
"The boys have been playing really well," Fox Lane Coach Mike Tomassi said. "We are a blue-collar, grind-it-out type of team that is very balanced. We have really bought in on the defensive end and I believe it shows. We are holding teams to 43 points a game. We are balanced on the offensive end, and share the ball very well. We are hoping to continue to improve every day and be a team in Class A that is very battle tested. With our schedule we feel we are preparing ourselves well for playoff time."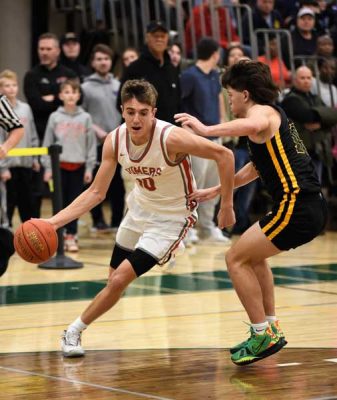 BREWSTER took a tough 63-37 League II-E loss on the road Thursday to a very talented SOMERS team. The fourth-seeded Tuskers (10-2) had four players in double figures as they vie for their first league title since 1989 in Coach Chris DiCintio's final season. Smart money is on the winner of Feb. 10th season finale against Yorktown. There should be a lot on the line that night.
"Yorktown won't be easy, that's for sure," DiCintio said. "We want that league title but it could come down to the final day. As for me, it's just time. I need to spend time on the road watching my daughter Danielle play out her last couple of years (at Roberts Wesleyan). I love the Somers community and all we've been through together. It's been a great ride for me between Rye and Somers, but family is the most important thing."
Somers swingman Matt Fitzsimons (22.4 PPG, 8.7 RPG) led the way with 17 points and nine boards while G Nate Cohen (12 points, 3 steals), Dylan Ingraham (10 points, 4 steals) and Brady Leitner (10 points, 4 steals) were solid contributors. Brewster big Conner Griffin logged yet another double-double for the 16th-seeded Bears (6-8) with 18 points and 10 caroms. Bears sophomore William Dignan did a little bit of everything with five points, four rebounds, four assists and two steals.
The Bears looked to rebound against Nyack Friday but were sent packing with a 72-58 setback.
Brewster opened up a very tough week in a 64-45 loss to Yorktown, in a week where the Bears' three foes – Yorktown, Somers, Nyack – were a combined 31-8.
Against Nyack, the Bears were led again by Griffin (19.6 PPG) who had 18 points and 10 rebounds for the second time this week. Lucas Cabiati and Steven Switzer (13.1 PPG) contributed with 11 and 9 points, respectively.
YORKTOWN is quietly going about its business with a solid 11-3 record under Coach Mark Pavella. The Huskers, the current No.7 seed, got after the Bears behind Justin Price (15 points, 7 rebounds, 5 assists), Brandon Montero (15 points, 7 rebounds) and Billy Feeks (14 points).
"We have been playing very good recently," said Feeks (14.5 PPG). "Our defense is improving every single game and that is our focus right now. Our offense has been great all year, and with our defense improving it's going to bring our team to the next level."
Montero has been a shot in the arm for the Huskers, averaging 14.5 PPG.
Griffin (11.5 RPG) led the way for Brewster, logging 19 points, 15 rebounds, three assists, two steals and two blocked shots. Switzer also chipped in with 13 points and four rebounds. Matt Thompson did his part on the glass with nine rebounds, adding three assists and two blocks.
Yorktown ended the week in fancy fashion in the Huskers' #CharlieStrong game, a 58-29 romp over John Jay CR, which was played in respect to honorary teammate Charlie DeGennaro, the son of Yorktown High Principal Joseph DeGennaro, who has inspired the entire district and anyone that knows his remarkable story. DeGennaro was diagnosed in Feb. of 2020 with transverse myelitis, a rare disease which attacked his spinal cord. He was told he would never walk again, but after a prolonged stay at the Blythedale Children's Hospital and a firm commitment to prove medical professionals wrong, DeGennaro is now winning the battle against this rare affliction. His story is among the most heartwarming accounts in Husker history and, naturally, #TheCrop turned out in force Friday to support their boy.
"That game meant a lot for everyone," Feeks said. "Charlie has taught everyone so much through everything he's been through. He's taught everyone to not take anything for granted because the next game you play could be your last ever."
MAHOPAC had its two-game win streak clipped in a 55-47 loss to a surging Poughkeepsie club that has won three of its last four. The reigning Section 1 Class A champion Pioneers are getting back some players after some early mischief. They are in line to bust up one side of the Class A bracket as the current No.18 seed. Can you imagine Lakeland earning the No.1 and seeing Poughkeepsie as the 18. Most suspect the Pioneers to edge up toward the top 12 before all is said and done but if the playoff started today.
Senior G Jake Couzens (15.4 PPG) has led the Indians (4-8), the current No.21 seed, where they continue to battle each night out.
CLASS AA
OSSINING had a tough week, losing a close one at Fox Lane, 44-40, before falling, 76-59, to
WHITE PLAINS, both League I-D rivals.
Against Ossining, Coach Spencer Mayfield's Tigers (7-3, 10-4 overall), which snapped a three-game losing streak, were paced by a career effort from senior Menzy Carden's impressive double-double (39 points, 11 boards). Logan McCormick (13.5 PPG) returned to the lineup to post another double-double (10 points, 11 boards) while Miles Johnson (9 assists) did some serious fancy facilitating as he has all year (4.3 APG). Jake Labrosciano (5 points) and Luke Brooks (6) chipped in, too. Ossining was led by Jaiden Newton (16 points, 3 rebounds), Darien Blalock (11 points, 6 rebounds) and Gavin Thomas-Walters (7 points, 3 rebounds).
White Plains also put the hammer on Saunders, 73-53, when Carden (21.2 PPG) dropped a game-high 20 and Jake Labrosciano (9 points), McCormick (13), Brooks (5), Malik Dawson (2), Daniel Herzner (7), Brandon Locke (4), Ethan Senkyire (11) and Liam Johnson (2) all found the rim. With three league losses now (Ossining, Greeley, Fox Lane), the Tigers will be hard-pressed to get back into the race unless they get some help.
Against the Foxes, the Pride's Newton (8 points, 6 rebounds), AJ Caparelli (7 points 7 rebounds), Dominique Bautista (6 points 9 rebounds), Blalock, Singh, and Isaiah Ahlers (6 points each) kept Ossining within striking distance until the end. The league belongs Fox Lane's should they hold down the fort.
CLASS B
The League III-A title is boiling down to VALHALLA (5-1 league, 11-1) and BRIARCLIFF (4-1, 6-4), but it's Coach Rich Clinchy's Vikings who are running off with the No.1 seed after tripping up Bronxville, WESTLAKE, Rye Neck and Magnus last week.
In Valhalla's 69-56 win over Westlake, Viking hotshot Basiaka Butcher (20.9 PPG) delivered an impressive double-double, dropping 31 points while shagging 10 rebounds. Devan Cooper (10 points) put up double figures. Westlake stayed in it behind 16 points from Nick Castellano (13.2 PPG) and 15 from Jack Neglia, but the Wildcats (1-5 league, 8-6 overall), the current 8th-seed, did manage to snap a sudden six-game skid with Friday night's 50-35 win over PLEASANTVILLE and Saturday's 75-37 romp of Edgemont.
In Valhalla's 59-40 win over Rye Neck, Butcher had 21 points to pace the Vikings. Julian Amorosa added 11. Briarcliff, which has Feb.7 vs. Valhalla circled on its calendar, is rounding into form with wins in five of the last seven. Pleasantville has fallen on hard times, losing four in a row and dropping to the current No.15 seed while PUTNAM VALLEY has risen to No.11 with wins in three of the last four.
In Putnam Valley's 56-45 win over CROTON-HARMON, sophomore James Apostolico dipped into the Tigers for 20 points while senior Sean Holzman added 16. Orlando Gomez (16 points) led Croton.
BYRAM HILLS chalked up a pair of wins last week, annihilating Ardsley (63-49) and Sleepy Hollow (60-43). Against Ardsley, Sean Siegel dropped 16 points for the Bobcats (8-4), the current No.3 seed. Tyson Repa (14.1 PPG) added 15 points and five assists, Brody Ceisler drilled 10 points and George Gelaj picked up eight points and eight rebounds for the Bobcats, who have a very telling game this week against Valhalla (Jan. 25). These two clubs could easily see each other again late in the postseason.
In the win over Sleepy Hollow, Tyler Lynch scored 12 points, all from distance. The Bobcats had a big interior presence from Zac Efobi (10.6 RPG), who added 12 points and five blocks. Repa came through with eight points and six assists for the Bobcats, who would be well-served to secure the No.2/3 seed, thus avoiding a semifinal showdown with Valhalla.
HALDANE pummeled Pawling, 75-34, when senior swingman Matteo Cervone (19.5 PPG) paced the Blue Devils (10-4) with 28 points while Matthew Nachamkin (12.3 PPG) and Michael Murray delivered 12 and 10 points, respectively, as the Blue Devils won their fifth straight and eight of the last nine while remaining unbeaten (5-0) in League III-D.
CHSAA
STEPINAC is beginning its slow roll toward Catholic league supremacy by knocking off Bishop Loughlin, 83-70, before Friday's 89-87 overtime win over St. Raymond's when the Boogie Man, G Boogie Fland (16.6 PPG), went off for a career-high 40 points as he ascended to No.8 among the nations junior recruits.
Against Loughlin, Braylan Ritvo was sensational, scoring 26 points, grabbing 10 rebounds and dishing three assists. Fland added 19 points and eight assists while Howard Eisley Jr. finished with 12 points and Jasiah Jervis delivered 10 points and five rebounds.