State-Ranked (No.1) Somers Eases into NYSPHSAA Class A Semis
News Based on facts, either observed and verified directly by the reporter, or reported and verified from knowledgeable sources.
We are part of The Trust Project
Tuskers Topple Averill Park, Brace for No.3 Nisky, NYS Title Berth on the Line
By Ray Gallagher, Examiner Sports Editor @Directrays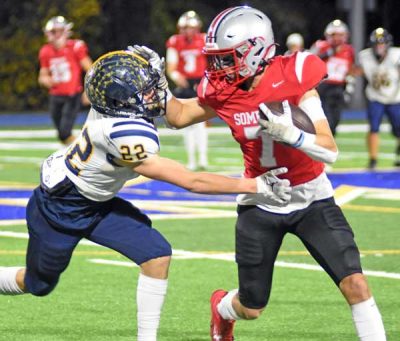 MAHOPAC – Somers (11-1) is one win away from a third consecutive trip to the JMA Dome in Syracuse after its 31-7 layup-like victory over Section 2's Averill Park in Friday's NYSPHSAA Class A regional championship at Mahopac High School.
An unrelenting Somers defense overcame yet another special teams hiccup, what was the fourth kick return allowed for a TD in three weeks, which needs immediate attention. Otherwise, Somers was nearly perfect on both sides of the ball; with some things to tighten up this week in preparation for a third NYS title since 2016.
The Tuskers defense came out flying on the opening possession when senior DE Ryan Cole, who is having an All-NYS-type season, crashed in untouched and dropped RB Jacob Phelps for an eight-yard loss on the first play from scrimmage. He followed that up with another tackle-for-loss to set up a three-and-out series before Tusker RB Mason Kelly found paydirt for a pair of TDs and a 17-7 halftime lead, part of a 17-carry, 105-yard rushing effort by the highly-heralded junior tailback with fullback power.
In the second half, state-ranked (No.1) Somers put plenty of separation between themselves and the state-ranked (No.19) Warriors (8-4), the Section 2 runner-ups. The Tuskers will next face Section 2 champion Niskayuna – ranked No.3 in NYS, in the NYSPHSAA East semifinal at 6 p.m. Friday at Middletown High School.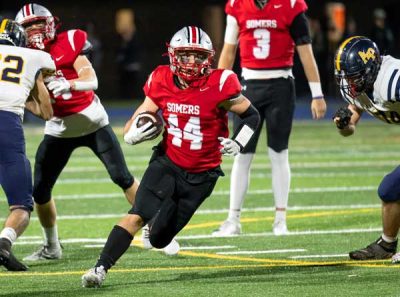 The Silver Warriors, who had never won so much as a Section 2 title prior to 2022, are headed to the state final four for the second straight year after powering past Section 9's perennial powerhouse Cornwall in the regional round, 49-14.
Somers will be tested by the dynamic Nisky duo of  junior QB Ethan Gilson and spooky sophomore WR Cameron Grasso, who already oozes D-I potential. The Somers secondary will need to step up its game, for sure, against a lanky/speedy 6-footer, the likes of which they have yet to see.
"They are very good, the sophomore wide receiver is a freak," Somers Coach Anthony DeMatteo said, taking a break from viewing Nisky film. "We are ready and feel very good about our chances."
Somers will need another strong start – in all three phases. The Tuskers are at the point in the season where they can ill-afford a special teams setback, so expect that to be a point of emphasis.
"It was an awesome start (against Averill Park)," said Cole, who finished with three sacks and four tackles (2TFL) to help lead a defense that limited Averill Park to just 76 scrimmage yards (67, rushing, nine passing). "I really wanted to start off the game strong. Our defense was really prepared. There is a lot to clean up, especially on special teams. Our saying is enough is never enough. We will get there."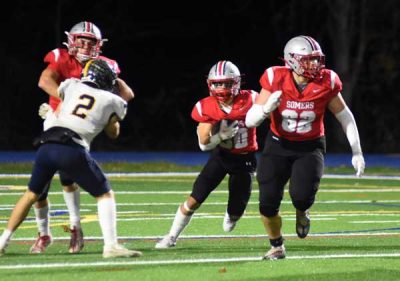 Towson-bound Somers QB Mac Sullivan, who left last week's game with a shoulder injury, came out of the halftime break on fire, tossing a pair of touchdown passes to junior WR Miguel Iglesias (3 grabs, 48 yards) and sophomore RB Dean Palazzolo (7 catches, 34 yards).
Big Mac was razor sharp, hitting on 17 of 20 passes for 125 yards, including five spirals to Andrew Kapica (29 yards). Somers K Luke Cukaj drilled five through the uprights (4 for 4 on PATS), including a 28-yard field goal to end the first half.
Defensively, 'W Three Nicks' were tapping dudes out: Nick Crecco (10 tackles), Nick Newman (8 tackles) and Nick Conti (6 tackles) stuffed Averill time and time again.
A late, third-quarter hit on Kelly went uncalled by officials, who drew the ire of Coach DeMatteo, who was flagged for unsportsmanlike conduct but had the backs of his players, who, in turn had his when sophomore Nathaniel Mitchell replaced Kelly and picked up 94 yards on 10 clock-milking carries, in the fourth quarter.
The Tuskers expect Mason to return at full health and will need to be hitting on all cylinders against Nisky, whom the Tuskers handled easily in the 2022 semis, winning 35-7.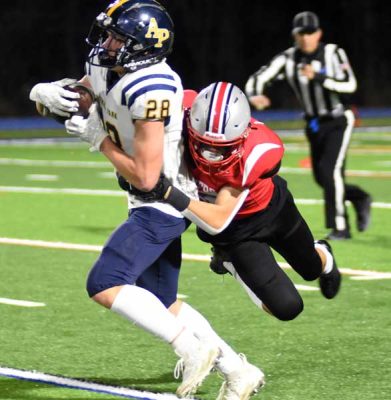 The other side of the Class A bracket features Section 5's state-ranked (No.5) East/World of Inquiry (Rochester), which advanced to the state final four for the first time since 1996, and Section 3's Whitesboro, ranked No.6.
The Warriors, whose only loss was to Latham Shaker (25-15) on opening day, have outscored their opponents by 546-173 ever since.
The semifinal winners will meet at the JMA Dome in Syracuse on Dec. 2 at 3 p.m., what would be the two-time NYS champion Tuskers' fourth such trip since 2016.
Corrections:
Sourcing & Methodology Statement:
References: