State-Ranked Briarcliff Making Waves; Somers Nipped by Scarsdale
News Based on facts, either observed and verified directly by the reporter, or reported and verified from knowledgeable sources.
We are part of The Trust Project
By Ray Gallagher, Examiner Sports Editor @Directrays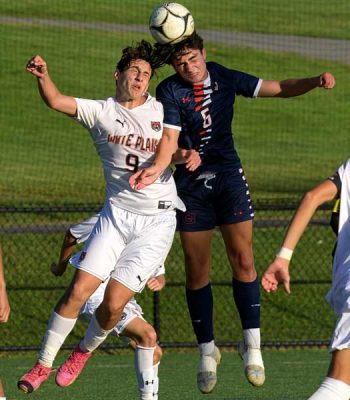 While the NYSSWA Class B rankings won't come out until early this week, BRIARCLIFF is sure to find themselves among the upper crust after Coach Brandon Beck's Bears (5-0) knocked off Class A LAKELAND, 3-2, behind a pair of goals from sniper Emilio Abud Chalita, who tied the game at 2-all with 24 minutes remaining before netting the game-winning goal with 12 left to play. Matt Galiano (1A) and Matt Suarez (1G) also figured in the come-from-behind win and G Toby Young made 10 saves but could not deny Hornet Silvio Ahmataj (1G), who scored on a PK.
So, yeah, defending Section 1 champion Briarcliff is a top-notch club, yet again, but Class B is loaded, including Rye Neck (4-0), Keio (2-0), Pleasantville (3-1) and Valhalla (3-2), and don't sleep on Irvington (0-1). Smart money is on the Bears, though, according to Lakeland Coach Tim Hourahan.
"For sure, they are the defending Class B sectional champions and favorites to win Class B again this year and are undefeated in 2023," Hourahan said. "They will be ranked top 10 in state in Class B as well."
Briarcliff Coach Brandon Beck is keeping it all in perspective, despite the hype around the club.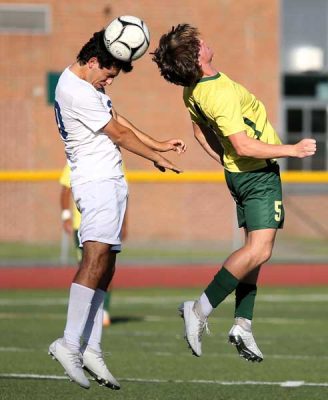 "We had two games in a row last week where we had to come back from being down 1-0, which showed some great character," the coach said. "As the defending Section 1 champs we know there is a huge target on our backs. Every team that we have played has given us a strong test. It is our goal to keep performing under pressure, stay consistent, and most importantly stay positive together this season."
Should they do so, sky's the limit for Briarcliff this season.
Abud Chalita (2G) was at it again in a 3-1 win over Blind Brook. Blind Brook opened the scoring five minutes in with Eli Zimmerman capitalizing on a Martin Otero corner. Briarcliff responded with two goals, one from Sebastian Lai and the other from Abud Chalita, before the halftime whistle. With 10 minutes left to play, Abud Chalita's second goal, off a free kick from All-NYS defender Miles Prosperino, which secured the win for the Bears.Young had five saves. Prosperino has picked up right where he left off, picking off opposing rushes with ease in most cases. His two-way play, booming clears and ease of transition through the zone is something to behold.
CLASS AA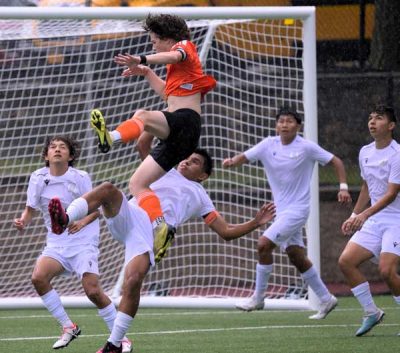 Defending NYS champion Scarsdale has to know that SOMERS will be the team they will have to fend off if the Raiders are to repeat as Section 1 champions after the Tuskers (1-1) took an early 1-0 lead on the strength of a Hyugo Todo tally but failed to fend off a pair of goals from Lorenzo Galeano, who sparked state-ranked (No.1) Scarsdale to a 2-1 win. Somers Coach Brian Lanzetta came away with a ton of confidence, though; knowing his young club is a team on the rise, ranked No.20 in NYS.
"We played awesome," said Lanzetta, proud owner of two state crowns since 2016. "Honestly, for a high school level it was an amazing game! I've coached at such a high club level at times and it felt like that. I got so much respect for Scarsdale Coach Marcos. A fellow Gael, and Iona alum.  It was a great battle. Positive play on both ends, and I look forward to us to keep growing and be at our best level come sectionals."
From the looks of Round 1, Round 2 should be a postseason doozy.
Marcelo Diaz netted YORKTOWN's only goal in a 5-1 loss to state-ranked (No.2) Tappan Zee as the defending sectional champion Huskers fell to 2-2. Previously, Yorktown crushed Port Chester, 7-2, behind four tallies from Michael Munson. Marcelo Diaz (2 G, 1 A), Antonio Frucco (1 G) and Nick Varela (3 A) all had their way.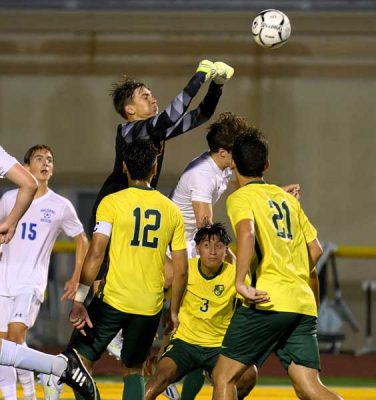 PEEKSKILL (2-2) handed Nanuet a 2-0 setback behind two points from Roy Escobar (1G, 1A), a goal Umaru Conteh and an assist from Cris Chunchi. Angel Cabrera needed just five saves for the clean sheet.
GREELEY took out Scarsdale's B team, 3-0, behind single goals from Maxi Kolev (1 A), Matthew Rodriguez and Matthew Mancini as the Quakers improved to 1-3-1. FOX LANE is 1-2 on the season.
CLASS A
Do not sleep on PANAS this season. A 4-0 win over Nyack featured four different goal scorers, including  Tommy Piriz (1A), Joel Jaime, Koky Duarte and Danny Coello. The Panthers (3-2) are better than advertised and they gave Tappan Zee all they could handle in a 3-1 loss. Duarte 1G scored for the Panthers and G Easaw Johan had seven saves in defeat. Panas also bested Sleepy Hollow, 3-1.
LAKELAND was able to take out defending NYS Class C champion HALDANE, but narrowly doing so, 2-1. Owen Becker (1G, 1A) had a hand in both goals for the Hornets (4-2).  Silvio Ahmataj (1G), Connor Daly (1A) also found the score sheet while G Oban Rader had fives saves, but Haldane's Frank Degiglio broke up the shutout bid. G Ronan Kiter (10 saves) was busy for the Blue Devils (2-3). Daly went to town on Gorton, scoring a hat trick in a 5-0 rout. Ahmataj (1G, 1A), Anthony Abbondanza (1G), Brendan Friedel (1G) and Owen Becker (2A) feasted as well.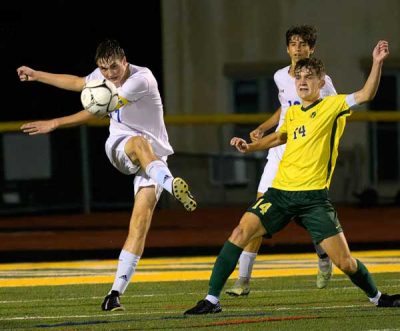 BYRAM HILLS improved to 2-0-1 behind a 3-0 shutout of Nanuet by keeper Ryan Nichols (8 saves) and solid balance on offense where Bobcats Reid DuToit (1G, 1A), Chris Amenedo (1G) and Billy Gillespie each found the back of the net. In perhaps a better win, the Bobcats took down Peekskill by a 2-1 count off goals from Amenedo and Ryan Nichols 1G.
CLASS B
VALHALLA (3-2) made short work of Saunders in a 5-2 win behind a pair of markers from Heming Huang, a goal and assist from Brayan Medina and two helpers from Mikaele Martinez.
WESTLAKE (2-4)put it on Woodlands in a 6-2 thrashing behind four goals from sniping Thomas Layden (1A), who had a hand in five goals while Collin Lyden (1G, 3A) did so with four.
CROTON (2-3) had a huge 1-0 shutout of HALDANE when Marcos Goni scored the game's only goal and Cole Cross (4 saves) notched a shutout. Haldane did pop off on Poughkeepsie, 7-0, behind Clem Grossman (2G, 2A), Matt Nachamkin (2G, 1A), Ty Villella (1G, 1A), Milo Pearsall (1G) and Zane Del Pozo (1G).
PLEASANTVILLE (3-1) dealt an improving PUTNAM VALLEY club a 2-1 setback when Panthers Joel Becerra and Reggie Larzelere each found the back of the net. The Tigers (1-5) lost another close one to North Salem, 1-0, despite 15 saves from talented keeper Miguel Diaz, but PV rebounded for its first win of the season in a 6-0 win over Woodlands, who had no answer for Jack Moriarty's hat trick. He also added an assist in a career game. Tigers Luis Galindo, Nick Rojas and Diego Hurtaldo (1A) all tickled the twine.
CLASS AAA
WHITE PLAINS (2-1-2) hammered Lincoln, 8-0, behind multi-point efforts from Charles Reid (2G), James Salas (2G), Pierro Jualer (2G) and Fran Giglio (1G, 2A). Eric Garcia added a goal for the Tigers, who also tied Greeley, 2-2, behind a pair of goals from Chris Salazar.  Kolev and Daniel Fioretti each scored for the Quakers, who nailed two goals in the final 20 minutes to send the Tigers packing with a tie they should have won.
OSSINING (2-3) took a step in the right direction with a 3-2 over Newburgh Free Academy behind three points from Kenny Mocha (1G, 2A) and two tallies from Jason Chunchi, who scored the game-winner in the 93rd minute.
Examiner-area soccer coaches are encouraged to email raygallaghersports@gmail.com with results, stats and comments for inclusion in our weekly notebook #PleaseDontMakeMeHuntYouDown