State Law Becomes Hurdle for Private School Gymnast
We are part of The Trust Project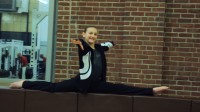 Amanda Grigas is a talented gymnast who has been excelling on the mat since she was six years old. Now 12, the seventh grader is a Level 9 competitive gymnast at Dynamic Gymnastics inMohegan Lake, which puts her in the upper echelon of the Junior Olympic system.
Grigas would love the opportunity to be a member of the Lakeland/Walter Panas High School combined gymnastics team. However, there's one major hurdle. Grigas attends Saint Elizabeth Ann Seton School in Shrub Oak and is prohibited by state Education Law from competing for the public school district.
It's a restriction that Amanda's mother, Therese, understands, but doesn't agree with, and plans to lobby the state Legislature to change.
"We payLakelandtaxes and she should be able to participate and get that exposure like everyone else is entitled to," Therese Grigas said. "It's not just her. I'm sure there are other parents who are as frustrated as us."
In August 2001, the Lakeland Board of Education adopted Policy 5133 that states "a student who is not enrolled in the schools of the Lakeland Central School District may not participate in the school district's interscholastic athletic program, nor may the student participate in intramural, extracurricular and other school-sponsored clubs and activities."
District Assistant Superintendent for Business Raymond Morningstar said the board has no authority to overrule state legislation.
"This is the first time I've heard of it in many years," Morningstar said of the issue.
Therese Grigas would like New York to follow the lead of 30 other states that have passed The Equal Access to Interscholastic Activities Act, which is also commonly known as The Tim Tebow Law.
The current New York Jets backup quarterback was home-schooled in Florida and because of a Floridastate law from 1996 he was allowed to play quarterback atAllen D. Nease High School in Ponte Vedra, Florida.
"I know it's not something that can be done tomorrow but it's something that I will try to do," Grigas said. "They have no problem taking our school taxes. She should have the opportunity like every other kid. There are also boys I know who want to play baseball for the high school and they can't. It's a shame."