St. Mary the Virgin's Strawberry Fest Returns Saturday for 80th Year
We are part of The Trust Project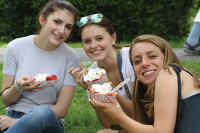 It's quite an achievement to hold an event for 80 consecutive years.
When strawberries are in season, that is when local residents can look forward to the Church of St. Mary the Virgin in Chappaqua to hold its annual Strawberry Festival, believed to be the longest running in the county.
While the event, scheduled for this Saturday, is a fundraiser for the church, it also helps bring the community together for a fun day.
"Anytime that we can gather people in a festive way, and with all the stuff going on around us, it is an opportunity for the church to be that beacon, that pull to draw people together," said Rev. Canon Alan Dennis.
Whether this is the first time you will attend the festival or you have been a regular visitor throughout the years, there will be something for everyone, said John Priscantelli, this year's festival chairman. There will be performances by Al Frankel and the Blues Dog Band as well as the Horace Greeley High School a cappella group.
For those who love animals, the main new attraction this year will be a petting zoo from 11 a.m. to 1 p.m. There will also be activities for kids, a bouncy castle and an assortment of intriguing vendors where perhaps a bargain could be had or an eclectic find can be made.
Then, of course, there is the great food that will be sold featuring plenty of strawberries and strawberry-themed delectables, including strawberry shortcake. For those looking for something just a little healthier, visitors can head to the Strawberry Café.
"It's really a huge outreach for us," Priscantelli said. "It's a way to connect to the community. We don't want to gouge people, we just want the people to come and enjoy themselves in a family environment."
Although long hours are put in by church volunteers to make the festival a success every year, there is no choice but to carry on what was started in 1938, Priscantelli said. When the day arrives, it'll all be worth it.
"It's such a tradition, a huge tradition for us and it's such a labor of love for so many of us that it would be a tragedy if it didn't continue," he said.
Dennis said the church will also be open in case anyone wants to come in from the outside and have a little peace and quiet.
"It'll be a long day, but it'll be a great day," he said.
The Strawberry Festival is held on the grounds of the Church of St. Mary the Virgin located at 191 S. Greeley Ave., next to Robert E. Bell Middle School, from 11 a.m. to 4 p.m. The event will go on rain or shine.