Spring Clean Up, Zero Waste Day in North Castle This Weekend
We are part of The Trust Project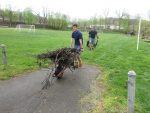 This weekend North Castle residents can rid themselves of unwanted items in their basements, attics and closets and help the town get clean as well.
On Saturday from 9 a.m. to 3 p.m., North Castle will be holding its 11th Zero Waste Day behind Town Hall in Armonk, where people can dispose of old computers, laptops, monitors, keyboards, televisions and other electronics that will be taken away by Suburban Carting.
But it's not just e-waste that can be disposed of. A variety of vendors will be collecting other items such as bicycles, shredded paper, dog and cat supplies, spring and summer clothes, shoes and linen, household furniture, scrap metal and used cooking oil.
Then on Sunday, after residents have uncluttered their own quarters, they can turn out for the annual Town Wide Clean Up Day to pick up bottles, cans, papers and other roadside litter.
Recycling Committee Co-chair Linda Trummer-Napolitano said this year car fluids, such as motor oil and antifreeze, will not be accepted since previous vendors have informed organizers there is no longer a market for that material
"If we don't have a vendor to take the item, then we won't accept it," she said.
Since 2009, Zero Waste Day has been scheduled each year in the spring, typically during the weekend that is closest to Earth Day, which is Apr. 22, Trummer-Napolitano said. This year the event was pushed back a week because of last week's start to Passover, she said.
The town no longer runs a second Zero Waste Day in the fall since demand during for the event later in the year has dropped off, Trummer-Napolitano said.
Only North Castle residents can take advantage of the e-waste drop-off component, she said. Drivers who bring e-waste will be asked for proof of residency. However, there is no residency requirement for the other donations.
For a complete list of items and other guidelines and instructions, visit the town's website at www.northcastleny.com and click on Zero Waste Day on the far right column on the screen.
Meanwhile, on Sunday is Town Wide Clean Up Day, which is being coordinated this year by 15-year-old town resident Malorie Lipstein. One of Lipstein's responsibilities is to deploy the volunteers who sign up to areas that need to be cleaned. Various school and youth groups along with service organizations are expected to take part.
She said participants should wear work gloves and work boots to help protect themselves. Light-colored clothing is also preferred.
"This is a really important event for all of us to come together and make the town a clean place," Lipstein said.
Residents who sign up to volunteer may pick up clear bags for recycling and black trash bags from the Highway Department office in the Town Hall Annex from 7 a.m. to 3 p.m. this week. On Sunday, volunteers can get the bags at Town Hall in Armonk, the Banksville Firehouse and the Community Center in North White Plains.
Supervisor Michael Schiliro said Town Wide Clean Up Day is a time when residents can help the town but it also can lead to enjoyable camaraderie.
"It's a great volunteer effort, a great family effort," he said. "I love that (Lipstein) is getting some youth organizations involved and tapping into that."
The rain date is the following Sunday, May 8.
For more information or to sign up to volunteer, e-mail Malorie Lipstein at cleanupnorthcastle@gmail.com.