Sports: A Weekend of Absolute Reckoning Shows True Colors
We are part of The Trust Project
Yorktown Passes Big Test; Somers, Carmel, Mahopac Fail
Let it be known that Saturday, September 23, 2017, was, indeed, a day of reckoning on the Section 1 Class A and AA grid circuit. Far be it from over, Class A Yorktown and Lourdes, took care of business, knocking of Rye and reigning NYS champion Somers, respectively, while assuming the presumptive label as co-favorites heading into the playoffs. Though Somers, winners of three of the last five Section 1 titles, can never be counted out.
Class AA was just as wild, though state-ranked (No.6) New Rochelle appears to be the clear-cut team to beat #WhatsNew!
CLASS A
Lourdes vs. host SOMERS was billed as the game of the week and it took overtime before the visiting Warriors posted a 19-13 win over the defending New York State Class A champions on Saturday, which will surely knock the Tuskers (3-1) off the No.1 pedestal in next week's NYS rankings.
Tied 13-13 at the end of regulation, unranked Lourdes started overtime with possession on the Tuskers' 20-yard line. Lourdes WR Kyle Strack caught a TD pass from QB Max Kras to give the Warriors (4-0) the lead, but the PAT was blocked and Somers had last licks, but Strack picked off Tusker QB Kevin Olifiers' pass to end the game. The Tuskers took a 10-7 lead with six seconds before the half on a 27-yard TD strike from Olifiers to RB Antonio Vieira, and Cameron Pepe booted a pair of field goals.
Lourdes cannot be taken lightly, according to Yale-bound Somers OL/DL Nick Gargiulo.
"Lourdes was just a physical team, a great game for us to prepare," said Gargiulo. "The loss was a mix of both us not playing our best and Lourdes being that good. We struggled on offense with penalties and settled for field goals instead of touchdowns. All the credit to Lourdes though, those guys played five tough quarters of football. Nobody likes to lose but we know how to bounce back, and hopefully we'll see them in the playoffs."
Somers (3-1) will visit undefeated John Jay-Cross River at 7 p.m. Thursday.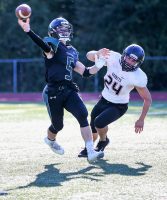 Rye vs. host YORKTOWN was also billed as the co-game of the week and it surpassed its billing as well. If Coach Mike Rescigno's state-ranked (No.3) Huskers (4-0) are going to take that next step, someone besides RBs Brett Makar and Brandon Meyreles are going to have to consistently produce and up stepped Yorktown QB Tommy Weaver in the Huskers' stunning 34-30 come-from-behind win over the state-ranked (No.18) Garnets (2-2). Weaver threw for 163 yards and three touchdowns and scooted for another 58-yard TD jaunt in what can only be described as the junior's career effort.
The kid came of age when the Huskers needed him most, delivering the game-winning TD pass to TE Alex Ujkaj from 30 yards out with 37 seconds left while dialing up five scoring drives in the final 25 minutes. Meyreles knocked down the final Hail Mary to preserve the win.
"Tommy is a kid that has showed our staff from day one that he is he man for the job for many reasons," Rescigno said of his signal caller. "He came up last year as sophomore and helped us go as far as we did. He is a great corner, too, and we knew he was going to be a great QB as well. He bleeds green. He receives coaching very well and has brought his throwing mechanics to the next level as a result of his work with my Assistant Coach Jeff Sniffen. I have been working on the intangible items more than the others.
"As a QB, the intangibles are the most important," the coach added. "QB's, statistically, will make more mistakes in the limelight as that is the nature of being the guy with the ball all of the time. I tell him several times per week and always on game day: 'You and me have to have each other's back because we are gonna make mistakes. It is the nature of the deal, don't expect perfection. Try to enjoy this thing. After all it is a game.' What I sometimes forget is that I was a rookie 13 years ago. He is a rookie now! That is why I am so proud of him. Huge game in a huge spot. He earned this game. He has worked his tail off to be the difference maker. If you ask him, I bet he will defer to his teammates and his coaches as the reason because he is humble and believes his team and everyone else comes first. That is why he is a winner."
Down 21-7 at the half, the Huskers opened the half quickly and tied the score midway through the third quarter on Weaver's touchdown pass to Brandon Meyreles. It was the second time they scored with a short field; Yorktown took advantage when Rye failed to convert a fourth-and-6 at its 30 in the first half. This time, Meyreles set up his own touchdown with an interception.
Yorktown RB Brett Makar, rushed for 60 yards on 16 carries and now has 576 yards rushing in three games. Makar scored a touchdown, hauled in two Weaver passes for 36 yards and had two sacks. Weaver also fired a TD pass to Frank Francese.
HEN HUD defeated LAKELAND 21-7 on a day when Sailor QB Manny Carbone would have a day, connecting with WR Alan Porter-Jackson, who displayed his incredible skill sets by snaring another TD catch. Sailor RB Jordan Grullon also chugged hard.
Lakeland QB Mike Capozzi hit on 10-22 passes for 135 yards with two picks. Hornet RB Tommy Barnett rushed four time for 57 yards and a TD while Justin Rivera added 66 yards on two big rushes. Hornet WR John Mule had five catches for 68 yards. Dylan Semenza had catches for 28 yards and an INT.
Lakeland's defense, which showed vast improvement, was led by Armando Smith (12 tackles, 3 sacks), Ray Stretz (13 tackles), Justin Rivera (11 tackles), Dan Cortese (11 tackles) and Tommy Briscoe (6 tackles, fumble recovery).
CLASS AA
The road to the Section 1 Class AA title goes through New Rochelle, that much is known, and, Lord knows, that may never change, seeing how the Huguenots have owned Section 1 10 of the past 14 years. However, there will be stops in either Putnam or Dutchess County, depending on who emerges from the League AA-North; be it pre-season favorite John Jay East Fishkill or Arlington, the upper crust in Dutchess, or Carmel and Mahopac, the class of Putnam County. Those four teams have played five games head to head and the outcomes were decided by 7, 6, 5, 4 and 1 point scores.
That said, Dutchess County laid down a fresh coat of pavement last Friday when host Arlington worked a 21-14 win over previously unbeaten Carmel, and East Fishkill posted a 14-10 win over the visiting Mahopac (2-2), leaving a cluster-flub of three 2-1 teams atop the division, including Carmel, Arlington and John Jay (all are 3-1 overall and Mahopac is 2-2). Mahopac won its first two games, including an upset of Arlington that opened eyes throughout the section, but consecutive league losses to Carmel and East Fishkill have essentially killed any legitimate shot at a league crown.
CARMEL should have remained unbeaten, had the Rams not gift-wrapped the game with seven turnovers. Arlington RB Ricardo Yolas scored on the Admirals' opening possession and Arlington would appear to hold the tie-breaker having defeated both Jay EF and Carmel, but the Admirals can clinch the title outright with a win over rival RCK in Week 5. Carmel QBs Peyton Cayea and Aidan Nunez each fired a TD pass to Leonard Flocco and Richard Keating, respectively, but Cayea's final pass attempt sailed into the arms of an Admiral in the game's waning moments.
MAHOPAC took a 10-7 lead on a TD pass from QB Ryan Dugan to WR Reahl "Deal" Allen with 13 ticks left in the third quarter, a choice diving grab, but Jay answered at 4:14 of the fourth when RB James Luciano, who was huge on both sides of the ball, sprang a 71-yard touchdown run jaunt, followed by a game-clinching interception of Dugan to seal the Patriots' comeback over a game but gassed Mahopac club, which has come miles from last year's 3-6 record in a very short period under first-year Coach Dominick DeMatteo.
Indian DB/K/RB James Dignam was that pesky fly at the picnic table no one can take out, blocking a 32-yard field goal attempt, and grabbing a Luciano fumble at the Indians' 26-yard line with 6:50 remaining. He also hit a short field goal to give the Indians a first-half lead.
But it was some tough sledding for the Indians on offense against a bigger Patriots' unit. Dugan netted 80 yards on 9 of 15 passing and had three carries for 10 yards. Allen looked like a cog the Indians may try to force the ball down field to as he totaled three receptions for 58 yards, including the 22-yard TD. Mahopac junior RB Tim Cegielski was held to 43 yards on 16 carries.
Week 5 shapes up as a doozy with John Jay and host Carmel squaring off on Thursday (7 pm) for what would be second place in AA-North if Arlington beats RCK.
CLASS B
PUTNAM VALLEY (3-1) went on the road to Hastings and just crushed it in a 48-12 win over the Yellow Jackets. PV's biggest tests lie ahead with Pleasantville upcoming, but the contributions came in all forms last Saturday, none more than junior RB John Listwan. The humble second-year veteran emerged with a pair of rushing TDs and 130 yards on just eight carries, caught three balls for 40 yards and added two sacks on defense while impressing second-year boss Ryan Elsasser.
"John has quickly become a spark plug and a leader on the team," Elsasser said. "He was one of our leading tacklers as a sophomore and has stepped up his aggressiveness this year on both sides of the ball. John dedicated himself to getting bigger, stronger, and faster for this season and it has shown. Week after week he has been a wrecking ball running with the football and has come up with some massive hits on defense. He is an athlete who is focused on the game year around and committed to being the best that he can be in all aspects of the game. I look forward to seeing what he will continue to produce on the field the rest of this year."
Tiger QB Travis Anderson rushed for a score and tossed another to WR Darnel Shillingford. Tigers Adam Rukaj (7 carries, 40 yards, 1 TD), Dan Tavares (3 carries, 20 yards, 1 TD) and Mike Gaitan (5-yard TD) all rushed for scores.
"I was impressed to see many players step up to compete when provided the chance this week," the coach said. "We had six different players run well with the ball and six different players score in this game."
HALDANE went to way up the line to Roscoe, and dialed up a fun bus ride home after a 22-21 Blue Devil win. Trailing 21-14 in the fourth, Haldane QB Brandon Twoguns rushed for a 29-yard score and Sam Giachinta (20 rushes, 114 yards, INT) crossed the goal line on a gutsy, game-clinching two-point conversion call from Coach Ryan McConville, who showed some big chick peas with the game on the line. Twoguns also rushed for a 44-yard score and 133 yards in all as the Blue Devils improved to 3-1.
NWE/Putnam Examiner Grid Poll
No.1 YORKTOWN – Who knew you could lose a Jose Boyer at QB, replace him with Weaver and still ascend to No.3 in NYS, which could become No.1 or No.2 in the next state poll, not that polls matter one iota.
No.2 SOMERS – Got the sense, for the first time this season, that the Tuskers really miss the burst of Matt Pires and Messiah Horne. That offense best shore things up this week to match scores with explosive but virtually untested John Jay CR.
No.3 CARMEL – Two capable QBs is a good problem, right?
No.4 MAHOPAC – Late blown leads against Carmel and Jay EF, or the Indians might be 4-0 instead of 2-2.
No.5 HEN HUD – Sailors need to win out vs. Sleepy (this Sunday) and Panas (Week 6) to prove a point, secure a top 8 seed and get a home playoff qualifier game and maybe make this pollster look good for having faith #AnchorDownY'all.
HM Putnam Valley – At 3-1, Tigers are poised to make Class B playoffs for second time in three years but P'ville and Ardsley are poised to deny.
HM Panas – Panthers get Lakeland this Thursday in what could be a last-possession-type of game if the Hornets can contain the Panther skill players.