Spirited Fox Lane Juniors Help Out on Community Day
We are part of The Trust Project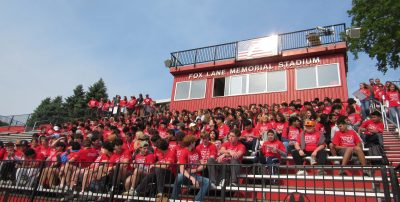 Last Friday about 300 Fox Lane High School juniors eagerly donned red and white t-shirts that read Community Volunteer Day 2023, prepared to donate their time and energy for the second annual Community Day, created to encourage volunteerism in young people.
Community Day was created by the Suzanne Grant Foundation to encourage volunteerism in young people. The foundation honors Grant, the late two-term Bedford Board of Education member and a passionate community volunteer who died in 2019.
Grant's husband, Dave, started the nonprofit foundation the following year to honor his wife and has continued to fund many school-based community projects. The foundation has been embraced by diverse local groups and other nonprofits.
"Today you will be serving some 30 community-based groups," interim Fox Lane High School Principal Susan Ostrofsky told the group of juniors who gathered at the high school stadium. "This day is a powerful reminder of how one person can have a desire to help others."
After grabbing assorted breakfast snacks and drinks, students boarded buses that transported them to various schools and community organizations. They had been given a choice of where they wanted to volunteer. Some electing to help out at their former elementary school, installing trail signs at West Patent Elementary School or assisting with projects at Mount Kisco Elementary School. Others selected to help children at the Boys & Girls Club.
"Collectively all of you will be donating 1,000 hours of work today," Grant told the students. "You will get a taste for volunteering and what it's like working with others."
Some of the other organizations that were helped last Friday were Neighbors Link, Westmoreland Sanctuary, 914 Cares and the Bedford Hills Free Library.
At the Fox Senior Center in Mount Kisco, students made care packages for local members of the military with seniors and veterans. At the Mount Kisco Interfaith Food Pantry, students helped stock shelves and prepare the pantry for food distribution to clients while others assisted Bedford 2030, organizing resource packets to share with the community that included native seeds.
About 20 students chose to learn CPR and first aid provided by the American Red Cross at the high school.
By mid-afternoon students returned to their school's athletic field to be rewarded with lunch and ice cream.
"This is a most amazing day," said Bedford Superintendent of Schools Dr. Robert Glass. "By the end of the long day students are energized by their joy of service that comes from volunteering and doing for others."