Somers Teacher Charged with Public Lewdness in Local Library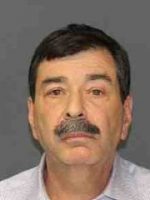 A Somers High School teacher was charged with public lewdness Thursday for allegedly exposing himself to a woman in the Ossining Public Library.
Jeffrey Wrightman, 60, a history teacher in the Somers district since 2003 who resides in White Plains, was placed on administrative leave following the incident, which occurred on the second floor of the library in an open study area.
He was arraigned on Friday and released on $1,000 bail.
"We're grateful for the individuals who recognized a bad situation, took action, and trusted us to help," Ossining Police stated in a Facebook post. "We're also proud of the quick response by our officers to efficiently resolve a disturbing situation."
"There is some indication that incidents of this type may have occurred in other libraries around Westchester. Today we're encouraging anyone who may have been a victim of a similar incident, whether here in Ossining, or elsewhere, to call the police. We're here to help," police continued in their post.
The alleged female victim contacted police about 8 p.m. on April 26. According to a published report, Wrightman admitted to the crime when confronted by authorities.
Public lewdness is a Class B misdemeanor that could bring a maximum sentence of 90 days in jail upon conviction, and a fine.