Somers Hoops Tourney Provides Opportunities for Special Athletes
News Based on facts, either observed and verified directly by the reporter, or reported and verified from knowledgeable sources.
We are part of The Trust Project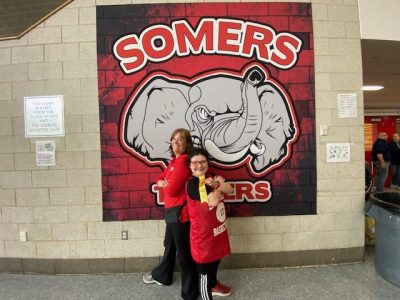 Like any dedicated parent, Lauren Dahling just wanted her son, Alex, to have the same opportunities as all children. But those aspirations can become a daunting proposition when your child has special needs.
Luckily for her and Alex, who graduated from the Somers School District last year, the district offered a Special Olympics program that Alex took to and flourished.
"It allowed Alex to play sports with his friends in a welcoming community with fantastic coaches and teachers who dedicate so much of their time to supporting the children of Somers," Dahling said.
Laura Fang can attest to such support. Soon after she and her family relocated to Somers from Queens a couple of years ago, her daughter, Esme, was introduced to basketball through the Special Olympics program, which helped her make the adjustment to her new home and school.
"Esme immediately felt that she belonged," Fang said. "In addition to encouraging the physical development of their athletes, the Special Olympics program provides emotional support and teaches what it means to be a member of a team. It has brought joy and a sense of pride to Esme and has taught her to care for and look out for others while staying physically fit. The program has been a blessing, not only for Esme but for our whole family, as it has contributed to our feeling that we are part of a caring community."
Last Saturday, Alex and Esme were two of more than 200 athletes from the area who converged at Somers High School and Somers Middle School for the Special Olympics Hudson Valley Regional Basketball Tournament.
This marks the first time in four years that the event is back to its regular schedule because of COVID.
"Somers Middle School was the site of the skills tournament, where athletes who are developing basketball skills competed in dribbling, shooting and passing activities with volunteers from Somers National Honor Society and Somers Leos," explained Katy Faivre, coach of the Somers High School Special Olympics team. "Somers High School was the site for the basketball competition, where teams from these programs competed on four levels of play."
Somers has been the site of the tournament for more than a decade, and Faivre has proudly been involved for the last 10 years as team coach and now also with their new Somers Training Club.
"The club includes high school and alumni/adult athletes who have aged out of school but still want to participate in sports," Faivre said. "It's important that our young adults have opportunities to connect with friends and to keep active physically once they leave the school system."
Perhaps no one knows that better than Will Smith. The Somers High School alum participated in the school's Special Olympics program while he was a student there, competing in indoor soccer, field hockey and track and field as well as basketball.
After graduating in 2006, Smith learned more about the Special Olympics when he assumed various volunteer roles in the organization – even becoming an assistant coach at his alma mater for a few years. These experiences culminated in Smith being hired by the Special Olympics of New York as a program and development specialist.
"I help my colleagues set up and take inventory for our events, from the moment the first registration comes in up to the day of competition," Smith explained. "I also assist in our fundraisers for our region, as well."
On Saturday, Smith proudly assumed his old role – on the court – competing alongside his teammates on the North East Knights.
For Smith, the Special Olympics "gives us, the athletes, opportunities to demonstrate our skills and gives us an inclusive environment for everyone to be a part of and enjoy." But, most importantly, "to show that we as athletes are able to compete and accomplish anything on or off the court when we give our best efforts – just like anybody else."