Somers, Carmel, P'Ville, Westlake Advance to Chip Game
News Based on facts, either observed and verified directly by the reporter, or reported and verified from knowledgeable sources.
We are part of The Trust Project
By Ray Gallagher, Examiner Sports Editor @Directrays
As we predicted in our pre-season special, Class AA Carmel, Class A Somers, Class B Pleasantville, Class C Westlake and Class D Haldane will all be making the trek to Arlington High School this weekend for their respective Section 1 championships. In some cases, the matchups are classics, and Freedom Plains will be the place to be for Section 1 football fanatics.
CLASS A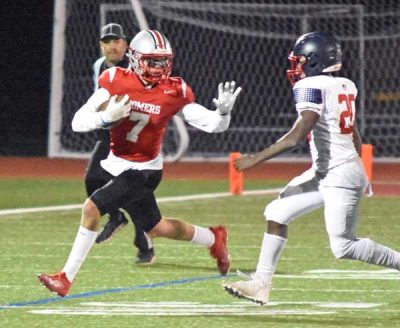 No.1-North SOMERS let No.2-South Eastchester hang around for a half, the state-ranked (No.1) Tuskers (9-1) leading 21-7 heading into the third quarter, but that was all she wrote for the game but overmatched Eagles (7-2), ranked No.20 in NYS.
The defending NYS champion Tuskers cleaned things up on offense, stiffened on defense and saw their special teams rebound from allowing an 88-yard kick return for a second-quarter score.
Somers sophomore RB Dean Palazzolo set the tempo with a 31-yard TD catch and run from QB Mac Sullivan, who fired two TD passes but will need to take better care of the ball (3 INTs) if the Tuskers are to advance past No.1-South Harrison in Friday's Class A sectional championship at 6 p.m. Harrison held on for a 24-21 back-and-forth nailbiter over No.2-North YORKTOWN, which squandered a 21-10 fourth-quarter lead.
Somers junior RB Mason Kelly was a workhorse, rushing for 126 yards and a pair of scores on 18 carries to lead a ground game that amassed 226 yards. Palazzolo snared six passes for 81 yards. Tusker Andrew Kapica hauled in a TD from Sullivan, who finished 7 of 11 for 119 passing yards and a rushing score.
"We are going to definitely work hard all week to prepare for Harrison," said Tusker captain Ryan Cole, who had a sack, caused a fumble and picked off a pass. "We need another strong practice week to clean things up. We have always been the type of team to be able to bend but not break. They were a great team for sure, but we knew we would come out on top."
We three Nicks were nasty on D; Nick Newman (7 tackles, 2 FL), Nick Creco (6 tackles) and Nick Conti (5 tackles) led the Tuskers, who will be seeking their seventh sectional title since 2000, third in a row.
State-ranked (No.6) Yorktown (8-2) will long rue its fourth-quarter performance against the 16th-ranked Huskies (8-2), who were ripe for the picking after Yorktown QB Kaden Gonzalez (20 of 29, 2 TDs) found WR Tommy Costello (5 catches, 77 yards) with 1:12 left in the third for a 21-10 lead. Husker RB Dylan DelVecchio (23 carries, 104 yards) moved the chains all day while Chris Constantine (1 rushing TD, 7 catches, 41 yards, 5 tackles) was stellar on both sides of the ball.
Yorktown's defense, which had been stout all season, then allowed Harrison to post 14 unanswered points before marching deep to the Harrison 12 in the game's final minute, only to get picked off with :30 to play. Connor Duncan (12 tackles), Ryan Vogel (11) and Jack Ferone (9) led the defense.
While the Huskers were surely down over the weekend, they have earned nothing but respect from the rest of Section 1.
"What an amazing season we had from this group of young men," Yorktown Coach Pantelis Ypsilantis said. "We thank our seniors for leading the way on this incredible ride."
CLASS AA
Two-time reigning Section 1 Class AA CARMEL, the No.1-B seed, won its 19 consecutive home game, and its last home match this season when the jacked-up Rams crushed Suffern, dialing up a dominant 35-6 semifinal win. It was the seventh win in a row for the state-ranked (No.17) Rams (8-1).
Senior QB Christian Nunez Nunez was firing on all cylinders against the Mounties (5-4), connecting on 8 of 11, including a TD in the air while racking up 66 yards on seven carries, one of which found paydirt. Junior RB Tristain Werlau had his way, yet again, rushing for 106 yards and two scores on just eight carries. He is fresh and ready to go for Saturday's Week 10 title tilt at 6:00 p.m. when the Class AA championship is up for grabs and Carmel's three-peat opportunity on the line.
"The guys came out extremely focused and ready to play," longtime Rams Assistant Coach Jim Donahoe said. "They had a solid week of practice and it showed in our performance. Hats off to the big boys up front. They opened some nice holes for Tristan and Leo as well as protecting Nunez. Sometimes those guys don't get enough credit for the tough work they do. Guys like Jayden Robles, Harrison Collazo, Adam Boeheim, Liam Forrester, Hayden Fragiacomo and Teddy Galbraith at TE. The offense was very sharp and stayed on schedule which helps the play calling."
Things have gone full circle now as Carmel heads back to No.1-A Arlington – where it was crushed in a Week 2 beatdown, 55-18. Two-way seniors Matt Risley and Damien Santiago both missed the loss to Arlington in September and Carmel hasn't skipped a beat since the dynamic duo got healthy. The Rams have given up just 65 points since the undefeated Admirals laid it on thicker and heavier as they went. While the Admirals are ranked No.9 in NYS, they are No.3 among the teams eligible for the state playoffs.
Risley expects a different Carmel club to take the field as the Rams seek the fourth sectional crown since 1998.
"You will definitely be getting the best version of Carmel football you have seen all season," the three-year senior captain said. "We always say we want to be playing our best football in Week 8, 9 and 10. The guys are pumped!"
Ram RB Leo Venables needed just three carries to net 44 yards and a score. Senior K Jared Navidad, possibly the section's top kicker, was 5 for 5 on PATs. WR Ryan Aabel had four huge grabs for 83 yards.
Risley (7 tackles, 1 TFL, 1 PBU) led the team in tackles and junior Tamba Kassoh (2 sacks, 1 FF 1 TFL), Aidan White (2 tackles, 1 INT, 1 PBU), Liam Forster (3 tackles, 3 TFL), Damien Santiago (4 tackles, 2 TFL), and sophomore King Mercer (forced fumble) is a reason why this defensive unit has to be respected.
"Defensively, we continue to play hard and rally to the ball," Coach D said. "It's been our goal to continue to get better each week. We are thrilled to get a chance to play for a sectional title against a very good Arlington team. There is tremendous respect between the two programs and we expect it to be a great environment for a high school game. This is what you play for: The two best teams slugging it out for four quarters."
CLASS B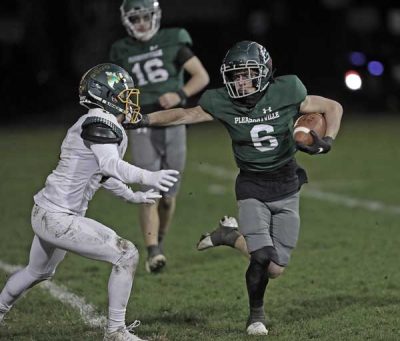 In his final home game at legendary Parkway Field, where he initially christened his varsity cleats as an eighth-grade call-up, PLEASANTVILLE RB/WR Daniel Picart's raced for three touchdowns and a pair of two-point conversions while adding an INT in Friday's 42-14 Class B semifinal win over fifth-seeded LAKELAND. Picart, the reigning NYS Class B Player of the Year, continued to have his way on the gridiron.
"He's special," Lakeland Coach Ryan Shilling said of Picart. "We played really well offensively to start. First drive we got into the red zone. Second drive we scored. Third drive we had a couple of questionable calls that didn't go our way. The fourth drive we couldn't convert a 2nd, 3rd and 4th-and-1. We went for it, because as you said, they are really tough to stop no matter where you give it to them. You think you're playing with them, and next thing you know it's 29-7.
"Definitely proud of our kids," Shilling added. "They fought all year and accomplished a lot. Our goal was to get to a semi-final and we were able to do that."
Picart' twin brother, Aidan, fired a 25-yard TD strike to WR Erik Coleman and his 19-yard rushing TD at end of the second quarter saw the P'Ville (9-0) lead swell to 35-7, thus draining the life from a 6-4 Lakeland team that had previously won its first playoff game since 2009.
"I'm just so happy for Aidan and Daniel to be able to make memories with each other and with the rest of the guys they've been playing with since third grade," Pleasantville Coach Tony Becerra said. "I know they want to keep this thing going and make more memories."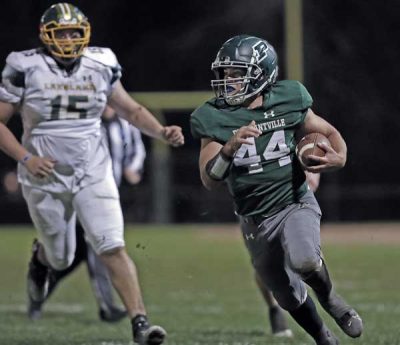 Hornet QB Grady Leonard (117 passing yards, 1 TD passing, 1 rushing TD) connected with RB Anthony Frobose (3 catches, 107 yards) for a game-tying 70-yard TD screen pass midway through the first quarter to grant Coach Ryan Shilling's state-ranked (No.28) Hornets (6-4) a brief glimmer of hope against the two-time reigning NYS finalists. Leonard surpassed 2,000 passing yards along with 29 total TDs. Lakeland's six wins are the most since 2004.
P'Ville junior RB Louis Sdao tacked on a 44-yard, third-quarter TD before the state-ranked (No.3) Panthers took the pedal off the metal.
Two-time defending Section 1 champion Pleasantville will be seeking a three-peat against second-seeded Rye in Saturday's Class B championship game (3:00 p.m.). The Panthers beat No.2 Rye, 21-12, in September, but the state-ranked (No.9) Garnets, a force in Class A football for the last half decade, were banged up. A healthy Rye club should pose a serious challenge to Pleasantville's long standing dominance. Rye QB AJ Miller (14 of 18 passing for 244 yards and 3 TDs in the semifinal win over Ardsley) has a serious connection with WR Jack Acciavatti (6 grabs, 120 yards and a TD), which will keep the Panther secondary under major pressure while RB Chris Iuliano (2 TDs) will keep them honest in the rush game.
"It goes without saying that this Rye game will be our toughest test this season, so we'll have to be on point and play mistake-free football," Coach Becerra said.
CLASS C
State-ranked (No.3) WESTLAKE will be vying for the chip after the defending champs allowed just 94 yards on defense in a 21-6 win over rival VALHALLA Friday night. Westlake RB Chris Kalle, working in the Wildcat formation, set the tempo with a 40-yard TD jaunt for a 7-0 lead with 2:24 left in the first. The kid was barely touched as the O-line and skill players all bought in and blocked the play to paydirt.
Wildcat WR Nick Castellano's leaping 30-yard reception from QB Michael Pagan set up the second TD from a yard out by Pagan (6 of 8 for 70 yards passing).
Wildcat RB Stephen DiNapoli's 19-yard rushing TD and the third PAT from Anthony Nigrelli with 7:57 left in the fourth provided the final margin. Michael Pagan's strike to Jake Zaino for a big third down conversion set the score up. Raf Savino, Brayden Lingeza (recovered a fumble) and CJ Prosperino (INT) each had a big day on D for the undefeated Wildcats (8-0), who will face unranked Bronxville for the right to represent Section 1 in the NYSPHSAA tournament. The four-time Section 1 champion Broncos (4-4) upset Dobbs Ferry to advance and seek their first title since 2010. Westlake seeks its third since 2015.
"Both sides of the ball were clicking for us with our defense only allowing 94 yards the whole game and the offense driving up and down the field," Kalle said. "We also had three turnovers, but there are plenty of mistakes that we have to clean up before Saturday."
CLASS D
HALDANE will be the home team for Friday's 3:00 p.m. title tilt against Tuckahoe. The state-ranked (No.9) Blue Devils (6-2) took the initial meeting this season by a 21-13 count against the state-ranked (No.9) Tigers (4-3). The two rivals will christen a scrappy five-game slate at Arlington.
Corrections:
Sourcing & Methodology Statement:
References: