Soccer Notebook: Haldane Falls in Finals; 'Pac, Lakeland, Somers Bow in Semis
We are part of The Trust Project
The 2012 Section 1 soccer season in this neck of the woods will be recalled as one of promise and hope. Haldane did the region justice by appearing in the Class C title game before falling, 2-1, to top-seeded Solomon Schechter.
Three programs – Class A Somers and Lakeland, plus Class AA Mahopac – all reached the sectional semifinals but were all bounced out on one terrible Tuesday when a dearth of goal scoring prevented any advancement from the locals.
No.6 Mahopac suffered a 1-0 loss in overtime to No.2 North Rockland; No.11 Somers was eliminated in a 2-0 loss to Port Chester and No.4 Lakeland, the defending Class A champion, took a 1-0 loss on the chin. Still, placing three teams in the large-school semifinals and another in the small-school finals is nothing to sneeze at; local players and coaches should be proud of those achievements.
CLASS AA SECTIONALS
North Rock's Christian Ohanian redirected a Will Lopez throw-in in the final minute of overtime to send the host Raiders (18-2) to the finals where No.1 Arlington where the Admirals (19-1) prevailed, 3-2, to win the title.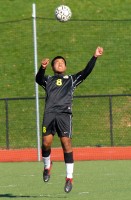 "Unfortunately, all good things come to an end," Mahopac Coach Chris Emery said. "My most nerve-wracking, yet exciting, season as head coach at Mahopac has come to an end."
Mahopac (12-3-1), which needed overtime to defeat rival Carmel in Monday's quarters, came out flat in the first half and allowed North Rockland to dictate tempo.
"They put a lot of pressure on us, but we toughed through it and got to the half scoreless" the coach said. "(Goalie) Mike Bernardi made some great saves in the first half to keep us even. We settled down after the half and came out stronger in the second half. We started to play the ball out wide and create opportunities, but were unable to find the back of the net."
Mahopac went to overtime for the eighth time this season where its fortunes had been bountiful.
"After going 6-0-1 in OT this season, I thought we had them right where we wanted them, but the law of averages finally caught up with us. North Rockland put a lot of pressure on is during overtime, and they were able to score on a header off of a long throw in with under two minutes remaining in the first overtime."
Mahopac had won just about every other 50-50 ball in our box, doing so behind the head of senior captain David Kalaj, but one of the only ball Kalaj could not get turned out to be the difference in the game.
"I give North Rockland a lot of credit," Emery said. "They were able to put a lot of pressure on our defense while at the same time frustrating our offense. My team really showed its character by fighting through a tough first half and coming out stronger in the second half. They played hard and kept fighting all the way until that goal went in, but unfortunately it wasn't enough to send us to the finals. I'm really proud of what the team was able to accomplish this season."
Mahopac wasn't even a blip on the radar when the season began, yet ended up in the semifinals for the second time in three years with a team that only had two returning starters.
"We fell way short of our expectations last season, and it's a testament to the quality of our leadership that we were able to accomplish this turnaround," Emery said. "Our returning players used last season's disappointment as a learning experience and motivation to get it right this season."
Indian seniors Joseph Iraola, David Kalaj, Justin Fleischer, Kieran Donnelly, Danny Feighery, Danny Katz, Tommy Walsh, and Ryan Byrnes did an outstanding job of leading this team. Iraola should get strong consideration for Class AA MVP, as his 19 goals, including four golden goals in OT, are tops in Class AA. He was named the League I-A MVP, with Emery winning Coach of the Year honors. Mike Bernardi, a sophomore goalie, and Kalaj were named HM All-Section.
"My seniors not only showed the younger guys how to play the game at this level, but also showed the value of hard work and teamwork," Emery said. "The team really came together as a unit, and as a result we ended up with my best record in five years as coach. I can't say enough about this group. I knew we had a chance to be good, but they exceeded my expectations by reaching the semifinals. For a team to win six overtime games in one season is just surreal. They played hard every game all the way to the last whistle and had to earn the respect that they finally received at the end of the season. I don't think any of us will ever forget this season."
Overachieving will do that for a group of athletes.
CLASS A SECTIONALS
Host Byram's Justin Godner tallied the only goal in the state-ranked (No.6) Bobcats' 1-0 win over a depleted Lakeland club, which needed to be hitting on all cylinders against a Byram Hills team what would eventually fall to state-ranked (No.3) Port Chester in the finals. The mutual respect between two of the section's most consistent programs was evident, but the Hornets may have shown too much respect.
Coach Tim Hourahan knew it would take an A-effort and his state-ranked (No.16) Hornets played with average intensity and high levels of frustration due to Byram's superior depth and vast talent. Lakeland could rarely get more than 2-3 touches forward without being stripped or tackled. They could not get the ball over the top of Byram's defense, and once the Cats went to a 4-4-2 set, Godner got loose for just a second to beat Regis Mora shortly after a scoreless first half.
The few chances Lakeland got (2 shots on goal), had little chance of sneaking past Ryan Golden, Section 1's premier netminder. And when All-Section middie Gonzalo Prando, Lakeland's MVP, went down with concussion-like symptoms after a nasty head-to-head collision in the 62nd minute, the Hornets chances grew slimmer still. Late in the second half, Hourahan brought All-Section HM sweeper Andrew Mitgang up top, but the feisty co-captain was kept at bay, along with fellow All-Section HM seniors Timmy O'Driscoll and Patryk Seweryn. The seniors were the heart and soul of Lakeland's fifth Final 4 appearance in 11 years, but they leave the program in pretty good hands.
"Their system of play is to get a lot of numbers behind the ball and then they close you down quickly,"Hourahan said of the suffocating Bobcats. "They've had the same system for a long time and they do a great job at it. There's a reason why they haven't lost a sectional game since 2005 (Port Chester ended that Thursday); because they are the No.1 program in the section and we wanted to come in here and beat them. It's just not possible if we're not healthy. We ran out of depth today. We lost our starting left back against Nyack and we lost our MVP with 20 minutes left to play. It was just too much to come back from: three ACL, a broken foot, a knee cap, and a bad sprain to our left back… we've just had more injuries this year than in all the years I've been here. Losing six of your top 16 guys is tough.
"That said, we knew we needed an A-effort and I don't think we played our best game today," the coach concluded. "It's what we had to do today and we were right there, we just couldn't get the goal we needed. We weren't really able to create much today. We lose 12 guys that poured their heart and soul into this program and I thank them for that."
SOMERS was night and day from Day 1 – an early September opening-day thrashing at the hands of North Salem – to season's end; where first-year Coach James Palumbo's Tuskers were finally eliminated in the Final 4. Say what you want about their sectional draw being a soft one, but the Tuskers represented better than most expected. Palumbo shored up the defense and Somers improved immensely as the season wore on.
The season was one of highs and lows, but the Tuskers gave state-ranked (No.3) Port Chester everything they had and then some, but freshman Steven Hernandez got the better of them in the second half, scoring a pair of goals for a 2-0 Rams win at Purchase College. Tusker Nick Fecci picked up an All-Section nod while teammate Ian Warren was HM All-Section. Determined Harold Ayree was kept off the board, but the senior went out with a feisty effort against PC.
Class C Sectionals
Haldane 2, Hamilton 2: In the Class C semifinals No. 2 host Haldane advanced on penalty kicks, 5-3. Aidan Draper and Macdara Heanue each put one between the pipes for Haldane in regulation. Ciaran Dillon was named to the All-Section team while James Rubino drew an HM nod. Haldane, which played without the services of its leading scorer, Aidan Draper, who suffered a concussion in the semifinal, PK over defending champ Alexander Hamilton – answered at 33:17.
Heanue passed to Rubino on the right side, than bolted to the left post, where he took Rubino's return feed and deposited.
Haldane coach Ahmed Dwidar, who is building a heck of a program, admitted Schechter was the more physical of the two. Still, the Blue Devils had a chance or two to tie it in the end. Rubino's shot sailed wide right and Jake Heitmann's shot flirted wide of the left post, and another terrific season at Haldane concluded.