We are part of The Trust Project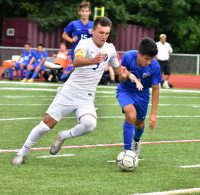 Kiss of Death Alive, Strikes Local Soccer Clubs
So, the Kiss of Death has struck again: Everybody knows that as soon as I prop you up in these pages, the fall will often follow. Last week, we featured the Class AA Ossining and Class A Brewster boys' teams, and the state-ranked (No.5) Class AA Mahopac girls in this here space, and right around the same time we went to print previously state-ranked (No.14) Ossining got knocked off by perennial state-ranked (No.10) powerhouse Arlington, which was no big surprise given the Admirals' penchant for owning Section 1 Class AA soccer foes.
But Class A Brewster got upended in a surprising 4-2 loss to Gorton later in the week, and the Lady Indians were then derailed in a 2-0 loss to mighty North Rockland and another 2-1 setback to Clarkstown South. Three teams featured, four key losses: The Kiss of Death lives! Now listen, we're still high on all three programs, especially since this was a wild week across the board on the Section 1 soccer circuit.
Ossining recovered two days later with a 1-0 win over Fox Lane on a Nolan Lenaghan goal, and the Pride would do well to reach the Section 1 Final 4 this season, battling the likes of Arlington and New Rochelle for the right to represent in the state tournament.
As for Brewster, let's pump the breaks. Somers and Yorktown are two of the premier obstacles in the days ahead, and those two games will tell us a lot about the Bears, who got back on track and improved to 4-2 with a quality 2-0 win over Lakeland Friday behind goals from Pat Feehan and Geo Zanetto, but a string of crazy games this week will help determine whether of no the Bears are in it to win it: Monday, Nyack at Brewster; Tuesday, Somers at Brewster; Thursday, Brewster at Nanuet; Saturday, Mahopac at Brewster.
As for Mahopac, the Lady Indians will be just fine, as evidenced by Saturday's 1-0 win over Yorktown. The loss to North Rockland was a grudge match, something the Raiders had been carrying with them since last November when the Indians staged a great quarterfinal upset to end their season. In the end, the two could potentially meet again; either in the semis of finals, dependent upon their respective seeds. For now, Mahopac needs to focus on the league title, with an eye on the big picture down the road…
BOYS' NOTES: In the biggest game of the week, YORKTOWN upended state-ranked Class AA New Rochelle, 1-0, when James Calidonna, assisted by Timmy O'Callaghan, scored the lone goal. For a Yorktown team that has been up and down early on, this signals the beginning of what could be a magical run to the Class A Final 4 or bust. Gritty Pat Boyle saved the Huskers' hide when he flew in on defense and prevented a game-tying goal in the game's waning moments. His spectacular defensive play helped preserve the victory for the reigning Section 1 Class AA champion Huskers, who are obviously legit Class A title contenders this season when they bring the A-game.
"In our two loses this season we got in our own way," Yorktown Assistant coach Justin Huff said. "Come playoff time we'll be ready to play anyone and will be looking for some revenge against Beacon and Tappan Zee. We're officially a Dr. Jekyll and Mr. Hyde-type team. We seem to have turned things around for start of the league schedule this week."
They'd better have because if folks want to see something completely off the hook this week, they'd best be at Yorktown on Thursday (6 pm) when Somers pays a visit in what should be a raucous environment with the league chip potentially on the line. The Huskers have already stunned the Tuskers this season, Somers will be looking to extract its pound of flesh…
SOMERS defeated Pleasantville, 1-0, when Ethan Cukaj scored from Jon Riina, but truth be told the Tuskers need to score more than once in a game against a Class B foe if they mean the kind of business they are capable of. The Tuskers put up a 7-spot in a shutout of Panas when Lucas Fecci and Diego Giron each scored two goals and dished as assist for the surging state-ranked (No.19) Tuskers (7-1), winner of five in a row. Film doesn't lie and Coach Brian Lanzetta's Tuskers look scary good on film, and once they become a cohesive unit watch out…
MAHOPAC senior Niko DeCola put on a second-half show in a 2-0 win over host CARMEL, scoring twice in dictating tempo throughout. His 45-yard laser off a free kick tickled twine and was a sight to behold…
GIRLS' NOTES: The WALTER PANAS Panthers came up with two theatrical wins this week, defeating bordering rivals, YORKTOWN, 2-1 in OT, and LAKELAND, 1-0, in the final minute. Noelle Fuller, the Panthers' keeper, made 19 saves and emerging Julia Araujo scored on a free kick with 48 seconds left to beat Lakeland. Against Yorktown, Kaitlyn Roazzi and Araujo found the net. Reckon my man — Panas Coach Kyle Pierce — has the Panthers playing above their ordinary level after these two huge wins. Lakeland also suffered a 1-0 loss to SOMERS when Mia Klayman scored the lone goal off an assist from Dahlia Pepe…
PUTNAM VALLEY had a rough week for a team with high hopes and legit talent, losing a pair of 2-1 games to Croton and Hastings. Hey, it's early, but it's time to get your ducks in a row if the Tigers are going to make another Class B Final 4 run.