We are part of The Trust Project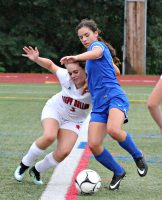 Don't Sleep on Class AA Ossining or Class A Brewster
It's been a while since Class A Brewster and Class AA Ossining were completely relevant on the Section 1 soccer scene. Sure, both have had some nice players and some decent clubs, but neither were really talked about as potential Section 1 title contenders for quite some time.
We told you in this space last week not to sleep on OSSINING and we mean that more than ever after the Pride improved to 4-0-1 after a 2-2 draw with Scarsdale Saturday and a 5-1 win over RCK earlier in the week.
Last year, Mateo Marra was the star for the Pride, and while he's still quite studly, the rest of the unit has picked it up this season. When all 11 players are clicking on their new, widened field the Pride can challenge anyone. Nolan Lenaghan scored both goals for the Pride against Scarsdale, the first coming off a Mateo Marra assist and the second from Eric Monges.
A stout defense, which has allowed just three goals this season, invigorates the transition game, and the Pride will know exactly where they stand come Monday night when they take on an Arlington program that has been the upper crust of Section 1 for much of the past decade.
BREWSTER is led defensively by sweeper Anthony Ferrandino, who added a pair of goals in the Bears' 4-0 win over Peekskill on Saturday. Feisty Patrick Feehan got the Bears rolling 17 minutes in to the fray and Valentin Markaj added another.
"We worked quite a bit on defensive fundamentals in August and as we started to play games, we began to work more on team defense every day in all phases of the game," Brewster Coach Scott Potusek said. "We have developed some confidence and we feel good about how we have improved so far, but there is a lot of work to do. We had a tough start to the season with the death of our teammate and friend, Oscar Gonzalez. Through all of that, what stands out to me most is how incredibly lucky I am to be able to coach this team. We have a lot of tough, tough games to play in a very short period of time. However, what has helped us kick off our season so well is what will carry us to the end. It's the ego-less, thoughtful, upbeat attitude our team possesses. We have fun, work hard, and we are one."
The Bears are living by the mantra "Sweep the Sheds", meaning: Never be too big to do the small things that need to be done, and they will need to live by that when they face Lakeland, Nyack and Somers in succession from September 21-25…
SOMERS had a big bounce-back win in a 2-0 triumph of Union City (NJ). Lucas Fecci, the section's leading scorer, and Bennett Leitner scored for the Tuskers. Drew Lasher, one of the section's premier playmakers, added two more assists.
Fecci feels the team is ready to get on a run.
"It was a tough loss to Yorktown but with Connor (O'Donoghue) back in net and everyone playing the way we should play it looks like we're back on track," Fecci said.
All the talk coming out of this region has been about Somers and state-ranked (No.3) YORKTOWN contending for the Class A title, but the reigning Section 1 Class AA champion Huskers were knocked off for the first time this season in a 2-0 loss to state-ranked (No.18) Rockland power Tappan Zee, who certainly cannot be written off as a potential title contender in a cluster-flub of high-end Class A squads.
"We had the better of the play, more possession," Yorktown Assistant Coach Justin Huff said
"They packed it in after their goal and caught us on a mistake on the second. They had two players of quality. I'll give them credit on capitalizing on our defensive mistakes, but I would love to play them again in sectionals."
Good chance of that happening, coach…
GIRLS SOCCER
MAHOPAC sophomore Mia Klammer (2G) is coming in to her own along the wing, and that was fairly evident in the unbeaten Indians' 3-0 win over visiting Mamaroneck last Saturday. Colgate-bound junior M Carly Steinberg followed up a three-goal effort against Scarsdale (a 3-0 win) with one more against Mamo'. Indian G Isabel Omboni, who has been incredible in goal all season, posted two more shutouts for an Indian team that could and should roll out a top 10-15 NYS ranking when state pollsters release their poll this week…
PUTNAM VALLEY got back on track with a 2-1 win over Briarcliff in double OT when Natalie Mazza scored her first goal ever and the game-winning goal with 48 seconds left from Lindsey Cohen. Dannia Jadan also tickled twine for the Tigers (2-1), who hadn't come roaring out of the gate as expected after reaching the sectional semifinals a year ago (a 4-1 loss to Rye Neck caught some by surprise). PV was set to be tested on Monday against a Valhalla team they beat by PK's in last year's playoffs, so this should be a pretty good barometer as to where they stand in Class B…
Dahlia Pepe had one goal and two assists in a 4-2 SOMERS win over Harrison. I can only imagine how good Coach Paul Saia's Somers team might be if it hadn't been crushed by academy players opting for the "greener pastures" of club soccer.
ATTN. SOCCER COACHES: Still hoping like heck that all soccer coaches will hit me up at raygallaghersports@gmail.com with game recaps and comments after each game; your players deserve the five additional minutes it takes after each game.