Slater Wants Special State Session This Fall to Address Migrant Crisis
News Based on facts, either observed and verified directly by the reporter, or reported and verified from knowledgeable sources.
We are part of The Trust Project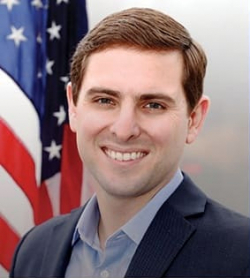 A local assemblyman has urged Gov. Kathy Hochul to call for a special state legislative session in hopes of figuring out a way for New York to address the ongoing crush of asylum seekers.
Assemblyman Matt Slater (R-Yorktown) said there should be a special session this fall as the state is struggling to handle the migrants, particularly in New York City. He said it isn't uncommon that when a critical issue presents itself for lawmakers to formally return to Albany sometime before the regularly scheduled session in January.
"I think it's absolutely justifiable to request it and this is something that we've continued to hear from constituents in Westchester and Putnam counties about," Slater said.
He joins many of his Republican colleagues in both the Assembly and the Senate in calling for a session to be convened to discuss ways the state can tackle the issue.
During the past year, there have been an estimated 100,000 people who came to New York after crossing the southern border. However, as of two weeks ago, Westchester County had been housing just over 400 migrants while there have been none in Putnam County. Putnam was one of 31 counties that were sued by New York City earlier this year after refusing to accept any asylum seekers.
Even though there are no migrants being housed in Slater's 94th Assembly District as of the end of August, the entire state has to confront the matter because the federal government has failed in its job, Slater argued.
"We have a situation on our hands where even though it doesn't impact us today, the way that things continue to move, you just don't know whether it's going to impact my district specifically tomorrow, next week, next month," Slater said.
A bill introduced by Slater, A.7319-A, would require New York State to register all migrants to assist with background checks and to monitor refugees seeking asylum in the state.
Other measures that New York's GOP lawmakers have proposed include requiring the state comptroller to examine and audit all state and federal funds received and appropriated for humanitarian aid; protecting counties and municipalities from "right to shelter" statutes by requiring local governments to opt-in to accept migrants from other jurisdictions; that no funding is used to shelter migrants in schools, day care centers or community-based organizations; and reversing the 2017 executive order that prohibits law enforcement from cooperating with federal agencies such as Immigration and Customs Enforcement.
Another potential resolution calls on the federal government to provide financial assistance to the state and properly address the border crisis.
In a press conference last week, Hochul did not dismiss the possibility of calling a special session.
"Certainly, I'm entertaining all our options right now," the governor said.
On Aug. 30, Hochul went to Washington and met with senior members of the Biden administration for more than two hours, urging the federal government to provide more support to New York. Among the solutions she pressed for was expediting work authorization for asylum seekers and migrants as well as immigration reform by the federal government.
"As New Yorkers know, securing expedited work authorization for asylum seekers and migrants has been and remains my top priority," Hochul said following her trip to Washington. "It is the only way to help asylum seekers become self-sustaining, so they can move into permanent housing. I am especially pleased that the federal government has agreed to provide personnel, data, and resources to identify the thousands of individuals in New York who are already eligible, but have not yet applied, for work authorization.
The governor said there are about 460,000 open jobs in the state, including 5,000 positions on farms.
For Slater, however, the top priority is securing the nation's borders, which if done effectively would start to alleviate the problem, he said.
"I think both parties recognize that there's an issue," Slater said. "It's just not something that's sustainable, and it's going to be a burden on overtaxed, hardworking New Yorkers."