News Based on facts, either observed and verified directly by the reporter, or reported and verified from knowledgeable sources.
Slater Proposes Pair of Bills to Make Impact on Food Insecurity
We are part of The Trust Project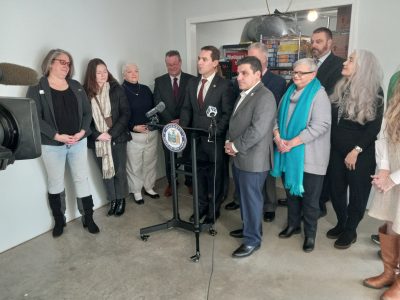 The pandemic highlighted how so many people in Westchester and Putnam counties and throughout the state are one crisis away from needing assistance to put food on their kitchen table.
Now a local state legislator has introduced two bills this session that would help reduce food insecurity locally and across New York.
Assemblyman Matt Slater (R-Yorktown) last week called for the state to provide $250 million to bolster the free school breakfast and lunch programs for children from families in need and also fund a $300,000 initiative to help communities defray the cost of operating a municipal community garden if all of the produce is donated to a pantry.
Neither item was included in Gov. Kathy Hochul's proposed $227 billion budget for Fiscal Year 2024 that she unveiled on Feb. 1, he said.
"I'm proud to be part of a bipartisan coalition to support legislation that prioritizes free breakfast, a free lunch program for kids throughout our schools," Slater said last Friday while surrounded by other elected officials and representatives of local food pantries at St. Mary's Episcopal Church in Mohegan Lake, which operates a pantry. "It has to be a priority and it has to be funded in this year's budget."
While the extreme need for food assistance because of the pandemic may have waned, many households who are under financial stress need help because of skyrocketing food prices. Slater said one in seven New Yorkers experience food insecurity, citing statistics from Hunger Solutions New York, a nonprofit organization that advocates for policies and programs to help vulnerable populations.
Last year, 2,599 people in Putnam County received Supplemental Nutrition Assistance Program (SNAP) totaling just over $800,000 while more than 76,000 residents in Westchester needed the help, accounting for about $22 million, Slater said. He said helping feed children and reducing hunger is an issue that people of all backgrounds and political persuasions can agree on.
Lakeland Board of Education President Adam Kaufman said the district had to increase funding for breakfast and lunch for students for the first time in about 10 years. With so many other challenges today, making sure that children are properly fed so they can be productive in class should not be an issue.
"But being an educator, I see that food insecurity for students, it should be the last thing they have to worry about," said Kaufman, a high school assistant principal in Yonkers.
In addition to boosting the school breakfast and lunch programs, encouraging cities, towns and villages that have municipal community gardens, such as the Garden of Hope on Curry Street in Yorktown, to donate its harvest to pantries will help the needy while offsetting costs to operate the garden.
"There are things that are just basic responsibilities of a responsible government, and I'm excited about the legislation, that we take something here that we accomplished on the local level and make it a model for the state," Slater said.
Under the proposed legislation, the $300,000 would be divided into 10 grants of $30,000 each that communities could apply for to receive the money.
Cynthia Knox, the CEO of Caring for the Hungry & Homeless of Peekskill (CHHOP), said Slater's proposed garden legislation brings together government and community in hopes of overcoming the problem of hunger for too many families.
CHHOP has seen an increase in local residents using its pantry from 95 weekly to about 460, she said. The need for community gardens to supplement donations of packaged goods and money is critical.
"Community gardens is helping provide food, which is what helps families thrive, it's what helps kids do better in school," Knox said. "If you can get that done with your colleagues, it's going to have such a tremendous impact."
Cynthia Smith, of St. Mary's Food Pantry, said the weekly assistance to 85 to 90 families a week exploded to about 500 during the height of the pandemic. While some of the need has abated, the pantry still sees a consistent 200 families weekly.
She and other pantry representatives expect that number to remain fairly constant at least for the next year or two, more recently because of the rising cost of food.
"Hunger is a trailing indicator, so when people become unemployed or whatever other circumstances create issues for them, they've still got some benefits, they get unemployment, they've got some savings, so they don't necessarily reach out for help right away," Smith said. "But that's the same on the other end. When they go back to work, it takes them awhile to get back on their feet."