Slater Proposes Legislation to Battle Toxic Algae Blooms in Lakes
News Article Article pages that do not meet specifications for other Trust Project Type of Work labels and also do not fit within the general news category.
We are part of The Trust Project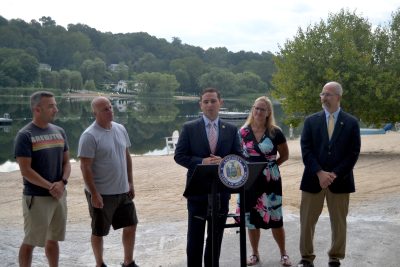 Tonetta Lake Beach in Southeast was the backdrop for an announcement by Assemblyman Matt Slater (R-Yorktown) Monday morning aimed at combatting toxic algae blooms.
Slater was joined by town and county officials in support of a bill he is sponsoring that would help protect the lakes and ponds in Putnam and Westchester and throughout the Hudson Valley.
Southeast officials had to close Tonetta Lake beaches for about two weeks in July when toxic algae bloom surfaced in the water.
"Harmful algae blooms continue to threaten the area and every municipality I represent is facing the same issue," Slater said. "I've introduced Save Our Lakes legislation, which is a comprehensive approach to finally tackling the issue that every one of our municipalities are grappling with."
Harmful algal blooms (HABs) are toxic growths in ponds and lakes that can cause harmful health effects in people and animals when water with blooms is touched or swallowed or when airborne droplets are inhaled.
Slater referred to a 2018 action plan introduced by former governor Andrew Cuomo to combat HABs.
"The actions plans are great because they provide a roadmap to deal with the issue," he said. "But the problem is the plans lack funding. In the action plan for Putnam Lake, the number one thing they talk about is sewers. All our municipal officials know that the cost of sewers is tens of millions of dollars."
According to the Sierra Club, sewage waste residue, or effluent leaching from old or faulty septic systems put excessive amounts of nutrients into water bodies, thereby contaminating the water by producing microorganisms such as algae and cyanobacteria, which forms "blooms."
Slater referenced a report issued last September by Hudson Valley Pattern for Progress and the Construction Industry Council claiming that only 11 percent of the state's $3.9 billion infrastructure budget in the last fiscal year had been spent, money that could be tapped into to help address the issue.
"The state is still sitting on billions of dollars we can be using right here in places like Lake Tonetta, Lake Peekskill and Lake Carmel, funds which can really help our local environment and improve our quality of life for all our residents," Slater said.
He slammed the state for failing to fund the action plans related to HABs.
"This is a complete miscalculation by the state who expects local municipalities to have the expertise and funds available to properly implement the action plans and recommendations the state has provided," the assemblyman said.
Shawn Rogan, director of environmental health services at the Putnam County Department of Health, noted that this was the first time in Lake Tonetta's history HABs had surfaced in the water.
"Right now, in Putnam County we have three lakes closed for algae blooms," Rogan said. "Lake Peekskill has been closed since the end of June, Putnam Lake has been closed since July 20 and for the last week or so Lake Carmel has also been impacted. This is something that my colleagues in the health department see countywide."
Southeast Councilman Eric Larca said that last week the town unanimously approved a resolution supporting Slater's proposed legislation.
"We're going to be spending 30 to $40,000 to do some drainage work on the lake but that's the tip of the iceberg," said Larca. "Hopefully this bill will help improve the health of the lake instead of just maintaining it."
The proposed legislation seeks to establish a commission to study the effectiveness of pond and lake management programs and emergency responses to HAB water contamination.
Slater said there have been constructive conversations on the issue on both sides of the aisle and he is confident his bill will be co-sponsored in the Senate.
"There's a significant and serious disconnect on the part of the state who continues to provide dollars, but getting those dollars down here to the local level shows a malfunction in the system," Slater said. "If we had a better system, we would see those funds go to all impacted areas."