Siegel Seeks Return as Yorktown Supervisor; Peters Bows Out
We are part of The Trust Project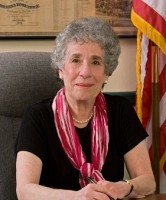 It appeared a rematch of the 2011 election was possible last week as two former one-term Yorktown supervisors announced their intentions to vie for a second chance to lead the town.
However, shortly after confirming he had submitted his resume to the Democratic Committee for consideration, Don Peters, who sat in Yorktown's highest seat from 2008 to 2009 and fell short in his comeback bid two years ago in a three-way race, had second thoughts and decided he would not mount a challenge against current Supervisor Michael Grace.
"I want to enjoy my life. I want no headaches," said the 66-year-old Peters, who owns Sports Barn. "I have to concentrate on my business, build it up and make it bigger. I'm very happy and content."
Peters believes he would have defeated Grace in 2011 in a one-on-one contest but was thwarted by a third candidate in the race, incumbent Susan Siegel, a longtime registered Democrat who accepted the Republican nomination for supervisor in 2009 when she ousted Peters.
Since being unseated by Grace two years ago, Siegel, 73, has kept a watchful eye on the current administration, attending and reporting on all town meetings and offering constant criticism. Last week, she revealed she was seeking the backing of the Democratic Committee to oppose Grace.
"I'm seeking the nomination because I believe that Yorktown voters should have a choice in November. Our community is better served when voters are given the opportunity to compare and contrast competing candidates," Siegel said. "It's one thing to have lofty visions. We all do. What's more important, though, is that voters be given the opportunity to determine which candidate is more likely to be successful in realizing those visions."
A 42-year resident and former newspaper reporter for The Patent Trader, Siegel said she had concerns about Grace but declined to discuss specifics. She did say Yorktown would be better suited with a full-time town administrator, and a part-time supervisor, as currently exists in more than 20 municipalities in Westchester.
"They key is we have to improve the way town operations are run. You need someone who knows what they're doing," Siegel said. "I've seen what's going on and I see the problems and limitations. Running a $50 million business needs professional expertise."
Grace, who prior to being elected as supervisor served as town attorney in Yorktown for a total of 16 years, said his administration has accomplished more in the last 14 months than Peters and Siegel did in the four years they were in charge.
"We've done a fantastic job in almost every area you can name," Grace boasted. "I think people are optimistic and enthusiastic about the town like never before and a lot of people are interested in investing in the town. To me the town is functioning again. You need someone in charge who knows what they're doing and have the courage to make changes that are necessary. I think it's been a very good year."
Grace said a town administrator would be an added expense that isn't necessary if you have a competent supervisor and a capable staff.
"My feeling is if you have good, confident, strong department heads and the processes in the town functioning well you probably don't need a town administrator," he said. "It's very difficult for me to figure out what motivates her (Siegel). I don't think she brought a lot to the table the first time around, so I don't know what would be different the second time."
Siegel, who would not speculate if she would run an independent campaign if denied by the Democrats, said sitting on the sidelines has been somewhat frustrating.
"What I miss is being able to implement efficiencies in town government and being able to communicate with board members," she said. "The ball is in the Democratic Committee's court now."