Setters Rebound With a Convincing Win Over Saint Michael's
We are part of The Trust Project
With a pair of losses behind them and a pair of road games looming on the horizon, Pace University basketball coach Jim Harter knew just how pivotal last Wednesday night's home game against Saint Michael's was for his Setters.

"Real important," he said, "because any time you lose three in a row and then you've got two more coming up on the road it's so easy in this league, because it's so tough top to bottom, to fall into a four- or five-game skid. Those are the kind of situations that sort of wipe out a season."
Harter doesn't have to worry about that for now because the Setters responded to the challenge, building a double-digit lead early in the second half and going on to a convincing 73-59 victory over the Purple Knights at the Goldstein Fitness Center. Jonathan Merceus scored 17 points and grabbed nine rebounds, while Keon Williams added 15 points and 10 boards as Pace improved to 7-5 overall and 4-4 in the Northeast-10 Conference.
"Yeah, it was sort of a character check tonight," said Harter. "We did not play well at all up in New Haven. We just didn't have a whole lot of energy and didn't do a whole lot right. So we knew it was gonna be a little bit of a struggle coming off a game like that, confidence-wise. I think it showed a little bit early. We were missing some easy shots and struggling a little bit with ourselves."
After missing their first half dozen shots from the field to open the game, the Setters finally got on the scoreboard when Kai Smith connected on a 3-pointer nearly four minutes into the contest. Williams followed with his first of three conventional 3-point plays to give Pace the lead for the first time.
The lead changed hands five times in the first half before the Setters finally seized the advantage for good on consecutive baskets by Smith, one a  fastbreak layup and the next a 17-foot pull-up jumper. Smith's buckets ignited a 13-6 closing spurt that enabled Pace to end the half with a 31-24 lead.
The Purple Knights moved to within four points early in the second half before the Setters went on a 7-0 run with baskets by Merceus and Williams and then a 3-pointer from right of the key by Ahmad George to build a 40-29 margin with 16:53 left on the clock. But Saint Michael's, just 1-7 in the NE-10, was hardly finished.
Gregg  Grippo made the last of his five 3-pointers midway through the second half and Corey Crawford followed with another one a minute later as the Purple Knights closed to within 47-44. But then Williams scored five successive points to spark a 10-3 Setter run that extended the Pace lead back to 10 points with 6:50 to go.
"Keon played great," said Harter about his 6-foot-6 senior who is closing in on 1000 points for his career. "He's a beast around the basket and he's having a great year for us. He's been playing great from start to finish and tonight was just one of those nights for him. He's been playing like a first-team all-league player all year long and I think he did tonight as well."
Dom Ditlefsen made a 3-pointer from the left corner with 5:40 remaining that narrowed the Setters' lead to 58-52, but 20 seconds later Pace freshman forward Jaylen Mann answered back with a 15-foot jumper. Point guard Denzel Primus-Devonish, who finished with 10 points and six assists, came through with two late buckets, as did Merceus, enabling the Setters to close the second half just as they had the first — with a 13-6 run.
"The one thing that we stressed to our guys," said Harter, "was to just come out and play hard, play with a lot of energy on the defensive end of the floor, and I thought we did that. I thought that was the difference."
Harter couldn't help noticing the impact the speedy Primus-Devonish made in his 36 minutes on the floor. "The biggest difference for us offensively, he just hasn't played like that a lot of the year, is Denzel," he said. "When he's going up and down like that, with that kind of speed, I think he's the fastest player in the league. And he looked like he was shot out of a cannon tonight. He was really getting it up and down."
In evening their league record this season, the Setters got key contributions from plenty of players, much to the delight of their veteran coach.
"Yeah, that was what I told 'em in the locker room afterwards," said Harter. "I thought we had everybody doing some positive things. I thought Jaylen Mann, the freshman, came off the bench and played real well for us. Ahmad George, he's been struggling a little bit with his offense this year, but he knocked in a couple of shots and he plays hard. So we did a lot of the right things tonight."
As a result, the Setters managed to avoid having their season start to unravel with a long losing streak.
"We needed to stop the bleeding with a win tonight," said Harter. "Our guys really rose to the occasion and did a great job of doing that."
PACE PLUS:  The Setters closed the week with a heartbreaking 61-60 loss at Bentley University on Saturday. Merceus led the team with 21 points and 13 rebounds, while Primus-Devonish added 16 points and Williams 14. Pace led by 12 points early in the second half, but wound up on the losing end when two potential game-winning shots near the basket rolled off the rim just before the final buzzer.
Pace goes on the road tonight (Tuesday) to face St. Anselm and then hosts UMass Lowell on Saturday afternoon at the Goldstein Center at 3:30.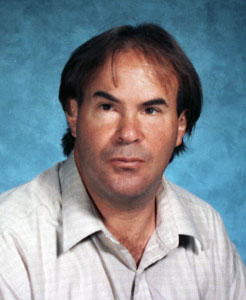 Andy is a sports editor at Examiner Media, covering seven high schools in the mid-Westchester region with a notebook and camera. He began there in the fall of 2007 following 15 years as a candid photographer for the largest school picture company in the tri-state area.
Read more of Andy's full bio here.
Read Andy's archived work here.