Service Dog Helps His Owner, Family Achieve Crucial Quality of Life
News Based on facts, either observed and verified directly by the reporter, or reported and verified from knowledgeable sources.
We are part of The Trust Project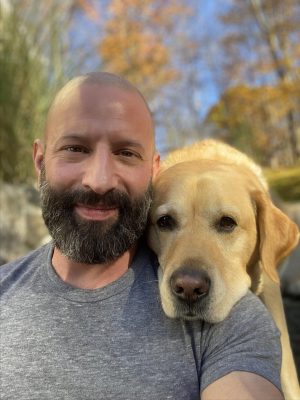 A dog may be man's best friend, but for Brian Benson his seven-year-old yellow Labrador Magnus is more like his lifeline.
A dog lover since childhood, Benson originally adopted Magnus about five years ago as a family pet but noticed that he would instinctively comfort his older daughter, now 16, who suffers from arthritis. That led the Pound Ridge resident to train Magnus to become a certified therapy dog.
But Benson, 50, suffers from cataplexy, a disorder that seemed to come on in his 20s where he can randomly experience temporary paralysis shortly after falling asleep. When awakened he can't move, and the episodes are often accompanied by seizures with uncontrollable shaking and the sensation of his heart beating through his chest before it subsides.
"It's like being in a coffin, it's pitch black, I can't see anything and you're under so much stress that no matter how much you try and move, nothing moves," Benson said.
Benson thought that if Magnus could help his daughter deal with the pain from arthritis, perhaps he could be taught to assist him as well. He trained Magnus to become his service dog, and now Magnus stays by Benson's side virtually 24 hours a day.
When Benson feels a seizure coming on, he gives Magnus a quick command and the dog presses himself against his torso and prevents the seizure. The episodes, which he can now tell which days they will come on, only occur when he dozes off while reading or watching a movie or early on in his nighttime sleep.
In the time Magnus has been trained, Benson has not had a full-blown seizure, something that had been happening with increasing regularity.
"Magnus has done things for me as a service dog that medication couldn't accomplish," said Benson, a television and film visual effects artist. "So for me, he's been a lifesaver."
Since late January Magnus has grown into somewhat of a social media sensation. Benson had a serious unrelated health episode that landed him in the emergency room at Northern Westchester Hospital. He had noticed his ankles were swollen one night but didn't feel see or feel anything else that was unusual.
The next day, Benson was exercising on his elliptical at home, and after a few minutes began to feel fatigued, followed by shortness of breath and chest tightness. He later learned that his blood pressure had skyrocketed.
He went to the ER, in part because Benson also has a family history of premature heart disease. After a battery of tests, the doctors at Northern Westchester diagnosed him with cardiomyopathy, a disease of the heart muscle.
Benson was admitted to the hospital and stayed three days – with Magnus only leaving his side to be walked by his family. He posted a short Instagram video of his hospital stay and as of Monday, it had amassed more than 1.7 million likes, showing Magnus staying in the bed. At home, the dog lies between Benson and his wife and there's plenty of room for everyone in the king-size bed.
Magnus is now a hit on many of the popular social media outlets – TikTok, Instagram, Facebook, YouTube. The dog is closing in on five million followers across all the platforms.
Even before Magnus was trained as a therapy and service dog, there was something special about him, Benson recalled.
"It was like this innate thing within him, he just knew that someone was in some kind of despair or stress or discomfort and he would go over and comfort (my daughter)," he said. "It was just like that was in his DNA."
Dr. Connie Lorenzo, the doctor who treated Benson in the emergency room, said she'll see service dogs accompany patients a few times a year at the hospital on average. But there can be challenges. Sometimes there isn't space to give a patient a room by themselves or perhaps someone has an allergy.
The hospital was able to give Benson and Magnus their own space, Lorenzo said. She's thrilled that the dog is getting attention far and wide.
"(Magnus) stayed with him and provided him with the comfort that he needed, the flexibility he needed to be able to tolerate being in the hospital," Lorenzo said. "It's not an easy feat for anyone to stay overnight, let alone two nights, in the hospital, and I don't know without Magnus whether he could have made it."
What Benson knows is that Magnus has provided him and his family with a quality of life they didn't have previously.