Senator Carlucci Holds Public Discussion on Immigrant Rights
We are part of The Trust Project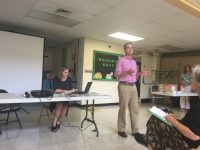 By Ryan Canon
A discussion of immigrant rights was held at the Ossining Community Center on Thursday by State Senator David Carlucci and representatives from the Westchester Hispanic Coalition (WHC). The forum came as a result of heightened concerns amongst the community regarding the activity of Immigration and Customs Enforcement (ICE) agents operating in the local area.
Carlucci emphasized the significance of the issue and the importance of feeling secure within the community.
"The important thing is that all members of the community feel safe and that they know the resources that are available to them," he said. "At my office, we represent and serve the community, it doesn't matter who you are or what your party affiliation or your immigration status. If you are part of the community, we are here to serve you."
On June 8, ICE officers performed a raid at an Ossining High School pre-prom and detained student Diego Puma Mancancela, who has since been deported. The incident occurred without the knowledge of the local police department, and the incident created discomfort in the community.
"This is an ongoing issue where we see that a lot of members of the community are concerned and fearful, and what we are trying to do is make sure that people don't need to live in fear […] and that they have a place to turn to if they are concerned," Carlucci said. "The community feeling safe, informed, and educated in the sense of knowing their rights […] that's our goal, to get the resources to the people who need it."
The discussion began with a brief talk by Carlucci before giving the floor to Jessica Young and Eduardo Segura, two representatives from the WHC. The focus of the discussion was to make people aware of the inherent rights of being a member of the United States community. Segura, who is part of the WHC Employment Law Program, spoke about immigrants' rights in the workplace, such as New York State minimum wage, and how to go about reporting issues like discrimination and sexual harassment in the workplace.
After the discussion, Segura talked about what he hoped people would take away from the night's discussion.
"We are hoping that people get active in their communities and know their rights, because power builds through community," he said. "A lot of immigrants don't know that they have rights or they think that they don't have rights in the work place, and so I would hope that the knowledge spreads and that word gets out that there are steps that you can take for justice in the workplace."
Following Segura's presentation, Young, who is an Immigration Staff Attorney at the coalition, gave a presentation about immigrant rights regarding deportation and dealing with ICE officers, and how these have changed under the new Trump administration.
One significant change in the current administration that was highlighted by Young was the change in criteria for expedited removal, which was a policy that began in 1996, that allows for recent immigrants to be deported without being heard by a judge and without right to council. When this law was originally implemented, it was intended to apply to immigrants who had entered the country within the last few weeks. However, a recent Trump Administration executive order called for the Department of Homeland Security to expand this to apply to immigrants who have arrived within two years.
"That is a big expansion – you go from a couple of weeks to two years, that means that there suddenly become way more immigrants that are eligible for expedited removal," Young said.
Young recommended that recent immigrants be prepared to prove how long they have been in the country, and that they should keep all relevant documents in a safe place.
"If they don't have proof of a physical presence, ICE can assume that you have been here for less than two years, and you become eligible for expedited removal," she emphasized.
Also discussed by Young was the importance of knowing and exercising your rights in your interactions with ICE agents.
"The constitution applies to all on U.S. soil, regardless of citizenship," she said.
She discussed how ICE agents are not allowed to enter your home without your expressed permission, as well as Miranda rights, such as the right to remain silent and the right to an attorney.
The Westchester Hispanic Coalition offers affordable legal consultation at $60 per session and is open Monday – Thursday from 9 a.m. to 5 p.m. and Friday 9 a.m. to 3 p.m.