News Based on facts, either observed and verified directly by the reporter, or reported and verified from knowledgeable sources.
Section 1 Champs Crowned at White Plains, Panas, Put Valley
We are part of The Trust Project
By Tony Pinciaro & Ray Gallagher, Examiner Sports Editor
The WALTER PANAS varsity girls' basketball team faced a daunting task to achieve its goal of winning the Section 1 Class A Championship.
The Panthers entered the tournament seeded sixth. After their first-round win, Panas would have to beat, in order, No. 3 Pearl River, No. 2 Mahopac and top-seeded Harrison.
Panas went to No. 3 Pearl River and eliminated the Pirates, 53-43. The Panthers earned a berth in the final four as it returned to Westchester County Center for the first time since 2020 and beat No. 2 Mahopac.
Following a rough third quarter and first half of the final eight minutes against top-seeded Harrison, Panas completed its run to a title through the top three seeds. The Panthers regained their composure and overcame the Huskies, 50-47 in the Section 1 Class A title game at the Westchester County Center to secure the first gold ball in school history.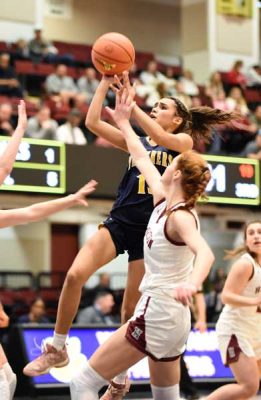 "I don't think I understood at the time how hard it would be to win another sectional title," said Panas Coach Matt Evangalista, who won a boys' title in 2007 at Briarcliff. "It's been a long rebuilding process here at Panas. We weren't a particularly strong program when I got here and it's taken 12 years to win one here. We've been to the cCounty Center a few times, but we finally got over that hump to win one. This group is the culmination of all the work of those before them. Our group chat is called unfinished business and I just told them we finished our business, but we've still got a lot ahead of us."
Panas, 19-5 this season, advances to a regional semifinal, 4:30 p.m., Wednesday, March 8, at Yorktown, where it will play the Section 4 champion. The winner plays Section 9's Wallkill in a regional final, 2 p.m., Saturday, March 11, at Mount St. Mary College in Newburgh.
"Honestly, it's amazing," said senior and captain Sarah Chiulli of the title. "After making it so close last year, this was our goal the entire season. We wanted to win that gold ball and it became a reality for us. We gave it our all all season, left it on the court and came away with the win."
Chiulli, along with Julia Gallinger, were selected to the Class A final four all-tournament team, and Cadence Nicholas was chosen the most valuable player
The Panthers had a complete reversal of first halves. Last year, Panas had an uncharacteristically poor first half in the title game against Tappan Zee resulting in a huge deficit. This year, Panas was excellent in the first half and led 29-14 at halftime.
"It was extremely important for us to come out strong," said Chiulli, who scored 10 points. "Last year, we came out a little nervous, not with 100 percent confidence that we could win. This time, going in we knew we were capable of winning if we came out strong and played hard."
Harrison seized the momentum in the third quarter and carried over into the fourth quarter when it took a 44-40 lead with 4:34 remaining in the game. Even though Panas struggled offensively in the second half, the Panthers turned up the defensive intensity.
"Our shots weren't dropping and it just seemed Harrison had a lot more energy and was making the comeback," Chiulli said. "We never got down on ourselves and focused really hard on our defense. We could control our defense with our effort and attitude."
As a result, Harrison scored one more basket, a 3-pointer, but was scoreless over the last 3:19 of the game. Meanwhile, Panas scored 10 points in the final 4:19, no two more important than Nicholas' free throws with 1:28 on the clock. This gave Panas a 48-47 lead.
"When I was at the line I knew my team needed me so it was really important for me to make them," said Nicholas, who scored a game–high 25 points. "I practice my free throws every day in practice and I was confident I could make them. I've also been in this situation a lot so I ignored all the noise and I knew making them meant a lot."
Nicholas and backcourt mate Sophia Tavarez teamed up on an important basket on Panas' next possession. Tavarez placed a perfect pass, from half court, to Nicholas in the lane and she converted the layup for a 50-47 lead with 50.2 seconds remaining.
"I just saw a path and knew that I had it," Nicholas said. "Once I screamed Sophia's name, I knew she'd get the ball to me."
Harrison had two final 3-point attempts in the final 15 seconds, only both fell short. Once Nicholas made the free throws, Kelsey Cregan noted defensive intensity became even more vital.
"Once Cadence made the free throws and we were ahead we knew the game wasn't over and we needed to play lock-down defense," Cregan said. "A one-point game can change so quickly."
When Panas received the sixth seed, Chiulli and her teammates felt slighted. To defeat the top three seeds, consecutively, and capping it at the County Center gave the Panthers tremendous satisfaction.
"We thought it said from the start that we were being overlooked and they didn't think we could do it," said Chiulli of the six seed. "We had something to prove. We did what we had to do to make it as far as we did. And being at the County Center and winning it was a really great experience that we really enjoyed."
Panas now looks forward to a so-called 'home' game when it travels four miles to Yorktown for the regional semifinal.
"With Yorktown being so close we are hoping to get a big crowd there for our game to bring high energy and intensity," Cregan said.
CLASS AA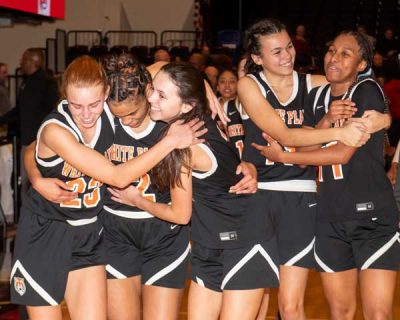 Defense has been WHITE PLAINS' identity this season as it fueled the Tigers to a 16-game winning streak going into the Section 1 Class AA Championship final against Albertus Magnus. Considering the magnitude of the game, the third-seeded Tigers turned in a stingy showing as they beat top-seeded Albertus Magnus, 40-37, at the Westchester County Center Sunday.
White Plains, now 21-3 this season, held the high-flying Falcons 26 points below their season average of 63 points per game.
The Tigers receive a bye into the regional final, Saturday, March 11, 2 p.m., at Yorktown High School. White Plains will play the winner of Monroe-Woodbury (Section 9)/Binghamton (Section 4).
"The whole year it was basically our defense turned into offense so coming into the game we focused, once again, on our defense," said Class AA final four most valuable player Aliya McIver. "We wanted to take their bigs out of the game. We were able to keep Albertus from going to where they wanted, we were taking charges and we were in the right spots."
The Albertus twin-tower tandem of Karly Fischer and Julia Scott was neutralized by White Plains. The duo did make White Plains' penetrating offense difficult, but the Tigers adjusted by driving to the basket and dishing to an open teammate for a high-percentage shot.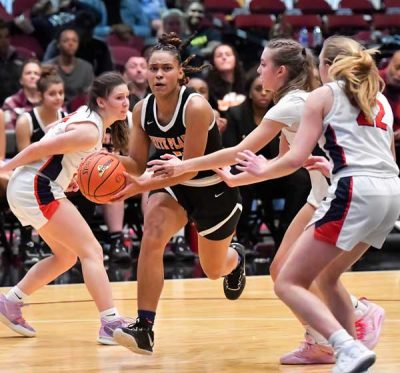 Anneliese Reggio, India Newman and Sequoia Layne all contributed big baskets, especially in the second half, on passes from Ineivi and McIver. In fact, Reggio and Layne swished jumpers during a 10-4 run, giving White Plains a 37-30 lead with 1:48 remaining in the game.
Reggio and Plata were named to the Class AA final four all-tournament team.
"We are always talking to each other on the court, so we lift each other up and push each other," McIver said. "They don't go unnoticed in my eyes. We feed off of their energy and they feed off of our energy."
The Falcons closed to within two points on two occasions in the final 90 seconds, but Plata swished two free throws with 20.2 seconds on the clock extending White Plains' lead to 39-35. Following two Scott free throws, Newman made one of two from the line with 9.6 seconds on the clock for a 40-37 lead.
Albertus Magnus called a time out after the second Newman free throw, but a 3-point attempt from the left corner came up short.
"I can't even describe the feeling because this is what we've been working for all year," said McIver of winning the gold ball. "Being a senior is even more special. And to do it at the County Center, which is like our second home, we wanted to win it for our city and we're glad we got the win in our city."
White Plains advanced to the final with a 42-33 win over second-seeded and defending champion R.C. Ketcham in a semifinal.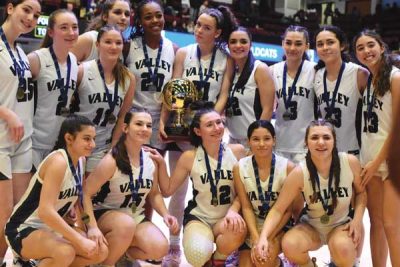 PUTNAM VALLEY came into the 2022-23 season as the team to beat for the Section 1 Class B title. Despite every opponent playing at its highest level hoping to beat the Tigers, only one team accomplished that during the regular season.
The top-seeded Tigers dominated on their way to a fourth consecutive Section 1 Class B championship with a 52-36 win over third-seeded Westlake in the final at the Westchester County Center.
Putnam Valley, now 23-1, will play Section 9 champion Red Hook, 4 p.m., Wednesday, at James O'Neill High School in Highland Falls. The winner advances to a regional semifinal, noon, Saturday, March 11, at Farmingdale State University against the victor of Locust Valley (Section 8)-Center Moriches (Section 11).
The Tigers, who defeated No. 5 Ardsley in a semifinal, were led by tournament most valuable player Eva DeChent, who had serious early foul issues in the championship game, picking up her second just 90 seconds in. DeChent, who had a 26-point, 15-rebound double-double, led the way despite the early issues.
"This team took me on a good ride," said PV Coach Don Hamlin, who will be stepping down at the end of the season. "They really did. Eva was so pumped up for this game that I needed to calm her down a little bit. She convinced me she wouldn't foul again, so we put her back in and she did an amazing job.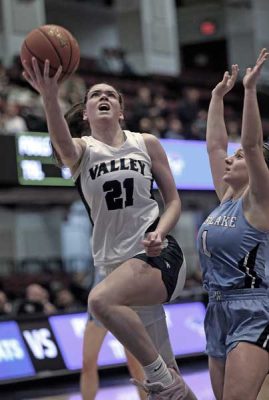 "The effort we got from Ava Harman on defense is something people don't recognize," the coach added. "Her effort was unbelievable. She wanted it, so I'm like 'Go do your thing' and she shadowed their top scorer all game. We'll celebrate tonight but we know how tough Red Hook will be in the next round. Any champion of any section is a great team, so you gotta be ready to go."
DeChent won MVP honors but had a little help from her friends: Wing Brianna Foody added 13 points (6 while DeChent was sidelined), five rebounds and two steals. Foody and junior G Nai Torres were both named all-tournament. F Simone Gabriel had four points, 11 rebounds, one steal and a block.
"I wasn't thinking right at the start of the game," DeChent admitted. "My teammates picked me up. It feels crazy to win this many times. It feels unreal to be honest. Ava played great defense. Bri hit the big 3's and we finally put it all together."
The Tigers, who reached the state semis last year, are hoping to obtain the first state title in hoops history as they march into March.
WESTLAKE had a memorable 2022-23 season with numerous team and individual accomplishments.
The Wildcats gave veteran Coach Sean Mayer his 200th varsity win in January. Senior Allie Castellone became only the second Westlake girls' player to surpass 1,000 varsity points when she did that in February. The Wildcats then closed out their regular season undefeated in league play for the title.
Westlake was seeded third in the Section 1 Class B Basketball Championships and the Wildcats reached the final four, opening with a 42-28 win over Croton in a semifinal.
Even though the Wildcats, who reached their first sectional final since 1983, lost to defending champion Putnam Valley, 52-36, it does not take away from Westlake's memorable season.
"It was a record-breaking and special year, to say the least," Mayer said. "So many highlights from undefeated league champs, to Allie being a 1,000-point scorer to 200 coaching wins.
"We had a tough, hard-fought second-round win against a very talented and well-coached Briarcliff team. We had an exciting semifinal win, with a huge amount of fan support, over Croton. Even in the final, the girls gave all they had against a terrific Putnam Valley team."
Mayer and his team received tremendous support from their hometown.
"If anyone went to either of our County Center games, they saw the whole Mount Pleasant Community behind us. It was very special," Mayer said. "It was also great we had so many youth girls' basketball players from Mount Pleasant and their families following us. Their support was special and cute.
"I want to thank everyone who supported the team through this special year."
Westlake finished with a 19-5 record. Brooke Pfeiffer and Castellone were selected to the final four all-tournament team.
"Our three captains, Allie Castellone, ToniAnn Mastracchio and Sami Oswald were all special," Mayer said. "These three players meant so much to our program's success the last few years and they will certainly be missed."
MAHOPAC turned in a great season, advancing to the Section 1 Class A Championship final four at the Westchester County Center.
The second seed faced a determined Panas team in a semifinal and came away with a loss. It was the second time Panas defeated Mahopac this season.
"The game just didn't go our way," said senior Lauren Beberman, who finished with 29 points and 10 rebounds. "We got ourselves caught in a hole in the first quarter. We never gave up, but we just couldn't get over that bump. We tried and gave everything we could, but Panas is a great team and they were better that day."
Beberman, who was selected to the Class A final four all-tournament team, and her fellow seniors leave on a great note, despite the semifinal result.
"I am so proud of our team and our success," said Beberman, who will attend Adelphi in September and also play basketball. "This has been a special season and we have so much to be proud of.
"Mahopac basketball has given me a great four years and it has been a privilege being a part of this program. I am extremely sad to see it end, but I'm grateful I was surrounded by this team and this community."
First-year Mahopac Coach Mairead Hynes had an enjoyable rookie season, thanks to her team.
"The girls worked extremely hard throughout the year and deserved all the success they received," Hynes said. "Our six seniors will be incredibly missed. They are all extremely talented young women that contributed so much to our team's success."