Schiliro to Challenge Arden for No. Castle Supervisor
We are part of The Trust Project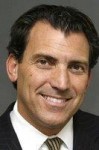 North Castle Councilman Michael Schiliro will oppose town Supervisor Howard Arden in the fall after the Democratic Committee announced last week its slate for the November elections.
Joining Schiliro, 49, now in his sixth year on the town board, are town council candidates Barry Reiter and Jose Berra, who are both independents. Schiliro has also received the endorsements of the Independence and Conservative parties.
Schiliro, director of commercial lending and small business banking with CMS Bank, said after lengthy discussions with his family he decided to take the leap to run for supervisor because of his concern for the current direction of the town and the operation of the town government. He said on Monday that he made his final decision within the previous nine days.
"It really starts at the top," he said of his decision to run. "You need a leader who can lead our town past these issues and work with our residents to move it forward."
Schiliro, a 14-year Armonk resident, said the lack of proper process on a host of issues has been worrisome during the past year-and-a-half since Arden took over. He also mentioned he would seek to restore civility at meetings even when there are disagreements. At times, there has been inexcusable behavior demonstrated at board meetings, Schiliro said
He also expects a tough campaign but that it's a privilege to serve on the town board and to be considered for the supervisor's post.
"I look forward to a campaign full of hard work," Schiliro said.
Democratic Committee Co-Chairman John Diaconis said in a statement that Schiliro, along with Reiter and Berra, would maintain an open and transparent government and would make decisions based on facts rather than personal agendas.
When reached for his reaction about the race, Arden said he welcomed the competition and that residents will have a clear choice between the two sides. He said having a term in office will be to his advantage. Two years ago Arden needed to defeat former supervisor William Weaver in the Republican primary and again in the general election to win the seat.
"The difference from two years ago is that I had credentials but no record," Arden said. "Now I have the credentials and a record and I'm going to run on my record."
Both of Schiliro's running mates, Reiter and Berra, are first time candidates and longtime residents. They will be facing Republican nominee Barbara DiGiacinto, who has also gained endorsements from the Independence and Conservative parties.
It is still not clear whether Republican incumbent council members Diane DiDonato-Roth and John Cronin will both run and force DiGiacinto into a primary.
Reiter and Berra pointed to the dysfunctional governance and incivility at meetings as part of the motivation to getting involved. They also mentioned that they care about the community where they live.
Both have volunteered in various capacities in town. Reiter, who owns a medical billing and practice management business in Armonk, has been involved for about four years with the North Castle Citizens Corps Council, which helps prepare residents for emergencies and operates the town shelters when needed. He has been its chairman since last year. He also has coached youth sports.
Meanwhile, Berra, a tax attorney who has worked for the U.S. Treasury Department and in the financial services field, has been a volunteer with the successful Armonk Outdoor Art Show since the mid 1990s.
The Democratic Committee previously announced that it had endorsed Linda Trummer-Napolitano for town justice. She will be opposed by Douglas Martino.