Saying Goodbye to Venerable Journalist and Storyteller Herb Hadad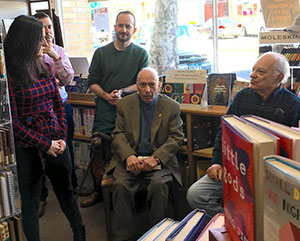 For those in the world of journalism, knowing and working with veteran reporter Herbert Hadad was a special honor.
An award-winning journalist and storyteller, Hadad's news stories always put the reader at the scene with the people involved, backed by solid facts.
Herbert Hadad passed away in his sleep on Nov. 6 at his home in Pocantico Hills. He was 85.
A son of Syrian-Jewish parents, he envisioned vastly different cultures peacefully coexisting. But he was clear-eyed about human nature, learning inequities as a young Jewish boy growing up in a mostly Irish neighborhood in Boston. His youth became a rich source of stories in his two books "Finding Immortality: The Making of One American Family," in 2009 and "Tender and Tough: 60 Years of Storytelling" in 2019.
Hadad graduated Northeastern University and cut his teeth in journalism in 1955 as a copy boy through a work-study job in the gritty newsroom of the Boston Globe, where hardworking reporters constantly chased down stories.
In 1963, one of Hadad's early assignments was riding a bus bound for the Washington D.C. March for Jobs and Freedom, where Rev. Dr. Martin Luther King Jr. delivered his I Have a Dream speech. Hadad spoke to every person on the bus, each one featured in the next day's front-page story.
As a young reporter, Hadad craved a surprisingly different goal: to be recognized in the boxing ring. He ventured to a small, shabby building on Friend Street in Boston, half a block from Boston Garden, where he trained as a featherweight. He learned the six-inch right-hand punch and took down a fighter in a boxing class in which he claimed in "Tender and Tough" that he was "too awestruck to be scared."
But moonlighting as a boxer paled compared to the lure of newspaper reporting, where his dogged toughness came in handy.
Always charmed by a pretty face and a self-proclaimed romantic, Hadad remained loyal to his wife Evelyn for 45 years. A chapter in "Tender and Tough" recalled that when he first met her in 1972, he "was juggling four affairs, drifting between Nirvana and cardiac arrest."
But Evelyn claimed his heart. They married in 1975 and he wrote how their affection "continues to be contagious." They moved to Tarrytown and had three children, Edward Salim, Charles Aram and Sara Jameela.
As an Arab Jew and a first-generation American, Hadad wrote about embracing his heritage and his religion. He was descended from 40 generations of Arabs in Aleppo and longed to visit his father's homeland, a Muslim country where few Jews, if any, remained.
In 2008, he took Evelyn and their children to Damascus, fulfilling a dream. There he briefly found himself face to face with Syrian President Bashar Hafez al-Assad who just glared at him as Hadad said, "Tasharrafna, Mr. President, tasharrafna" (which means it is an honor to meet you).
Hadad's byline appeared in The New York Times, New York Post, The Boston Globe, the International Herald Tribune and The Keene Sentinel in New Hampshire. He won writing awards from the New York Press Club, Reader's Digest, Council for the Advancement and Support of Education, Folio and Parenting magazines and Poets & Writers. His stories were in several anthologies.
Hadad served as deputy press secretary for Maine Senator Edmund Muskie's 1972 presidential campaign, where Hadad's quick wit supplied Muskie with jokes on the campaign trail, an experience he found exhilarating.
Years later, Hadad was the rare friendly face to any green reporter who showed up at the U.S. Department of Justice for the Southern District of New York in White Plains, where he warmly offered help and guidance. He served there for 18 years as a press officer and his work was highly valued and recognized several times by six U.S. Attorneys, including Mary Jo White, James Comey and Preet Bharara.
That he could easily spin tales into compelling short stories led Hadad to teach at the Hudson Valley Writers Center in Sleepy Hollow where he also served on the Board of Directors and the Executive Committee. He was a governor emeritus of the Silurians Press Club, an organization of New York City journalists, and a founding board member of the Friends of the Rockefeller State Park Preserve near his home. He started a cable television program called On Writing with his friend, writer Benjamin Cheever.
Hadad's personal essays read like a carnival ride of memories – humorous, touching, each brilliant in revealing the subtleties of character with a nod to human vulnerability. His impressive talent was drawing one into moments of his life, opening a world of introspection and delight for countless readers.
Hadad leaves his wife Evelyn; son Edward Hadad and his wife, Adlin, and their children Evan and Willow of Croton-on-Hudson; his son, Charles Hadad and wife Alice and their daughter Maya of Brooklyn; his daughter, Sara Le Brusq, and her son Damian of Manhattan; and his sister, Sylvia Rosenberg, of Newton, Mass. His extended family includes in-laws, cousins, nieces and nephews.