Rye Playland Opens for New Season With Lots of Hope and Expectations
We are part of The Trust Project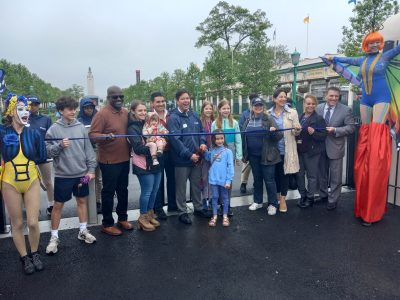 After a run of beautiful weather, Saturday's rain wasn't exactly what the operators of Playland in Rye had in mind for the opening of the amusement park's 95th season.
But on the bright side there's an entire summer to look forward to as the refreshed 280-acre park continues to receive upgrades to create new memories for today's families and generations to come.
"First of all, the property is beautiful, I mean it's right on the Sound," said Jeffrey Davis, Playland's general manager. "But I think it's that nostalgia, and I think the fact that it's just the right mix. It's enjoyable to just walk around, much less go on rides and eat food and go on the beach. There's a little something for whatever your interests are."
The light morning rain and heavier showers later on may have put a damper on the planned festivities to open Standard Amusement's first season as the sole operator following a one-year transition with Westchester County. But that didn't stop a couple of stilt walkers, a pantomime and juggler and a fire-eating magician from welcoming the gaggle of officials and media and even a few brave patrons.
Nicholas Singer, principal of Standard Amusements, said improvements will continue to be made over the next couple of seasons as the planned overhaul to the park will continue. Last year it introduced the Old Rye Motorbike Factory ride, he said.
For this year, new rides and experiences will debut as the 2023 season progresses, including the opening of Jack the Puppeteer and a new installation, "Play! Verse – An Immersive Adventure," which will feature various creative room designs for visually interactive and dynamic photo ops.
Visitors will see an upgraded Fountain Plaza outside the main entrance, where the water will be illuminated with synchronized lights and music.
There will also be up to four shows a day of Melody the Mermaid Princess and Pirates of Playland.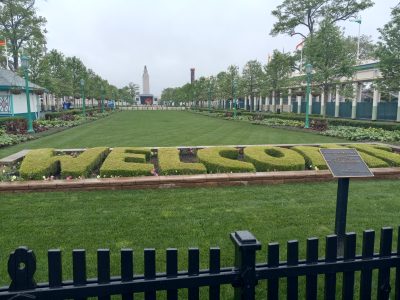 Edvin Ortega, president of Larger Than Life whose company will provide most of this year's entertainment, said it's a thrill for him to help put smiles on visitors' faces. Playland was the first amusement park he visited after his parents immigrated to Westchester from Cuba when he was a child.
"For us, it's always about being interactive and immersive, especially with a park like this when you put on any bit of theatrical production," Ortega said. "It's not just seeing it, it's being a part of it, and I think that's what we're really trying to bring this year to the park."
Davis said Playland Beach has been equipped with a new waterfront slide and the refurbished pool has been made family friendly with zero-point entry and brand-new pool furniture. The beach and pool are scheduled to open for Memorial Day weekend.
Playland Lake will have new paddle boats available alongside the historic boathouse, he said.
Food offerings will include the new Tiki Beach, an upscale eatery with indoor and outdoor seating, and a Captain Lawrence Beer Garden in the adjacent space.
Fireworks nights will return and coincide with holiday weekends – May 28, June 19, July 3 and 4 and Sept. 3.
Not even Westchester's decade-long odyssey to find a private operator for the county-owned site and a pandemic closure could put an end to the iconic park.
Davis said the staying power of Playland has been its connection to the community and generations of kids who are now adults who look back wistfully at fun days from their childhood summers.
"One of the things that drove me to this property was the community aspect," he said. "It's not just an amusement park. We have a beach and pool, but also the fact that the community loves this place. There's always activity, so we're really thrilled to be a part of it."
For its 92-day season, Playland will be open weekends through mid-June, then operate daily, except on Mondays, through Labor Day before resuming a weekend schedule for the balance of September. It will open for Monday holidays (Memorial Day, Juneteenth, July 3 and Labor Day).
One-day general admission is $39.99 to go on rides and $29.99 for children under four feet. Children 2 and under are free. There's also a season pass, which costs $109.99 per person. There are discounts for Westchester residents and online purchases.
For more information, visit www.playland.com.