Route 9A Engineering Study Begins Between Croton/Ossining, Mt. Pleasant
We are part of The Trust Project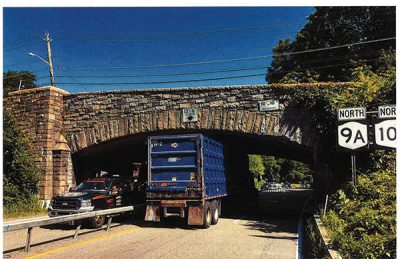 The Route 9A engineering study between Croton-on-Hudson and Mount Pleasant has commenced and there will soon be community workshops for state transportation officials to receive public feedback.
The $3 million engineering study that was funded last April started in late March and is expected to last about 10 months, according to the state Department of Transportation (DOT). The study was finally funded after years of complaints from local elected officials and residents about the antiquated and dangerous condition of the thoroughfare, which is officially called the Briarcliff-Peekskill Parkway.
It opened to traffic in 1932, and the only substantive change in more than 90 years has been the installation of a guardrail, officials said last year a during press conference to announce funding for the study.
One of the most outspoken members of local municipal government on the issue, Briarcliff Manor Mayor Steven Vescio, said he was pleased to see movement on the issue because the condition of the road isn't improving. In fact, Vescio said that he believes there may be more traffic now on Route 9A than before the pandemic, and it's a problem that may only grow worse before the end of the year.
"The Amazon facility (in Hawthorne) is ready to open up in another six months. I think that is going to be a big change," Vescio said. "You're going to get a lot more of those vans onto 9A going north to make deliveries, so that's going to generate a lot more traffic."
A DOT spokesperson said last Friday that a local steering committee comprised of members of the affected communities' local governments, plus representatives of the county and state, will advise and help shape the corridor's future improvements.
A series of public workshops will encourage comments from various stakeholders and will also influence the direction of the improvements, the spokesperson said. Those workshops are expected to begin late next month, according to the department.
Traffic flow and how the road operates will be examined, including the mitigation of congestion and improvements to air quality. The area of study extends from the split with Route 9 near Croton-on-Hudson and Ossining, southward to the entrance of the Saw Mill Parkway in Hawthorne.
Potential solutions will be recommended to also prevent future flooding, which has occurred in spots along the stretch during heavy rainfall.
"By studying the needs of the community, we will look to enhance the transportation network along the Briarcliff-Peekskill Parkway in Westchester County, and will be able to recommend transportation alternatives that serve every part of the community, helping keep people and goods on the move in a sustainable manner," DOT Commissioner Marie Therese Dominguez mentioned in a statement provided by the department.
Final study recommendations are likely to be made in about a year.
Assemblywoman Dana Levenberg (D-Ossining) said improvements are desperately needed.
"My office receives more complaints about the Briarcliff-Peekskill Parkway than any other road in the district," Levenberg said. "As an Ossining resident myself, I agree with those callers. Route 9A is in dire straits and in need of a major overhaul. I am so glad that this study is getting underway, and I will continue pushing hard to get the funding we need to get this road fixed as soon as humanly possible."
Vescio said he is hopeful that noise abatement will be included as part of the potential mitigation where it proves to be a problem and that walls to serve as sound barriers will be considered. Some residents who live in close proximity to the study area have been reporting issues with noise from Route 9A.
"They're going to take a look at each part of the stretch, and just because something happens in one part of the stretch, that don't mean that some feature will be implemented in a different part of the stretch," Vescio said.
The dates and locations of the public workshops have not yet been announced.