Rooftop AC Units on Pleasantville Building Described as 'Unsightly'
News Based on facts, either observed and verified directly by the reporter, or reported and verified from knowledgeable sources.
We are part of The Trust Project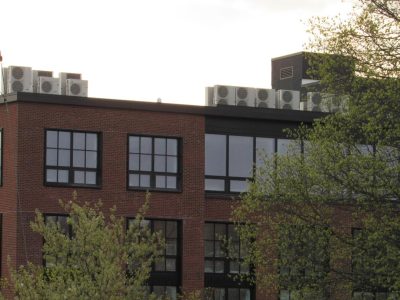 For many Pleasantville residents the newly-installed air conditioning units on the top of the building at 70 Memorial Plaza are an eyesore.
The issue was addressed at the Pleasantville Planning Commission and Architectural Review Board's Apr. 12 meeting.
"The rooftop AC equipment is really unsightly," said Commission Chair Russell Klein. "You can see it when driving into the village and also from so many directions. It's really a shame. I like the building but then there's all the clutter on the roof."
Apparently, the estimated size of the steel framed units were around three feet high in the approved original plan. But Pleasantville Building Inspector Robert Hughes said the size of the units and their frames are larger than anticipated.
"There were unknown factors such as the availability of equipment, the thickness of the insulation and specifics on installation," Hughes said. "Every project changes, and not every part is fully flushed out. Anything after the fact in a development like this cost is a big factor."
The issue may lead to the need to change village building regulations in the future, which would require specific dimensions of rooftop items, he said.
The project's developer, Vito Errico of Pleasantville Lofts, LLC, is scheduled to appear before the commission at an upcoming meeting to discuss solutions to covering the units.
"Money is not a concern for the developer," Hughes told the board. "He is concerned with the issue and is trying to get the project finished. He is looking for something substantial and he will come here and tell us what that is."
Hughes said one consideration was to put planters on the roof.
Klein said the roof is incongruous with what he thinks is otherwise a beautiful building.
"What's going on at the 70 Memorial site on the roof definitely has a serious effect with the quality of the character of the village," he said. "It's the biggest building we have now and the industrial nature of the roof changes the character of the neighborhood and what we're seeing up there is detrimental to that."
Before the project is completed, the interior courtyard must be completed. Work will soon begin on the installation of a brand-new sidewalk that will extend from Bedford Road to Manville Road and also cut through to near Key Food. There will also be 12 new street lights, according to Hughes.
Much of the building's exterior has been completed and planters have been approved for the front of the building.