Rising Country Star to Kick Off Tour Saturday at Chap PAC
We are part of The Trust Project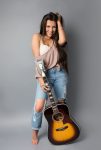 Jessica Lynn has performed professionally for more than half her life. But it wasn't until her father suggested a novel approach to publicize her fledgling country music career that the budding star's stock rocketed to new heights.
In 2014, Jessica, who goes only by her first and middle names as an artist, and her family paid to tape a performance at the Winery at St. George, a Mohegan Lake restaurant and bar that hosts live musical performances.
The video would eventually be picked up by PBS stations across the United States, most notably in markets that are country music hotbeds. That led Jessica, a Yorktown resident and Lakeland High School graduate, to a publishing contract in Nashville, the center of the country music universe.
"It's been a dream come true," Jessica said. "As a singer-songwriter, this is all I ever wanted to do my whole life. It feels really, really good to see a lot of hard work pay off."
This Saturday night she returns to Westchester to perform at the Chappaqua Performing Arts Center, an engagement that represents a sendoff for her summer European tour that opens the following Saturday in Lindow, Germany.
While Jessica, 28, may have broken into country music circles using an unconventional strategy and comes from a place (she was actually born in Brooklyn) that doesn't produce many country artists, she has the down-home earthiness and honest storytelling in her songwriting that endears her to legions of country music fans.
"We're a family band," she said. "My dad plays bass, my mom is my background singer and my husband is my lead guitarist. My dad, he's a retired New York City police officer, he was always a musician and my mom always sang, so we grew up with music constantly in the house and my dad always loved country music. My earliest memory with him was listening to Glen Campbell's 'Rhinestone Cowboy.'"
Since the airing of her Mohegan Lake performance on PBS titled "Jessica Lynn: This Much Fun – Live from the Winery at St. George, she began getting invites to country music festivals throughout the United States. That enabled her to sign a contract later in 2014 to write and record in Nashville.
She followed that up with a second PBS special in 2015 that was taped at the Paramount in Peekskill, which attracted more attention.
Following that she has shared the bill at concerts and venues with some of the biggest names in the genre, including Keith Urban, Tim McGraw and Jo Dee Messina.
Last summer, Jessica released her EP "Look At Me That Way" followed by the single "Crazy Idea," which was her first single to break into the Top 50 on the country charts.
Jessica, who writes all of her band's music, said she loves being able to tell stories through her songs, something that is prevalent in country music
"The stories I tell in my music are my own, and I think that's why I've been successful," said Jessica, who grew up playing rock 'n' roll. "It's real life, it's real things that when I sing and I play they seem to mean something to other people because it's real and it's honest, the way it should really be."
Jessica is also thrilled that when she's not on the road, she continues to call Yorktown home and loves performing close to her roots. When the opportunity presents itself, she continues to play at venues throughout Westchester, whether it's returning to the Paramount for a special each Christmas season, having performed at the 2014 Pleasantville Music Festival and now at the Chappaqua Performing Arts Center.
"It's very special to play for the hometown crowd," Jessica said. "It's a chance to tell your personal stories and songs."
Tickets for this Saturday's concert are $35 and $50 for the VIP access. For tickets and more information, visit www.chappaquapac.org.