Retired Cortlandt Man Wins $18M in New York State Lottery
We are part of The Trust Project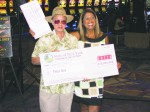 July seems to be a lucky month for Cortlandt residents to strike it rich in the New York State Lottery.
Last year, on July 3, Michael Rowinski, 64, won $5 million in a $10 scratch-off ticket he purchased at Marco's Vino & Spirits in Cortlandt.
This year, on July 7, Peter Gee, 59, won $18 million in a Lotto drawing from tickets he bought at the Riverside Deli on Old Albany Post Road in Croton after dropping off a package for his sister at the post office.
"Even though it was a toss-up on which game to play, Powerball or Lotto? I went with Lotto," Gee explained last week as he was presented with his check by New York Lottery's Yolanda Vega at Empire City Casino in Yonkers.
Gee, a retired U.S. Postal Service worker, said he discovered his good fortune by checking his numbers 6 10 19 22 37 43 the next day on the Lottery's website. The odds of winning the Lotto top prize are 45 million to one.
"I called to my wife, 'We won! We won!'" Gee said. "She wouldn't believe me until I let her hold the ticket and check for herself. I was very happy when Monday came. I was even happier when the lottery person checked my ticket and said, 'Congratulations, you won the jackpot!'"
Opting to receive his prize in one lump sum payment totaling just under $13 million, Gee will net $8,566,155 after required withholdings. He said he and his wife will do some traveling with the money.
"It's a nice feeling to know you're a jackpot winner," Gee said. "It's something you always hope will happen but don't think ever will. I guess the key to winning is staying positive."
Gee is the fourth resident in Westchester County in 2012 to win a New York State Lottery jackpot over $1 million or more. The biggest winner was Tara Ramirez of Hartsdale who won a $70 million Powerball jackpot on February 25.