Restoration of Lincoln Depot Museum in Peekskill Underway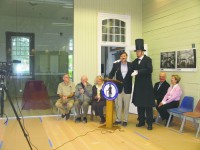 Other than Chappaqua, where Bill Clinton has a home, not many municipalities in Westchester can boast of having had a U.S. President set foot on their premises.
The City of Peekskill had one of the most famous chief executives make an appearance when Abraham Lincoln delivered a brief speech on February 19, 1861 at the old railroad depot near Riverfront Green Park en route to Washington D.C.
"I have but a moment to stand before you to listen to and return your kind greeting. I thank you for this reception, and for the pleasant manner in which it is tendered to me by our mutual friends," Lincoln said in part of his address.
Eight years ago, under Mayor John Testa, the city set out to restore the depot as a museum in honor of Lincoln's visit and his contributions to the nation. The Lincoln Depot Foundation was incorporated in 2006, the same year then Governor George Pataki secured some funding for the project in his hometown.
"We knew this would be key to historic tourism at the time and help with the economy in Peekskill," Testa said.
On Saturday, state Senator Greg Ball (R/C-Patterson) also made a contribution to the restoration efforts, delivering a $100,000 check, which an Honest Abe impersonator made sure he signed before leaving.
"This is an example of great work over time and pushing forward what can happen," Ball said. "This is a beautiful landmark."
Susan Jacobson, executive director of the Lincoln Depot Foundation, said she was grateful to receive the state grant.
"We have a lot of public programming that we want to roll out over the next 24 months and this will be a huge help," she said. "There is a lot of history here in Peekskill and we are very excited to use this grant to tell these stories."
During the last 18 months, a lot of work has been done at the museum, including newly installed flooring, lighting, sewer and gas lines and a state-of-the-art alarm system. An historic railroad pot belly stove that has been stored at the Peekskill Museum for the last 26 years was also unveiled Saturday.
"Everything is here to make this museum a reality," said Testa, who is president of the foundation's Board of Directors. "We think we thought of everything."
Another part of the tourism plan for the area is a visitor's center in front of the Lincoln Depot Museum which has gone through several modifications in recent years but has yet to be finalized by city officials.