Residents Step Up Pressure on County to Investigate Airport Noise
We are part of The Trust Project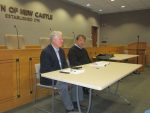 County Executive George Latimer pledged to investigate why aggravating noise levels have increased at Westchester County Airport after an explosion of complaints from residents in New Castle and communities in close proximity to the site.
Latimer, appearing with County Legislator Michael Kaplowitz (D-Somers) at his latest public forum in Chappaqua on Saturday morning, said his office and the Board of Legislators are devising a strategy to address the reasons behind airplane noise that has reached intolerable levels for some residents in the past year or two.
The dilemma facing residents and officials is that while the county has jurisdiction over the operation of the facility, the Federal Aviation Administration (FAA) has authority over air travel. That could limit mitigation efforts unless Westchester can enlist its congressional representatives and convince the agency to make changes to flight patterns, altitude of approaching planes or other variables that could be having an impact, Latimer said.
"I don't believe that the complaints about noise are irrelevant. I believe they're real," Latimer said. "During my tenure as county legislator, I represented a community along the Sound Shore and everything you're saying are things I heard from people in communities that I represented."
Latimer said that there are four major issues the county must address in hopes of tackling the problem: handling the Master Plan for the facility; deciding whether governance of the airport should continue by the county, a private entity or a partnership; its operation, which includes flights and the types of aircraft; and what type of oversight from citizens is needed.
The county has to decide how to handle an approaching deadline to submit an airport master plan. Latimer said that a grant obtained by Westchester five or six years ago would have to be repaid to the federal government if a plan is not forwarded to the FAA by July 15.
Latimer also said he wants to ensure that each one of the five towns closest to the airport – New Castle, North Castle, Mount Pleasant, Rye and Harrison – each has a representative on the Airport Advisory Council. Currently, a few of these municipalities, including New Castle, do not have a representative on the council.
"We haven't finalized our plans in these four areas and we owe it to the Board of Legislators to sit and dialogue with them about it," Latimer said.
Increasing complaints from residents have been noted on social media despite minimal changes in the number of flights. Last Tuesday night, the New Castle Town Board devoted more than an hour to discussing the issue with residents about how to address the suddenly-escalating barrage of noise.
During Saturday's 90-minute forum, the airport noise issue dominated discussion.
Pleasantville resident Janet Silverman, who grew up a few miles from Kennedy Airport, said she works from home and frequently has to interrupt calls and other tasks because of the loud planes approaching Westchester County Airport.
"I feel like I've regressed to being a kid and every time I turn around there's a plane coming in," Silverman said.
A Mount Pleasant resident said she has lived in her house since 1974 and today's airplanes fly lower and are louder, including at all hours of the night.
"I hear them at three, four o'clock in the morning," the woman said. "These are not commercial flights. The windows shake. I have lived there for over 40 years. It's terrifying. It sounds like we're bring invaded."
Kaplowitz and Latimer agreed that there are a large amount of information that the county must obtain, such as the types of aircraft being used for the large number of private flights and why planes are apparently louder.
Kaplowitz recited data from the airport showing a recent slight uptick in air traffic, but he said that doesn't explain the widespread complaints. In 2000, there were 187,660 flights to and from Westchester County Airport, which dropped to about 137,000 in 2014. There were 147,516 flights last year.
Commercial flights continue to drop, Kaplowitz said. In 2000, there were 43,808 commercial flights compared to about 23,000 currently.
However, when an aircraft approaches Runway 16, the second most used runway at the airport that is often put into use in bad weather, the planes come directly over western New Castle, he said.
"It's not only the numbers, but could it be that the altitude is such that the noise is louder, the distance between the home and the plane has somehow constricted and could that be because of laziness, convenience," Kaplowitz said. "I don't know what it is. Would that have generated greater noise?"
Jonathan Wang, chairman of Citizens for a Responsible County Airport, a grassroots watchdog group who attended New Castle's Apr. 10 work session, said changing leases for some of the private fixed-base carriers might also be having an impact. In May 2016, the Board of Legislators agreed to a lease revision for Million Air, one of the private fixed-based operators at the airport, that waived the 12,500-pound limit for aircraft and allowed them to build a 70,000-square-foot hangar.
Kaplowitz said the county will be reaching out to its congressional contingent to delve into the issues, which also include well testing near the airport.
"We have a chance to take a fresh look with a new administration at a very intractable problem to see if we can, with our federal partners" improve the situation, Kaplowitz said.
Latimer said he expects to have more information on the key issues surrounding the airport sometime next month