Residents, Official Criticize Chap Crossing Developer's Survey
We are part of The Trust Project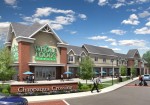 A survey commissioned by Chappaqua Crossing developer Summit/Greenfield showing strong support for a Whole Foods supermarket and smaller retail stores at the former Reader's Digest site was dismissed last week as skewed and misleading.
Several New Castle residents and Councilman Adam Brodsky criticized Summit/Greenfield for paying for a survey that generated responses from 583 town residents. The results revealed the proposal for the specialty supermarket, which would be the centerpiece of 120,000 square feet of retail space, in a positive light when much of the public reaction has been critical.
The survey, conducted between June 28 and July 15, was addressed by the developer's representatives and the public during the continuation of public hearings on the controversial project at the town board's July 22 meeting. However, town board members and a few speakers raised the issue of an unknown number of residents who were told that the survey was being conducted on the town's behalf early on in the polling.
"I would be embarrassed if I was Summit/Greenfield to present a survey that they knew coming in here was flawed," said Chappaqua resident Lynne Lambert. "They presented it anyway. I'm embarrassed as a town resident to have that presented. I certainly hope that it will not be shared because it was a flawed survey."
Brodsky said he overheard some of the questions posed to another commuter at the Chappaqua Metro-North station while on his way into Manhattan one morning during the roughly two-and-half weeks the survey was conducted.
"I thought the questions, the way they were asked and the people who were asking the questions, were tailoring it in such a way to kind of get the answers that they wanted," Brodsky said.
According to the results, 67 percent stated they were in support of having a Whole Foods at Chappaqua Crossing. It also concluded that 74 percent supported small retailers instead of larger or "big-box" stores.
Summitt/Greenfield switched to smaller stores after it agreed to follow the planning board's suggestion of moving to a "traditional neighborhood design" of streets rather than a typical large shopping center layout.
Representatives for Summit/Greenfield defended the survey's integrity, which was directed by Robin K. Liebowitz, principal and founder of rkl3d in Larchmont, a longtime professional survey company.
Attorney John Marwell said any misinformation given to several respondents' inquiries about who was responsible for the survey was immediately rectified. He said some of those administering it brieflytold individuals that it was town sanctioned because Summit/Greenfield was required to obtain permits through the police department.
Geoffrey Thompson, a public relations spokesman for the developer, said he did not know how many respondents were given that information but it was likely a very small number.
Regardless, citizens who participated were given a final chance when they completed answering the questions to have their responses excluded, Thompson said. Also, given the types of questions posed, information about who was responsible for the survey wouldn't have made a difference in the outcome, he added.
"I think the results were pretty darn compelling," Thompson said. "What are the opponents going to say, that people didn't know what they were answering?"
The reason for the survey was to help gauge broader public sentiment rather than rely on the same group of opponents that speak at the hearings.
"The results demonstrate that New Castle residents recognize and support having a first-class local supermarket and additional shopping and dining opportunities at Chappaqua Crossing," said Felix Charney, principal at Summit Development, the owner of Chappaqua Crossing.
"The need for a supermarket in Chappaqua is clear, and having Whole Foods Market at Chappaqua Crossing along with high-quality small retailers and restaurants in an attractive traditional neighborhood style development is an excellent adaptive reuse of a part of the former Reader's Digest site."
The survey also showed that 84 percent of respondents were aware that Whole Foods wanted to come to the property.
The survey was conducted in several well-traveled locations in town, including the train station, the Saturday farmers market, the downtown intersection of King Street and South Greeley Avenue and Chappaqua Crossing.