Request-Only Plastic Utensil Law Effective on Saturday in Westchester
News Based on facts, either observed and verified directly by the reporter, or reported and verified from knowledgeable sources.
We are part of The Trust Project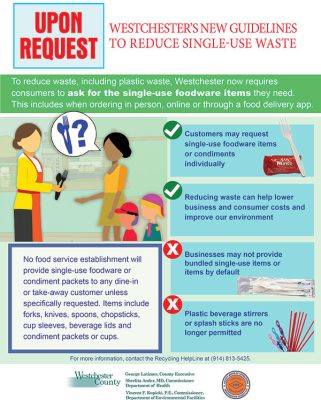 A new law to limit the use of plastic utensils and other items associated with food establishments will go into effect this weekend in Westchester to reduce the county's volume of waste.
Starting this Saturday, all food service establishments can only provide plastic forks, spoons and knives, cup sleeves and beverage lids upon the customer's request. When those items are provided, they must be dispensed individually rather than in packets, which lawmakers believe will discourage the public from taking them unnecessarily, thereby limiting the amount of trash generated.
Furthermore, plastic stirrers and splash sticks for beverages will no longer be available in food service businesses, but consumers will still be available to buy them at retail shops.
County Legislator Erika Pierce (D-Katonah), who introduced the bill with Board of Legislators Vice Chair Nancy Barr (D-Rye Brook) that was approved earlier this year, said the volume of plastic utensils and other items exploded during the height of the pandemic when the public was ordering take-out to help their favorite restaurants survive.
She said it will take a minor habit change in order to adjust to the new law.
"We know how to change our behavior as consumers, a small change really," Pierce said. "We just learn to ask for what we need, our businesses save money and we can cut back what goes into our waste stream and we're helping the environment."
Barr added that each establishment must post a sign that will be provided by the county detailing the main points of the law to help increase public awareness. With the request-only provision of the law, it will almost certainly diminish the volume of the items, she said.
"I think most importantly it's going to help people think about what they actually need, and I think that's going to spill over to many other areas of consumerism," Barr said.
The utensils, in particular, are small and narrow enough where they literally slip through spaces in the conveyor belts at the trash and recycling facilities, said Lou Vetrone, commissioner of the county Department of Environmental Facilities. Therefore, many of them never get recycled and end up in the waste stream, he said.
County Executive George Latimer last week called the new legislation "good public policy." He said the plastic items are almost never reused and to provide them upon request only seems like common sense, particularly for business owners.
"As we start to implement it, we'll see a benefit to not only the environment of Westchester County but also the businesses that don't have to spend the additional money to buy a product that may not be needed by the consuming public," Latimer said.
County officials said the law will apply to in-person and over-the-phone orders as well as purchases through apps and online. It also maintains existing protocols for utensil storage within establishments. Utensils available in self-service containers for consumers must be individually wrapped or placed face-down, with single-item dispensers recommended.
Department of Health and Department of Environmental Facilities inspectors will be making rounds to make sure there is compliance. Food establishments that violate the law will be subject to a $100 fine for the first offense, a $200 fine for the second offense and a $400 for a third violation.
Latimer said the idea is not to punish businesses but to help everyone contribute to a more sustainable society.
"The purpose of our work is to enforce the law, not to punish; it's to enforce the law to get compliance," Latimer said. "What we want is compliance. We don't want those products out there."