Regional Land and Transportation Study Deemed a Success
We are part of The Trust Project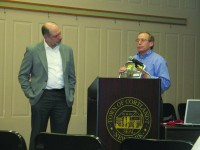 The coordinator of a regional study completed eight years ago that was envisioned to provide solutions to land use and transportation issues along the Route 202/35/6 Bear Mountain Parkway corridors believes the effort was worthwhile.
Speaking at a seminar coordinated by the Cortlandt Conservation Advisory Council (CAC), Gerry Bogacz, planning director for the New York Metropolitan Transportation Council, said the study shared by Cortlandt, Yorktown and Peekskill helped draw attention to the area.
"It has focused on resources that otherwise wouldn't have been directed here," Bogacz said. "To a degree there have been improvements. I know it isn't happening quickly enough."
Some of the road improvements Bogacz noted that have been completed as a result of the study were the Route 6 bypass and Lexington Avenue extension, Bear Mountain Parkway enhancements and Route 202/35 widening.
"This was essentially an experiment. It has to have that grassroots buy-in to have any chance of success," Bogacz said. "Consensus building is the biggest challenge to this. We're at a critical juncture. Our region is facing significant growth over the next 25 years. We do have to think from a regional level where that growth will go."
Paul Moskowitz, who participated in the study and Yorktown's Comprehensive Plan, mentioned two large commercial developments proposed on Route 202 in Yorktown that would affect all three municipalities if built.
Costco is looking to construct a 150,000-square-foot warehouse at 202 and the Taconic State Parkway, while State Land Corporation has presented plans for a 140,000-square-foot big box store and five other stores on 202 on a 100-acre site across from McDonald's.
Moskowitz, who is a member of Yorktown Smart Growth, said five intersections between Lexington Avenue and the Taconic have already been rated as failures.
"There's also the problem of regional services, like ambulance, police, hospitals," he said. "All of this is also within the 10-mile radius of Indian Point. What happens if there is an evacuation?"
CAC Chairman John Milmore also said there was something to be said for quality of life. "Sitting in traffic on Route 6 is not a lot of fun," he said.
Bogacz said officials from Cortlandt, Yorktown and Peekskill were "still talking" about further improvements, but economic constraints could prove to be a major hurdle.
"Funding is at a premium across the country for transportation," he said. "We definitely are at a crossroads where our needs exceed the funds that are necessary."
By Rick Pezzullo