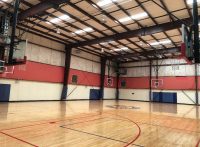 By Anna Young
Peekskill officials and community members celebrated the grand reopening of the Walter Corney Gymnasium located at the Kiley Youth Center last week following a $16,000 refurbishment project.
With the more than 30-year old establishment in disrepair and the Peekskill Housing Authority unable to obtain the funds to renovate the gym, the housing authority teamed up with Peekskill officials to get the job done. Housing authority chairperson Nancy Vann expressed her gratitude to the city for coming together to provide a playful and safe atmosphere for the youth.
"I'm so proud to have this important center for our youth," Vann said at the June 29 ribbon cutting ceremony. "I've never seen the kind of enthusiasm and the kind of progress that we've seen after just a few months of this administration and we know there are going to many, many more ribbons to cut."
With the project receiving donations from organizations like Habitat for Humanity, Fidelis Care and the New York Liberty WBNA, it took nearly three months to raise the $16,000 required to replace the flooring in the gym. After just weeks of construction, children were back on the court playing basketball on the fresh new floor following Friday's ribbon cutting.
The Kiley Youth Center is where many of the city's youth recreational events, activities and programs are held. The center, which is open Tuesday through Saturday, provides year-round supervised youth programs free to the public. The gym was named after Walter "Coach" Corney, a life-long Peekskill resident who died in 2011.
Peekskill Mayor Andre Rainey said while the project only started three months ago, this had been a passion project for him for about two years. He said he was excited for the refurbished gym to reopen to provide children with the opportunity to get off the street and play in a safe and welcoming environment.
"In my administration, and me as the mayor, I want to make sure people know the importance of opening stuff for our youth and giving them opportunities," Rainey said. "I think I'm in a leadership role where I have the attention of the entire community and (I'm going to) take advantage of that."