Record Participants Take the Plunge in Peekskill for a Good Cause
We are part of The Trust Project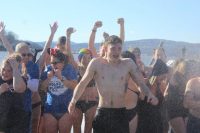 By Anna Young
About 80 brave individuals stripped down to their bathing suits and other outfits in the bitter cold on New Year's Day eager to get soaked during the sixth annual Polar Plunge at the Riverfront Green in Peekskill.
The annual event, sponsored by The Quiet Man Public House in Peekskill, raises money for the This is Me Foundation, a non-profit organization that raises awareness for alopecia, while giving hope to any individual facing adversity.
Lauren and Caitlin Brady, sisters and creators of the foundation, who were both diagnosed in high school with alopecia areata, an autoimmune disease that causes hair loss, were overcome by the continued support from the community, especially with the freezing weather overtaking the Hudson Valley.
"There's honestly no words to say how much it means to us, this year especially because people didn't just wake up today and it was cold, it was already cold leading up to today," Lauren Brady said as she was picking ice out of her hair. "The support from our community since day one has been something that keeps us going and it's amazing."
After watching Miss Delaware 2010, Kayla Martell, take her wig off on national television and explain that she would be sporting her hairpiece during the 2011 Miss America pageant due to her alopecia, the Brady's were inspired to raise awareness about the disease, but also encourage those who struggle with any insecurity.
In February 2011, the dynamic duo began "This is Me," and a year later began awarding scholarships to local high school seniors who displayed leadership skills while having faced adversity of any kind or helped others through adversity.
While safety concerns prevented participants from plunging into the Hudson River, the Peekskill Fire Department was on hand to hose down the group as the large crowd of family members and residents cheered them on.
Verplanck resident Krissy O'Sullivan said she prepared for her third plunge by having a drink before removing her layers, adding the good work the Brady's and their organization do for so many was well worth dealing with the cold temperatures.
"It starts a new year off great, it's refreshing, it's for a great cause and it's amazing," said sixth-year plunger and Peekskill resident Christine Vischoff. "It's amazing how the groups have gotten larger. Every year we have more plungers."
The first Polar Plunge attracted 11 participants and raised $2,400. This year, the record-setting 80 participants raised more than $13,500.
Emily Sullivan, 18, who has alopecia, praised the Brady's, stating how they have helped and supported her through her disease. The Cortlandt resident also commended participants for bringing a sense of community to the event.
"It's really great because it's more than just alopecia, it's everybody embracing who they are for themselves," Sullivan said. "You see all these people around and everybody goes through something different and it's really great because no matter where you come from we all come out to support each other."