Rebel Gym Offers a Well-Rounded Approach to Fitness and Exercise
We are part of The Trust Project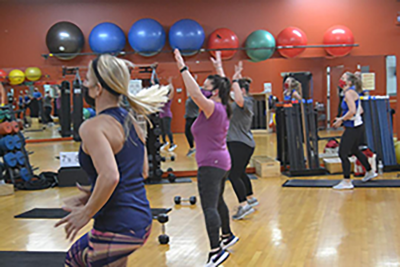 There's a fresh energy when you step inside Rebel Gym, the newly-opened fitness center in Mahopac.
The large, brightly lit workout room features an array of treadmills, ellipticals, free weights and other workout equipment. The adjoining room is spacious, replete with hardwood floors, mirrored walls, workout mats, step platforms and exercise balls. From the locker rooms to the sauna and bathrooms, the entire facility is spotless.
Rebel Gym's grand opening was in March, and since the pandemic had closed or limited area gyms and fitness centers last year, many local residents have been eager to sign up. To date, the club has 50 full-time members.
There are 15 different classes as well as personal training sessions.
"Our busiest classes are on Saturdays," said Jennifer Viani, who co-owns the gym with her partner Chad Collesian. "Our members range in ages from 10 to 73, and they all have different levels of fitness."
Viani is a longtime personal trainer, certified by the National Academy of Sports Medicine, a youth exercise specialist and corrective exercise specialist. She believes in a well-rounded approach to fitness.
"Fitness is not just about muscle building," Viani said. "Picture your health like a chair. If one leg is off, you are unbalanced. You need sleep, nutrition, cardio and resistance to maintain good health."
Besides Viani, there are now six other, coaches, trainers and instructors. Andrew Fervan is a personal trainer and a kickboxing instructor who Viani said emphasizes both mental and physical applications. Lisa Fumusa is a cardio and core instructor, specializing in strength, endurance and technique. Annette Leone leads the Recover and Restore class focusing on movement, stretching, breathing, yoga and meditation.
They have been recently joined by yoga instructor Lucy Conway, group exercise instructor Peggy Caruso and Dawn Kelly, an essential oil instructor.
A possible tai chi class may be added in the future and perhaps an on-site massage therapist as well.
Personal training sessions are tailored to a person's fitness ability and health status. "A personal trainer can't let someone do something they shouldn't do," Viani said.
Personal training looks at one's fitness goals along with training habits, mobility, flexibility, cardio and strength training, she said.
Chris Giuliani, a member from Mahopac who joined Rebel Gym in March, works out three times a week.
"I really like the fitness classes," said Giuliani. "But I especially like the equipment where you can do your own kind of workout."
A special HOTWORX sauna is also available, where one person works out for 45 minutes in a sauna to work up a sweat. When the weather permits, classes meet outside in the seldom-used parking lot behind the gym. Reserving a spot in a class or in the main exercise room allows the gym to honor COVID-19 restrictions.
Prices range from $25 for a single-day pass to $69 a month for access to the gym, classes, training with a coach, a 30-minute professional training session, three HOTWORX sessions and one 30-minute fitness assessment. Family memberships are available starting at $192 a month for a family of three. Four personal training sessions cost $400.
"It's not really a gym but a school for life fitness and for body awareness," Viani said.
Viani is also involved with Hike for Hope Hudson Valley, an American Foundation for Suicide Prevention program that supports mental health. She is leading hikes on weekends throughout the month of May and has encouraged members to sign up.
Rebel Gym is located at 989 Route 6 (between Stop & Shop and Ocean State Job Lot) in Mahopac. Hours are Monday through Thursday from 5:30 to 11 a.m. and 3 to 8 p.m., Friday from 5:30 to 11 a.m. and 3 to 7 p.m. and Saturday from 7 a.m. to 4 p.m.
For more information, call 845-621-1776 or visit www.rebel-gym.com. For a virtual tour, visit https://my.matterport.com/show/?m=FVSBzuNDK27.