News Based on facts, either observed and verified directly by the reporter, or reported and verified from knowledgeable sources.
Randolph Rains 3's on Haldane, Reigns Supreme in Class C
We are part of The Trust Project
Blue Devils Bounced in NYSPHSAA Finals
By Ray Gallagher, Examiner Sports Editor @Directrays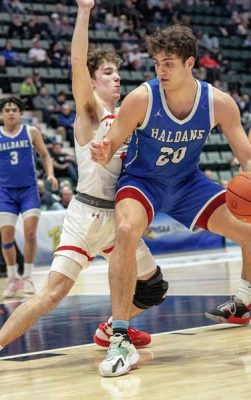 State-ranked (No.2) Section 6 champion Randolph came in with the higher state ranking against No.4 Section 1 champion Haldane in Saturday's NYSPHSAA Class C title tilt at Cool Insuring Arena in Glens Falls where the first-time state champion Cardinals denied the Blue Devils their first state title in just their second finals appearance in school history.
Haldane's William Bradley spotted the Blue Devils (21-5) a 3-0 lead early in the first quarter, hitting from distance, but Randolph (22-4) scored the next eight eight points and hit eight first-half 3's in a 58-55 state-title clinching victory.
Named the MVP of the game for his championship performance, Jaiden Huntington scored 28 points on 10 of 13 shooting, 8 of 11 from distance.
The first quarter concluded with Haldane settling down the Randolph run when Matthew Nachamkin hit a 3 that gave the Blue Devils a 12-10 lead, but Haldane still trailed, 16-12, after the first, despite the Blue Devils draining three 3s to go with a bucket from two-time All-Section swingman Matteo Cervone in the closing seconds.
Randolph went up 22-16 midway through the second quarter. Cervone responded with a 3,  but Randolph answered with another 3 of its own – its seventh of the half – from the corner, which banked home with Haldane trailing 25-19 with 1:34 to play in the half, which ended with the Cardinals holding a 28-22 first half lead after yet another 3-ball from Carson Conley, their eighth of the half while hitting 50% from distance.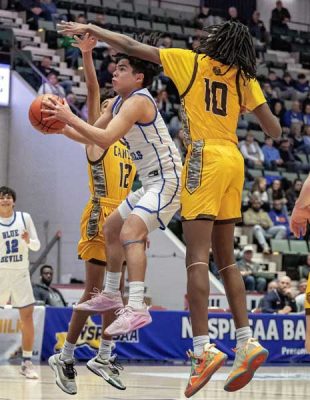 Coming out of the break, Haldane was forced to call a timeout at 3:33 when Randolph extended to 37-29, with each of the last 10 Cardinal field goals coming from distance, 11 in all. Clearly, perimeter defense would be addressed by Haldane Coach Joe Virgadamo.
Unfortunately, it didn't matter. Randolph's 13th 3 of the game spotted the Cardinals a 45-30 lead with under a minute left in the third… game, set, match! Or so we thought.
Randolph opened up a 48-30 lead to conclude the third, the Cardinals draining six more 3s the third in what could only be called one of the great high-school shooting performances in state history. Jaiden Huntington, a name that will long haunt Haldane fans, drilled seven 3's heading into the fourth.
Harrington drained another 3 and that appeared to be the dagger Randolph was searching for, taking a 55-44 lead on Haldane with 2:10 to play. Again, Haldane responded, senior G Ryan Eng Wong (13 points) hit a pair of bombs, bringing the Blue Devils within 57-55 with 33.4 seconds remaining, putting the final touches on a 25-10 run and trimming the deficit to two, before freshman Cooper Freeman's free throw — his only point of the season – forced the Blue Devils to hoist three well-contested 3's in the waning seconds, all narrow misses.
Randolph becomes the first Section 6 boys team to win a state championship since 2018. They're the first to win it in Class C since Middle Early College defeated Haldane in 2016.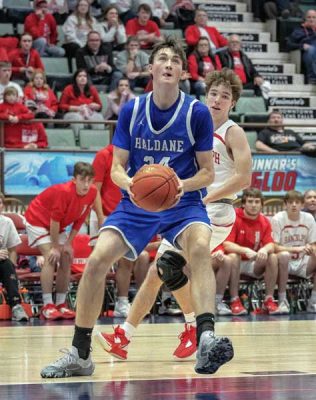 Cervone came up big with 20 points and eight rebounds in the final game of a superb career. Bradley and Matthew Nachamkin each finished with eight points.
"This was an unbelievable year," Coach Virgadamo said. "These kids showed heart, grit, toughness and resilience in every game. They played for each other, played for the community and left it all out there. Most people counted us out after losing 4 starters to graduation, but we got better every week and stayed on a mission. We're going to miss the seniors, their leadership was one of a kind both on and off the court. They left us in great hands and our future learned a lot from them. Our community is the best and the support was unbelievable. Haldane is a special place."
In the state semis, Ben Bozsik (initially), Evan Giachinta (twice) and Ryan Eng Wong (twice) came up huge in overtime, scoring clutch baskets – with Cervone having fouled out – in the Blue Devils' 63-54 win over Section 10 champion Canton (17-7) Friday at Cool Insuring Arena.
Cervone put the team on his back, much like he has all year, helping the Blue Devils overcome a 10-point, fourth-quarter deficit, despite battling Golden Eagles 6-foot-8 center Eyilayomi Odetoyinbo to score a team-high 21 points and seven rebounds.
Bozsik scored 14 after the half to finish with 17 points and four steals. Eng Wong, who came up huge in the state Final 4, added 10 points (23 in total). Nachamkin finished with six points and six rebounds.