Rally Held in Peekskill to Demand Pathway to Citizenship
We are part of The Trust Project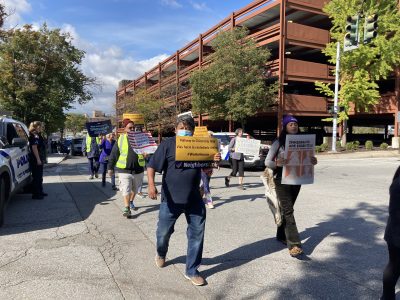 Immigrants, advocates, allies and elected officials took part in a march Friday in Peekskill to demand a pathway to citizenship be included in the final budget reconciliation package being debated in Washington D.C.
About 50 people marched from the Riverfront Green to the Park Place office of Senate Majority Leader Charles Schumer to let their voices be heard. The rally was led by Peekskill Councilwoman Vanessa Agudelo, who is employed as New York Immigration Coalition's Hudson Valley Member Engagement Manager.
"The Democrats have the power to finally grant us a pathway to citizenship," Agudelo said. "Immigrants do not deserve to live in the shadows. We know they are already a critical part of the community."
Last month, under Schumer's leadership, the Senate approved a budget resolution, which includes a path to citizenship for undocumented immigrants. The historic budget package would help create a pathway to citizenship for more than 463,000 immigrant New Yorkers.
"We need to keep fighting for the millions of immigrants across the country," Agudelo said. "When you are considered illegal you have no access to safety nets. Immigrant's rights are important to this community and this region."
State Senator Pete Harckham addressed the marchers at the riverfront. Peekskill Councilman Ramon Fernandez was also on hand to lend his support.
Groups that were represented were the New York Immigration Coalition; Neighbors Link of Mt. Kisco; Community Resource Center; Don Bosco Worker Center; United Community Center; Yonkers Sanctuary Movement; Westchester Jewish Coalition for Immigration; Peekskill Progressives; and Putnam Progressives.
Roberto Zumba, worker center coordinator for Neighbors Link, said it's vital the Democrats keep their promises to help immigrants.
He said during the COVID-19 pandemic many immigrant workers kept the economy afloat.
"We have to keep fighting like hell," Zumba remarked. "We deserve to be heard, We demand a pathway to citizenship for all our friends and neighbors. We are angry, but we are not defeated."
A representative of Schumer's office addressed the crowd briefly, saying, "We hear you. We see you."
The rally a continuation of the actions that have been ongoing in New York and across the country. An evening vigil and four-day sleep-out took place in front of Schumer's home.