Ragazzo Makes History as First Female Cortlandt Town Justice
We are part of The Trust Project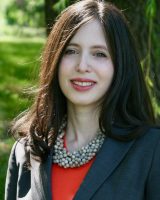 During an Election Day where several regional incumbent Republican officials were ousted from office, one of the more under the radar races in the Town of Cortlandt produced history-making results.
Democrat Kimberly Ragazzo became the first woman to be elected town justice when she impressively defeated 28-year incumbent judge Gerald Klein by an unofficial count of 6,445 votes (56%)  to 5,156 (44%).
"It is a great thing especially to be a role model for my two daughters and her friends," Ragazzo said of her record performance. "I know that some will say that there were outside factors that led to my victory, but voters can and do often not vote for every position or every referendum on the ballot. I believe that the key to my victory was that I told voters why they should care about the Town Justice Court race. In speaking with voters, I educated them about what the court does and about how things could be made more efficient and convenient. Voters liked my ideas such as evening court hours and online forms."
"On November 6, I was confident that I had done everything that I could to tell the community why they should vote for me," she said. "I went to bed knowing that win or lose, I had to be proud of the campaign I had run especially since I am not a politician and everything was new to me. I am simply humbled to see what the final numbers were in the election."
Klein, 73, who has been a fixture in Cortlandt government for more than 30 years, said he received more votes than he ever had in the past, but believes a number of factors, including the voter GOP backlash to President Trump and opposition to the Constitutional Convention, worked against him.
"We anticipated the possibility of a reaction of people for the (issues) going on in national politics to the local election. We didn't know what it would be," Klein said. "I felt good about it."
Klein, who has a private law practice in Croton-on-Hudson, often referred to his courtroom as a "court of hope" where he could play a role in getting young criminal offenders back on the right track. He mentioned while campaigning this year two mothers thanked him for helping their sons turn their lives around.
"That is very gratifying," he said, while also thanking his court staff and area attorneys who appeared before him over the years for their professionalism.
Ragazzo, 36, served as an assistant district attorney in Bronx County from 2006 to 2016, where she prosecuted hundreds of violent felony cases. Her father was a public defense attorney. As Cortlandt town justice, she will earn an annual salary of $45,151.
"My immediate plan once I get on the bench is to assure everyone who works in the court that I do not seek to change things just to change things," she said. "I want them to join me in my effort to make the court more accessible. Together, we will enact my vision of a modern, convenient court with online forms and evening hours."