Quintessential Three-Sport Star Shines Bright in Ossining
We are part of The Trust Project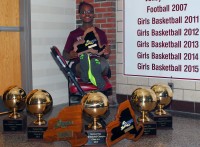 Jalay Knowles Never Settled for Good, She was Great – There's Beyoncé and there's Madonna and Cher… the one-named divas that have acquired status for their tributes to society via the genre of music. There's Mother Theresa on an island unto herself, the matriarch of prayer. Then there's a list of mononymous persons in sports; LeBron, Michael, Kobe, Messi, Pele, Marta and Martina… those that leave legacies behind in the world of competition.
Locally, two names come to mind: Saniya and Jalay. Saniya Chong led Ossining girls' basketball to the crest of greatness, achieving an All-American status in 2013 and delivering what was expected of her… the first of Ossining's three NYS Class AA championships.
Jalay Knowles, or Jalay as she's known in Pride and Section 1 circles – the only five-time Section 1 champion in the history of Section 1 Class AA basketball — delivered Ossining's second and third NYS championships without the prolific Chong by her side, carrying the weight of Ossining's world on her shoulders.
"There really are no words to describe what she did for our program," Ossining Coach Dan Ricci said, before unleashing his hypothesis on what made Jalay, Jalay… a one-named wonder in the history of Section 1 sports.
"She's the winningest player in Ossining history," Ricci said of Knowles, who won 113 games and lost just 16 in a five-year hoops career before locking down a full ride to the University of Hartford.
By the time she was finished with the most decorated career in the history of the NYSPHSAA, Knowles had accumulated five Section 1 titles and four Region 1 championships to go with the three state jewels; not to mention the personal accolades that includes one the program's most prized records (1,078 rebounds) and second to Chong (2,988) with 1,883 points. She averaged 23.1 PPG and 10.4 RPG her senior year and was MSG's and LOHUD's Player of the Year, plus a first-team All-NYS player, who also secured an All-Section nod as a soccer goalie and an All-League defender in lacrosse.
The decision to name Knowles as the Northern Westchester/Putnam Examiner Athlete of the Year was based on all the above, plus a whole lot more in the classroom. As the Pride rolled to a third consecutive state title, Knowles signed the state record books. Her 22-point second quarter against Rush-Henrietta in the 2015 state championship set a NYS record and her 45 points for the game placed her among the top-five single-game scoring performances in state tournament history.
"Hard work pays off," said Knowles, who will leave for Hartford this week, opening the next chapter of a prolific career, which began with her eighth-grade Section 1 title in 2011, and spanned to her senior year in 2015. The five-year starter has earned the coveted gold ball every single year. "I'm excited to see what the future has in store for me."
Usually, with a player of this ilk, there's a rub, something not to like… be a personality conflict with the coach, an heir the player might put off, or an arrogance that sets off opponents and opposing fans. Knowles knows none of that, according to Ricci.
"It's impossible not to like here," he said. "She's the nicest kids I've ever coached, and she never, ever took a play off."
The question begged to be asked: In the five years, you've coached her (in two sports), she's never took a play off? "Never," Ricci reiterated!
A three-sport star who never took a play off? Nobody, including opponents, dislikes her? A premier talent and a National Honor Society student. Too good to be true, right? University of Hartford Coach Jennifer Rizzotti says no way: Her pursuit of Knowles was based on both her on- and off-court exploits, which were off the hook in hoops.
"We are very excited about Jalay's future at the University of Hartford and we look forward to being a part of her growth as a person, student and player over the next four years," Rizzotti said. "Her passion for the game, her off the court accomplishments and her history of winning made her a top prospect for us and we anticipate that she will be able to make an immediate impact for our team."
Knowles has impacted everybody she's ever play with, creating an atmosphere that even the most star-studded teammate can relate to.
"Jalay was an amazing teammate on and off the court,' said Chong, now entering her third season for the three-time reigning NCAA champion UConn Huskies. "She was always there when you needed her no matter what. I was so happy to get to know her for the years I played alongside her."
Who wouldn't be happy playing alongside the best multi-sport athlete in Ossining history? That, arguably, is Jalay in a nutshell.